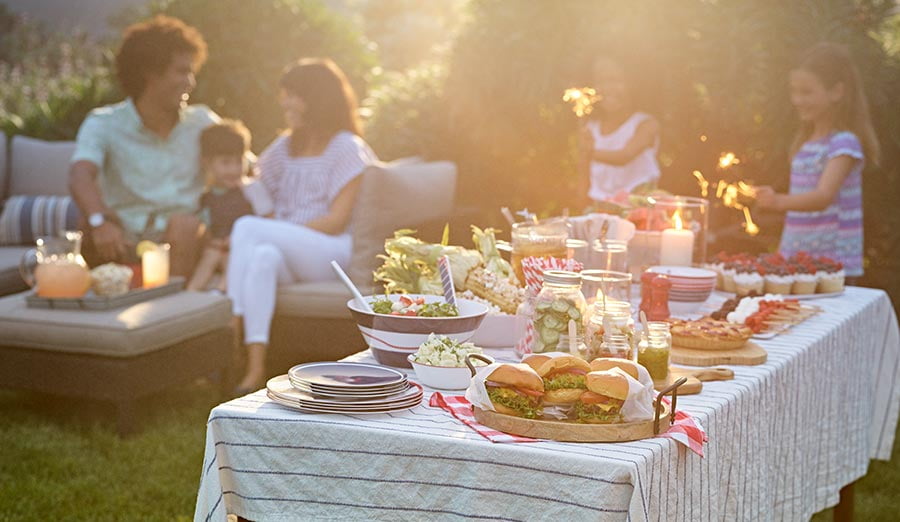 Whether you want to host a BBQ, a no-fuss potluck or a full-on dinner this summer, here are some easy tips that'll help you throw a soiree that's simple and stylish.
Go melamine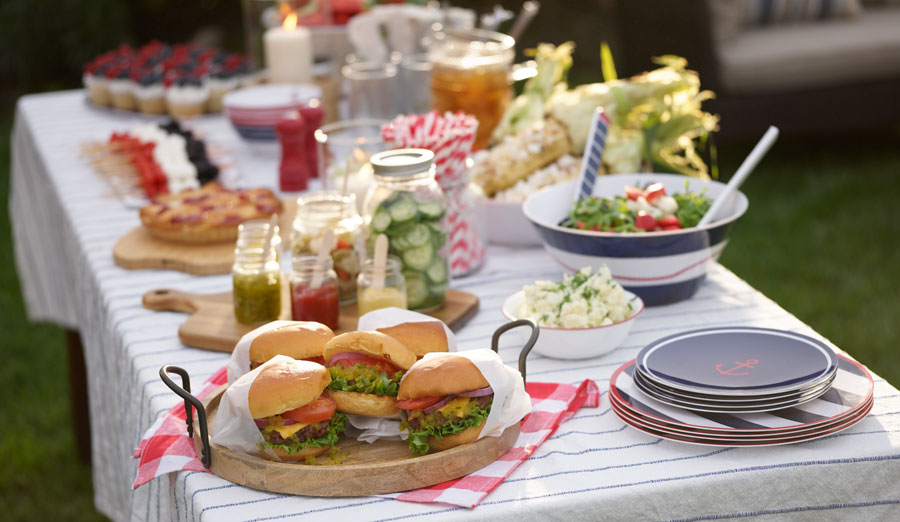 Melamine is your go-to for outdoor meals. It's durable, lightweight and comes in an incredible array of gorgeous shapes, colors and patterns. Patterns with florals, dots, stripes and checks are fun, especially when you mix and match. The prints don't have to exactly match, just keep the colors similar to keep the look cohesive.
Here are some easy ideas for setting your table with a little extra flair:
Use dinnerware & serveware in festive colors and patterns.
Choose Mason jars for condiments and drinks to create a "picnic" feel.
Go buffet style. It's easier than serving or passing dishes, and it lets everyone fill (and refill) their own plates with faves. Plus, no heaping plates of food taking up space means more room for beautiful flowers and fun decor!
Raise the bar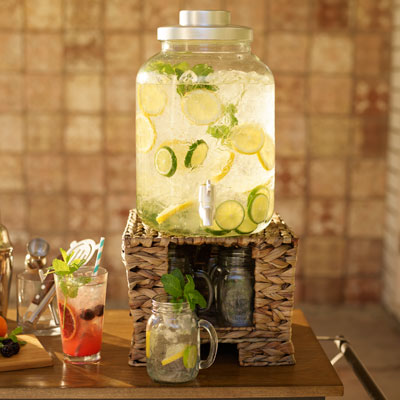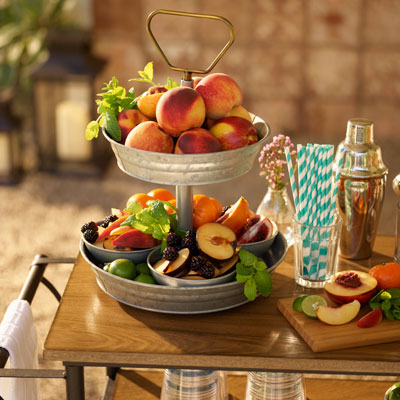 From beer, wine and other spirited sips to straight-up water and lemonade, plan to have lots of beverages on hand—and plenty of ice! Here are some simple tips for keeping drinks cold and serving them up in simple style.
Use beverage dispensers to display infused waters, punch and sangria. Stackable and dual dispensers are useful for serving similar but different drinks such as sweetened and unsweetened iced tea.
An outdoor bar cart or two adds polish to your party. Carts keep the beverage stations both easy to stock and easy for guests to access.
Have plenty of extra ice, cups and glasses, plus fresh fruit (lemons, limes, berries, watermelon, etc.) for infused waters and impromptu cocktails.
Galvanized buckets and stands are stylish, summery options. Fill the buckets with ice and bottled beverages. Use a galvanized stand to display a centerpiece on a bar cart or buffet.
Glow big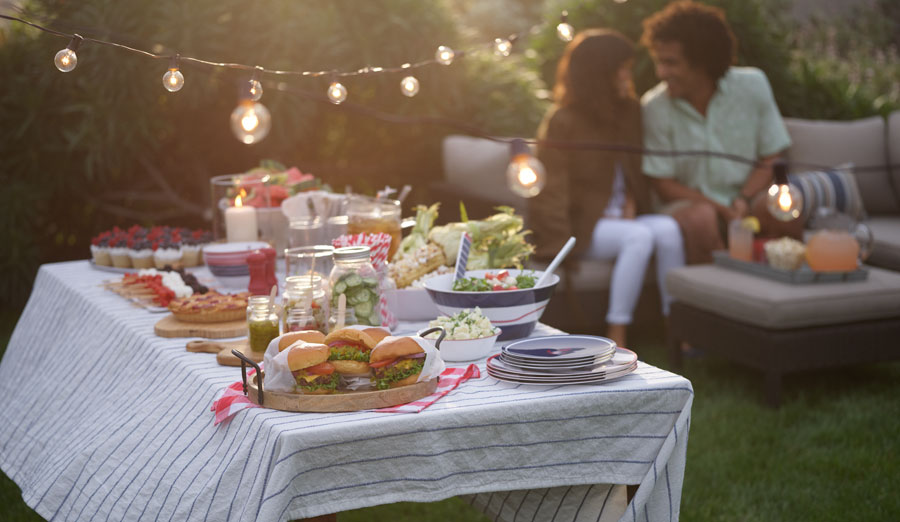 Lighting is an important element of any well-outfitted outdoor area. Illuminating outside for nighttime is easy, if you think in terms of layers—just plan to add subtle light all around. Here are the best and most affordable ways to light the night:
String lights. Their subtle sparkle is always cheerful and festive. Hang large lights overhead, around trellises and balconies. Wrap small lights around centerpieces and along the contours of bushes.
Light the table with regular or flameless candles. Add a few citronella candles to keep bugs away. Flameless are a no-mess option for breezy weather and late nights because their "burn time" is thousands of hours.
A few lanterns here and there create visual focal points. Add them along walkways and next to your bar carts and seating.
Delight with decor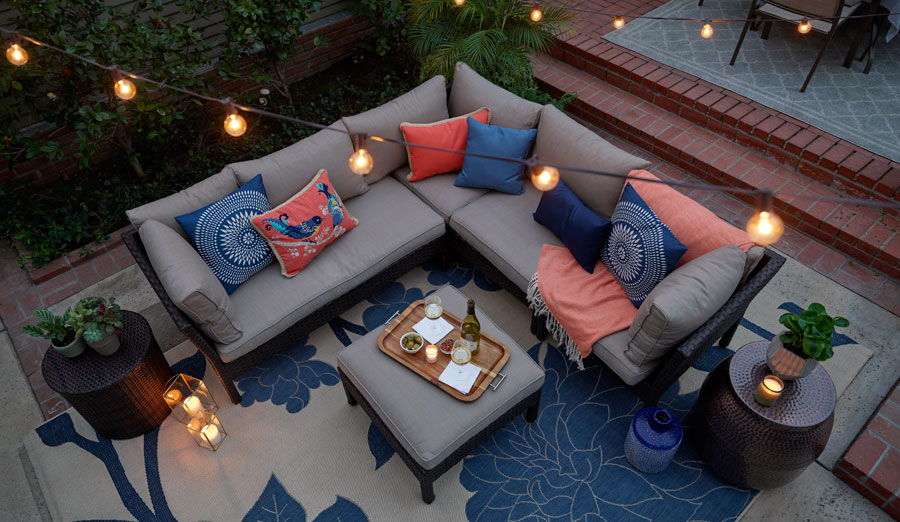 When you think of outdoor decor, look to the most current trends in prints and colors, and take some risks. Do something you might not feel confident enough to do indoors but that strikes you as fun. That spirited approach can really make your outdoor space pop by infusing your decor choices with personality.
Add color and comfort with weather-friendly pillows. This year's trends are all about bold and bright, so look for big botanical or geometric prints in lively colors.
Put down an outdoor rug in a vivid print to define your space and encourage a little alfresco lounging. Look for red, white and blue or some combination. Don't worry about dirt—outdoor rugs can be hosed off.
Blooming flowers and plants in containers add extra polish and liveliness, even in an outdoor space. Succulents are a low-risk option and many flowering plants, such as lavender or other zone-friendly greenery, can add color for many months.
Eat up!
The only thing more all-American than apple pie is a cookout. Here are some toothsome recipes and tips that'll satisfy your summertime cravings.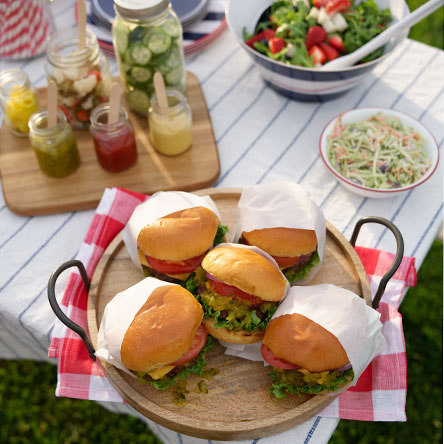 On the grill: burgers
You don't have to be an expert pit master to grill up especially fine-tasting burgers. All you need is some quality ground meat plus a great recipe or two. Looking for a classic burger? Try 3 Must-Try Burger Recipes: An American Trifecta.  It's got recipes for three easy, tasty burgers.
Burger fixings 
 Basic fixings are, well, basic. They'll work for a weeknight dinner, but for a more special celebration, it's time to go all out and think of the burger as a blank canvas, just waiting for a little creativity. Use this Burger Bar Checklist and discover all the different ways you can build a bunch of best burgers. Plan to offer the ingredients you know your guests will like. You want to keep this soiree simple, after all.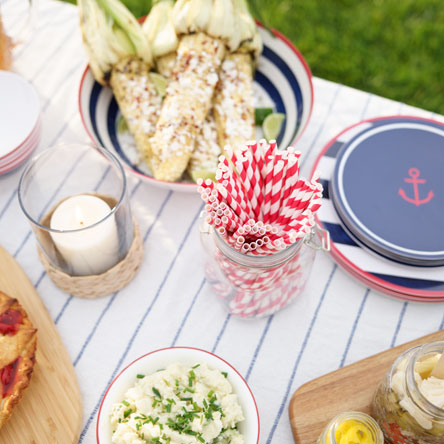 Sides that wow
Some folks think the sides are even better than the burgers. Everyone's got a fave and here are some of ours: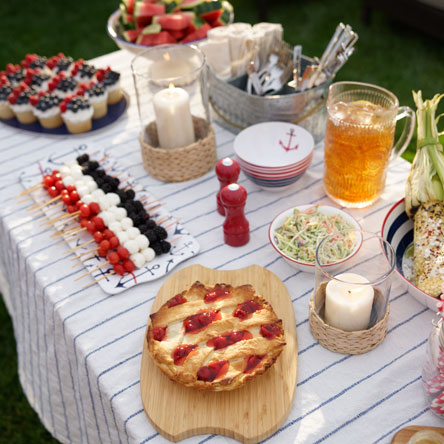 Festive desserts
These desserts are just the thing to finish off a great meal, then sit back and relax.
Berry Flag Cupcakes. This patriotic-hued tribute to the cupcake is the perfect blend of sweet and tart, with vanilla frosting, raspberries and blueberries. This desert is such a crowd pleaser, you can use it on July 4th, then put it on repeat all summer long.
Quick Fruit Cobbler & Crisp Topping Hacks. Here are a bunch of sweet, crisp toppings you can use to top your own quick pie-like deserts.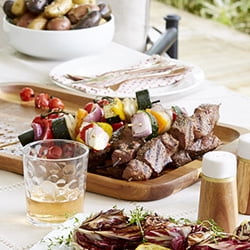 More in Walmart Grocery
Grilling Shop
All your essentials for fun & tasty summer cookouts.