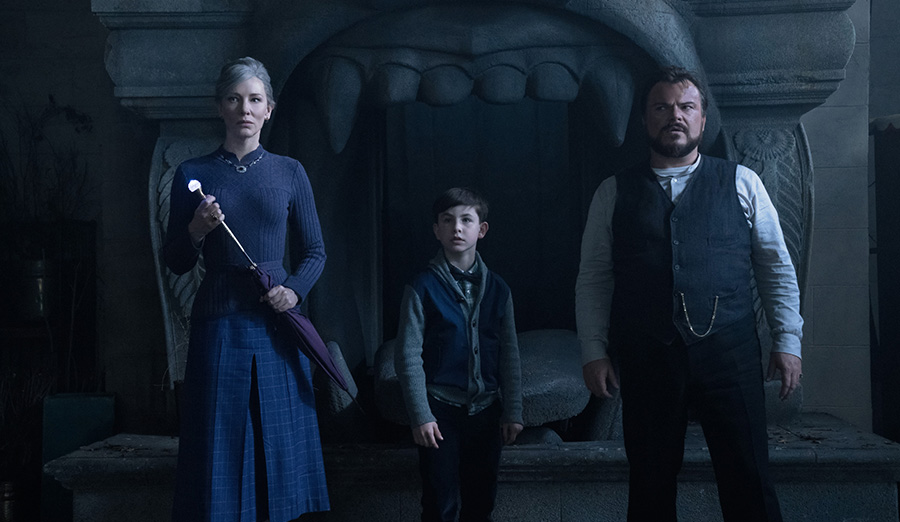 The whimsical world of wizardry, witchery, and warlockry existed long before Harry Potter whisked onto the scene—and in this case, almost a quarter century before. The book The House with a Clock in its Walls, authored by John Bellairs in 1973, captivated young adults and adults alike, as well as The New York Times: "It's the aura of this story—its blend of the everyday and the supernatural—that makes it glow among a plethora of lacklustre occult books this spring." 
Great stories stand the test of time, and this one is no different. The movie adaptation of The House with a Clock in its Walls, starring Cate Blanchett, Jack Black, and Owen Vaccaro, hit the big screen in September, and is streaming on Vudu and can be seen on 4K Ultra HD, Blu-Ray and DVD.
Walmart eBooks sat down with the movie's director, Eli Roth (director: Cabin Fever, Hostel; actor: Inglourious Basterds, starring opposite Brad Pitt ); Owen Vaccaro (Daddy's Home, Mother's Day), who plays the movie's central character, Lewis); and music composer Nathan Barr (Cabin Fever, True Blood, The Americans), to get a behind the scenes peek at the making of The House with a Clock in its Walls, and of course, to get their eBook and audiobook recommendations.
Eli Roth - Director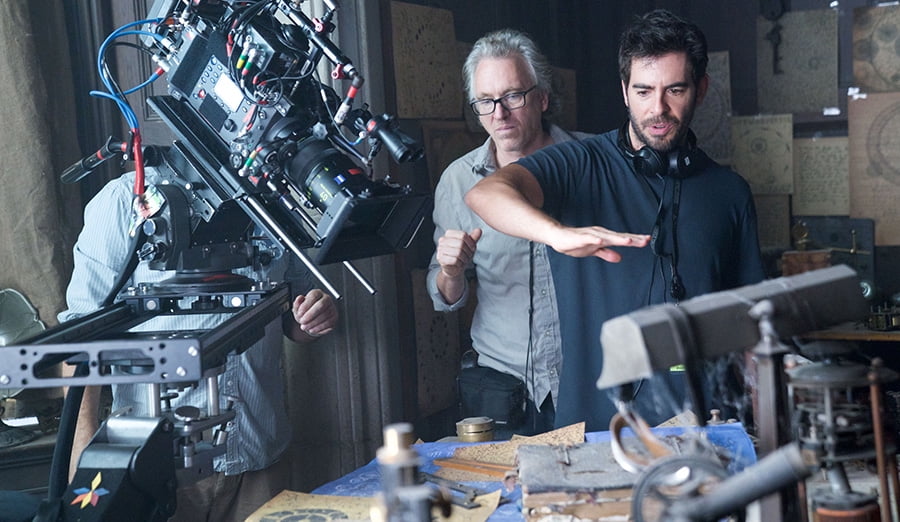 RD: Cate Blanchett can do no wrong, and I loved the humor that's meant for adults. You've done lots of horror for adults, so tell me a little bit about your experience of directing a movie that is fantasy/horror geared toward a family audience.
ER: I love movies that the whole family can go see, and it feels like they don't make them anymore. And when I was a kid, the movies that were the most fun to go see were those Amblin films. It was Raiders of the Lost Ark and Gremlins and Goonies and Back to the Future that adults could really get into as well. That sort of film today doesn't really exist, so I wanted to make a movie that was a modern-day Amblin film [...] something that would be like the Gremlins for the next generation. So, the goal was to create something that had fantasy, magic, fun, humor, a little bit of scares, and a little bit of drama. 
RD: Did you read The House with a Clock in its Walls as a kid? 
ER: I did not, but I read a lot of Roald Dahl. My favorite authors are probably Judy Blume and E.B. White, but I was not familiar with Bellairs. However, I love Edward Gorey [illustrator] and I collect his artwork, and I have the cover for Bellairs's book, The Hand of the Necromancer, and so as soon as I got the script I thought, oh my God, there's another Gorey/Bellairs. I read the script and then read the book right away. It's very rare to get a piece of material that falls in your hands and you just read it and see it exactly.
RD: What favorite books of yours would you recommend as must-reads?
ER: I loved Charlotte's Web and Stuart Little. Those are two of my favorite books. I had a pet pig. I own some of the artwork for Charlotte's Web that I got at an auction. Charlie and the Chocolate Factory, Roald Dahl, and I love Charlie and the Great Glass Elevator, but Charlie and the Chocolate Factory is my favorite. Animal Farm is one of those books too. 
RD: What should people expect in the DVD's outtakes and the bonus content?
ER: Well obviously we have a very funny cast, so there's some amazing comedy stuff; gag reels and outtakes. [We take a look at] John Hoffman, our production designer, and how he created the visual effects; alternate opening an alternate ending and stuff that we had that for various reasons didn't make it into the movie, that's fantastic on its own, and then us pranking Jack Black by putting a goat in his trailer and him freaking out.
Owen Vaccaro - Actor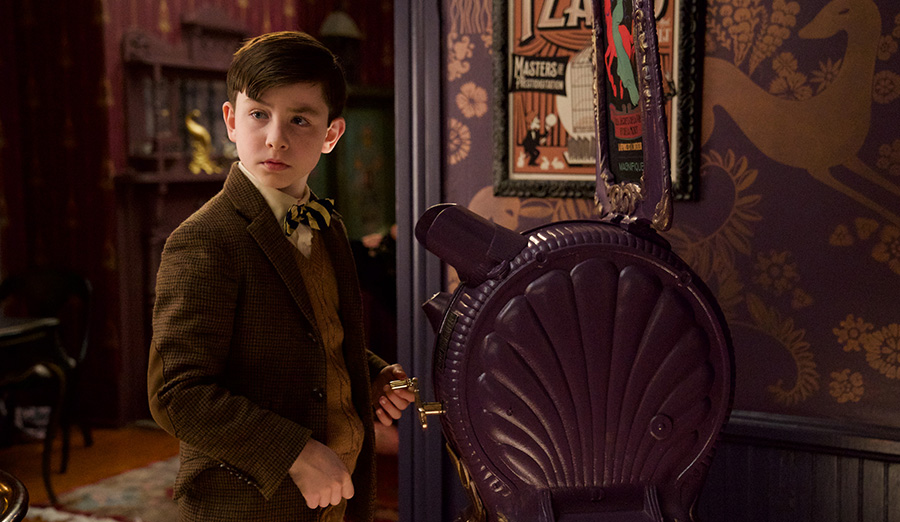 RD: First off, I just want to say you did a great job in the movie. What was it like working with Cate Blanchett and Jack Black?
OV: They're fantastic. They're so good at what they do, and the acting itself is already so much fun, they just make it so much better. But I think the best part about working with them was the sporadic dance parties, at any given time, any given moment randomly, just bust out and take turns taking on the camera, and everyone would watch the monitor and it was pretty great.
RD: Any particular song you would dance to?
OV: Oh, Immigrant Song, by Led Zeppelin.
RD: Can you tell us a little bit about the movie is about, and why people need to see it?
OV: It's about an unlikely family who gets together and has to overcome a bunch of stuff that they accidentally put together, and you should see the movie because it's a nice family film. It's a gateway horror film, so if you really want your kids to like horror movies, here's how you start them off. That's why you should go see it. It's a fun movie.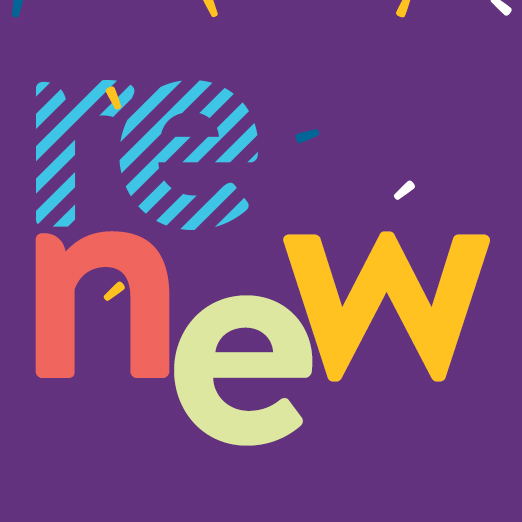 More in New Year's Resolutions
Products & ideas for kicking off 2019 right
Helpful must-haves & tips for getting healthy, getting organized & getting happy.
RD: Do you ever watch horror movies you're not supposed to watch?
OV: Horror movies are my favorite. My mom knows specifically that I'm OK with a lot of these horror movies [...] I want to watch Nightmare on Elm Street so bad, but that was the one horror movie that terrified my dad so he won't let me watch it. I don't blame him, it is a scary movie.
RD: It is kind of awesome, so maybe one day.
OV: One day. I promise I'll watch that movie.
RD: What was your favorite scene to shoot?
OV: I think my favorite would be when we had a giant dance party at the end, but they didn't they didn't put it into the movie. It was originally gonna be right before the credits, but it's on the Blu-ray.
RD: Did you read the book before you started this movie?
OV: I didn't read it before because I didn't want to get confused with the script, but I did read it after and I thought it was great.
RD: Do you have a book you like that everyone should read?
OV: Well for this specific series [by John Bellairs], my personal favorite was The Vengeance of the Witch Finder, but in all books, I'm reading the Series of Unfortunate Events. I'm on book five, and it's really good.
Nathan Barr - Music Composer
RD: You're known to have an eclectic taste in music and for taking different genres and making them work together. In this movie, you used classical, but then you have old school horror flick-type sounds with the organ that you restored. Can you tell us a little bit about how you used all these genres and made them work in this family-friendly horror movie?
NB: The key player in this from the beginning was this Wurlitzer organ that was built in 1928; it has this rich Hollywood history. It's the organ played when Maria gets married in The Sound of Music, and [among others] Star Trek: The Day The Earth Stood Still. It literally comes from the very history of Amblin that we are now a part of because of The House with a Clock in its Walls, and so that was the fundamental sound to the score. Even when you don't notice it, it's still there supporting the orchestra a lot of the time. You know that Field of Dreams quote: "If you build it, they will come." Literally within a month of finishing this organ, I had found out from Eli [director] about this film with a talking organ in it, it's like what are the chances of that. So yeah, it was really just about creating beautiful themes, which I think is a rich tradition and a part of Amblin films, and then giving it this beautiful sort of instrument and orchestra to bring it to life.
RD: There's a there's a big history with this story as a book from the 70s, and there's a huge history with the organ. How cool is it to own the organ that was at the 20th Century Fox studios since the 1920s?
NB: It's amazing. It was forgotten about, so this is part of Hollywood history that is gone, like with silent films. I found out about it through the organ world, which is very tiny, and I found out this guy owned the former Fox studios' Wurlitzer. It is incredibly cool, especially as a film composer, to own this piece of film music history, and to be sharing it with the world. Danny Elfman just used it in The Grinch, so it's already coming back into film in a cool way.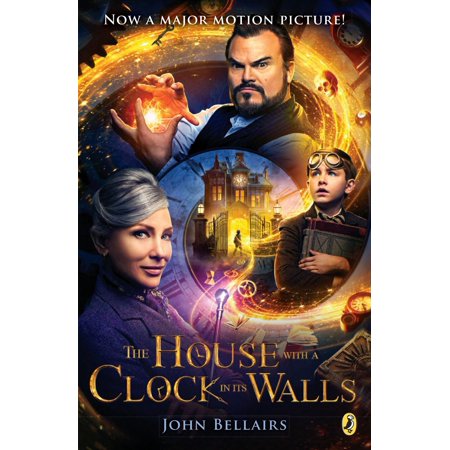 More in Books
Buy The House with a Clock in its Walls
Get your own copy of this incredible book!
RD: As an expert in storytelling through sound and music, can you tell us a bit about your favorite audiobooks or narrators?
NB: This is interesting. So, the book that I listen to, which I don't even think it's in print anymore, it was an audiobook called The Wind in the Willows by Kenneth Grahame and read by Kenneth Williams back in the 60s. It's pretty obscure. I listened to that thing literally hundreds of times as a kid. I absolutely adore that book. And Fisher Price had all these books on tape that as a kid I listened to like Tom Sawyer and Hans Brinker.
RD: Do you have a book recommendation of something you love that everyone should read?
NB: Devil in the White City is a great book that a lot of people have read that's soon going to be a [Martin] Scorsese picture. That's a really cool, dark book.