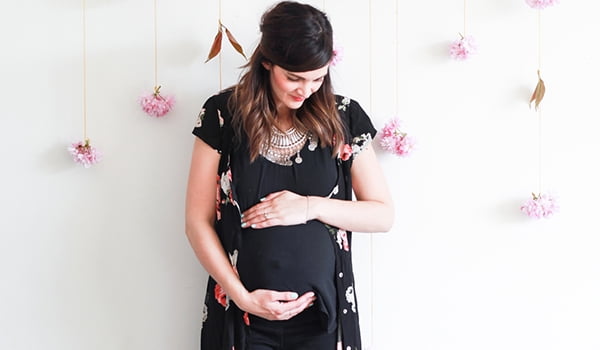 When I first announced I was expecting, everyone was full of helpful baby-rearing advice. I just wish someone had told me that looking attractive when you feel anything but is actually possible-and how to do it. So here are my tried-and-true tips for looking great throughout pregnancy.
Tip #1: Shop your closet for staples. 
In the early stages of pregnancy, bloat, nausea and other uncomfortable symptoms kick in. While you don't look pregnant during the first several months, you sure will feel like it. The upside is that you can still wear your normal clothes with some minor adjustments.
Cardigan sweaters and relaxed-fit t-shirts paired with my favorite pair of stretchy skinny jeans were my early pregnancy staples. With a simple trick of looping a hair tie around the buttonhole of my jeans, I was able to wear a variation of this outfit well into my fifth month. When I did want to wear a dress, I chose an ever-stylish baby-doll cut dress. And while my partner found it funny, I did manage to turn some of his button-down shirts into cute tunic dresses simply by adding a skinny belt to form a waist and pairing with leggings.
Tip #2: Choose tops that are functional.
When I first started buying maternity tops, I looked for items that accentuated my small bump but allowed for growth later on. When you're shopping, choose peasant tops, wrap shirts and other apparel with expandable features. Remember: You'll wear these tops post-pregnancy too, when function will be even more important as you try to balance your comfort with the constant needs of a little one.
Focus on tops that are darker in color to hide accidental breast leakage and other spills. Also, look for fabrics that are easy to wash over and over again. If your budget allows, buy a couple pieces that make you feel amazing every time you wear them. It could be as simple as choosing a brightly colored maternity shirt.
Tip #3: Invest in some comfortable pants and skirts.
I have to admit: I'm a fan of comfort, so once my belly grew beyond a bump, I moved on to full panel maternity jeans. I continued to pair these with a cardigan and had a very classic look for work. When it was too hot for jeans, I wore maternity shorts with a panel made of a poly blend instead of cotton for more breathability. I also loved elastic-waist skirts, which were a great feminine-looking option for warm days.
Tip #4: Buy a maternity dress that makes you feel good.
While I felt I'd nailed down my maternity wardrobe with everyday staples and a few fun splurges, I'd nearly forgotten about date night and other occasions. Finding a pretty maternity dress that you love will make you feel as special as the day is. If you buy just one maternity dress, go for a style that will work for both the office and special occasions.
Tip #5: Use accessories to create a variety of looks. 
I believe that accessories make an outfit. This is even truer when you're pregnant and have a much more limited wardrobe. For me, accessories like jewelry, scarves, shoes and handbags were essential for quickly changing my look while staying comfortable. Ballet flats were already a pre-pregnancy favorite of mine, but they're also must-haves both for comfort and the challenges of dealing with an expanding belly. At a certain point, reaching over your stomach to pull on a pair of boots all by yourself simply won't be an option! I also traded my bulky necklaces for smaller, lighter pieces that felt more comfortable as my bust line grew.
Tip #6: Wear maternity clothes post-pregnancy.
Leaky breasts, pukey babies and diaper-changing fiascos can all wreak havoc on your style. Luckily, maternity clothing you purchase during pregnancy can be worn through the early stages of post-pregnancy. Simple, functional pieces like wrap shirts or tunics look good and, more importantly, make breastfeeding and pumping a snap.
In general, stick to dark colors or patterns, as they will make it easier to hide the many stains that come along with being a momma. Lastly, a comfortable, well-fitting nursing bra is key, as it will not only help with breastfeeding but also help you feel look and feel your best.
These are the maternity gear tricks I wish someone had given me when I started this adventure; I hope they help you!