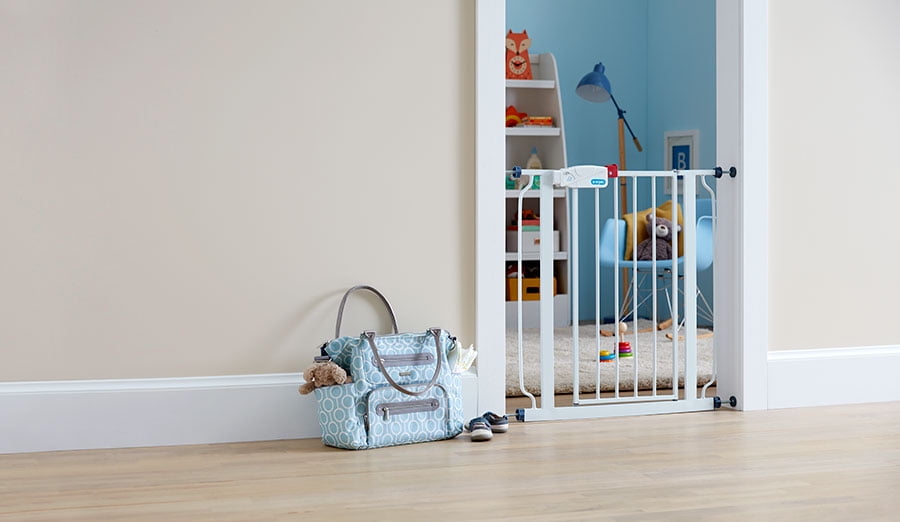 Once your kid is mobile, finding the right baby safety gate will top your baby-proofing to-dos. Rest assured you can keep your baby safe without spending a fortune, and with all the options available you will no doubt be able to find a gate that blends nicely with your home decor.
What to consider when choosing a baby gate
Where will you put your baby gates?
You'll likely have a couple different spots in the house where a baby gate is needed. The top of any set of stairs, for example, would be an obvious place to block off. Walkways and other open areas that pose safety hazards will also require a gate. Keep in mind that installation will also factor into your purchase, and the location of each of your gates will help determine the best way for them to be installed.
How wide are your openings?
Baby gates come in a range of sizes, so measure the width of each spot where you need a gate before you start shopping. Most gates come in these standard sizes:
What additional features should you consider?
Besides location and size, there are a few other features to consider before bringing a baby safety gate home. Some additional questions to ask yourself before buying include:
Is this gate good for homes with pets? If you have a large dog, you'll need something extra sturdy to withstand possible wear and tear from your pup.
Do you want a gate with a door? Most gates designed to stay in one place will have doors that swing open, while other models that are designed to be moved around don't. Think about which option will be easier for you based on the area of your home where the gate will be mounted.
How does the gate open? Some gates require both hands to unlatch—which could be tricky to do while holding a toddler—while others can be easily opened with one hand, or even your foot, keeping your hands free.
Does the gate lock automatically? Certain baby safety gates lock automatically when they close, while others require you to maneuver levers, handles or tabs to lock them manually.
Does the gate stay open or swing shut on its own? It might be helpful to have a gate that shuts on its own if you're worried about forgetting to do so yourself, but in certain areas of your home (like a hallway leading to a kitchen, where you'll be bringing groceries in and out) keeping the gate door open until you want it closed can come in handy.
Does the gate meet Juvenile Products Manufacturers Association (JPMA) certification standards? JPMA-certified products have been tested in an independent facility and meet specific safety guidelines so you know they are the safest products on the market.
Does this gate fit with the style of my home? This isn't the most important aspect of baby safety gates, but with all the options out there today there's no reason not to consider it. It will help you to find a gate that meets all the other necessary requirements and blends in seamlessly with your home's aesthetic.
With answers to the questions above in mind, you can start your search through the four main types of baby gates to find the perfection option for every location in your house.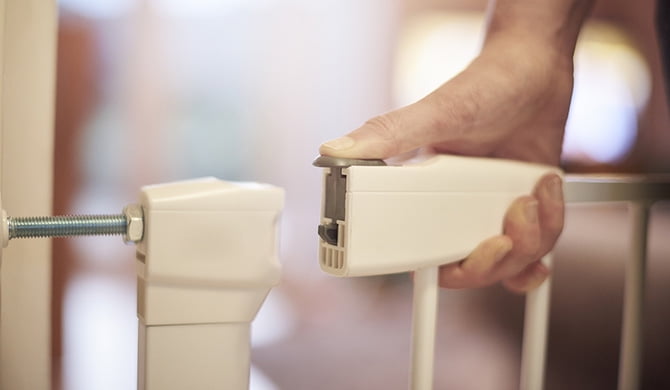 Types of baby safety gates
Pressure- or tension-mounted baby gates rely on pressure to stay in place, much in the same way tension rods for shower curtains work. These types of gates get their tension by pressing on opposing walls. Pressure-mounted baby safety gates are not recommended for areas where maximum protection is needed, like at the top of a set of stairs.
Pros:
Easy installation
Easier to remove
Usually a cheaper option
One of the more popular versions of baby safety gate, so it's generally easier to find different styles
Cons:
Not as stable as other options, especially when not installed correctly
Not a great option for houses with large animals that can easily break through them
May cause damage to your walls when not installed properly
Usually have a bottom bar that you'll need to be cautious not to trip over
Top rated: The Evenflo Soft & Wide Pressure Mount Gate is usable with widths from 38 inches to 60 inches and measures 27 inches high, and the non-marring rubber bumpers prevent damage to the walls where they are mounted. The neutral style complements a variety of home decor, and the fabric comes off for easy cleaning.
As the name implies, hardware-mounted baby gates get screwed into your wall or doorframe and are recommended for high-risk areas—like the top of your stairs—since they are less likely to buckle under pressure.
Pros:
The most secure type of baby safety gate, to handle rambunctious toddlers and powerful pets
Usually doesn't have a bottom bar to trip over
Cons:
Takes longer to set up
Generally costs more
Requires drilling and will leave holes when removed
Usually cannot be easily taken down (although some come with a quick release feature)
Top rated: The North State Swing Door Stairway Baby Gate has sturdy steel metal construction and comes with easy, one-handed operation and a safety latch design. There is no threshold to step over and the gate measures 28 inches to 48 inches wide and 31 inches high. The matte bronze finish is a nice decorative touch that complements many types of home decor.
For larger openings or to keep baby safe in a room that poses other potential safety hazards, free-standing baby gates or playards are the way to go.
Pros:
Depending on the model, most can be set up in a variety of shapes and sizes as stand-alone frames
Often easy to pack up, move and travel with
Good for keeping kids in small, defined spaces for periods of time
Less distracting in your house since they aren't necessarily meant to be out all the time like a traditional baby safety gate
Cons:
Can be a bit more expensive 
Tend to take up more area than traditional baby gates unless they're removed and set back out each day
Top-rated free-standing gate: The Regalo Extra Wide Baby Gate & Playard is a 192-inch super-wide gate that encompasses 19 square feet and can be set up in a variety of shapes and sizes. The individual eight panels fold into a compact size for easy transport and storage, and the material is lightweight yet sturdy, good for both indoor and outdoor use.
Top-rated playard: For an easy-to-use playard, look no further than North States 6 Panel Superyard Portable Indoor Outdoor Playard. At 26 inches high and with six interlocking panels measuring 30 inches in length, this playard is durable, convenient and versatile—plus it's washable so it's easy to clean. An included carrying strap makes it even easier to move from place to place.
Shop Diapering Essentials