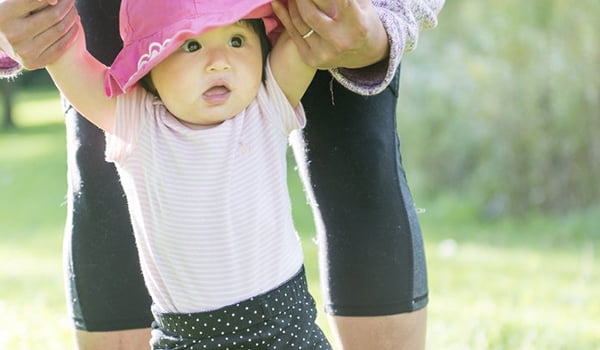 Watching each one of my six children grow from tiny newborn babies to toddlers has been a rewarding, yet very trying experience. All of my kids were born small, many less than 7 pounds, and my newest little guy left the hospital at 5 pounds, 11 ounces. I was so worried about their tiny limbs and how their skin almost hung off their itty-bitty bones, and my main focus was to keep them fed and happy and well on their way to becoming chubby cherubs with meaty thighs and dimpled chins.
For the new mom, the days seem to repeat over and over: get up, feed the baby, sleep a little, do a diaper and repeat. I wouldn't know if it was Monday or Saturday, afternoon or evening. The days would pass, and the growth charts would show that, indeed, my little one was growing.
The toddler years almost always take me by surprise. Suddenly, they are no longer content to just be nursed, cuddled or rocked. They want things they can't have (Daddy's screwdriver or the cord to the iPad charging station). They insist that screaming or flailing or biting will get them what they want. Their free will is instantly on display for everyone to see, and they seem proud of their voice, even if it is just babbling.
I struggle during this time to allow them the freedom to explore, fail and learn. I want them to always be safe. I try not to giggle when they give their first try at sassing me back: "No, Mom, YOU are being naughty." I delight that they are so bright and determined, that their confidence is amazingly more than my own. And I also worry.
Now that they can choose to do right and wrong, there will be consequences for their actions. Pulling the cat's tail may earn a scratch; pulling open the toy box may produce a bruised thumb. It's hard not to interfere too much, but heartbreaking to watch the disappointment on their tiny toddler faces when they discover that they can feel pain and experience frustration.
So, even though I have been through this before (five times, in fact), seeing my newest son toddle off to a day full of victories and disappointments is rough. I can teach him lovingly, correct him when needed and hope he learns his lessons quickly. But not too quickly. He is my last baby. I'll be teaching him ABCs soon, and I'll be cleaning up the messes of potty training before I know it.
Here are some of the things I have learned that might help you with this transition:
Introduce new toys slowly. Just because a toddler can now play with big-kid toys doesn't mean he has to abandon his "baby" toys. Favorites can continue to nurture creative play well beyond the recommended years. Favorite blankies or stuffies can have their place into the toddler years as well, especially at night or when they are sick.
Allow babies to make messes. I sometimes see moms avoid giving their new toddlers foods like spaghetti, pudding or even soup. As long as a food isn't a choking or allergy hazard, I don't think there are any foods that should be off limits. Pick a time to allow for exploration of these foods in clothes that wash well (and certainly not at another's home or at a restaurant) and have a warm soapy bath prepared for the aftermath. They'll learn to eat, experience new textures and have some fun, too!
Let them help. Toddlers love their mommies, and it's not enough for them to just sit and watch as you clean and care for others in the home. In fact, some of the most popular toys on the market aren't based on cartoons or blockbuster movies; they are the traditional toys like kiddie vacuums, doctor kits and power tools. Kids love to mimic Mom and Dad, and sometimes, just allowing them to give you a hug when you are sick or put food in the pet dish is enough to boost their confidence and set them on a path to success.
The best advice I can give to new moms who look ahead to the toddler years with wonder and fear is that it's OK to feel wonder and fear. No child is the same, and the process of watching them evolve into a tiny new person with their own ideas and weaknesses is going to be tough. But remember that you were chosen to raise this little one, and you are equipped with all you need to get it right. Judge your success, not in the moments of crying and spilled juice and missed naps, but by how tightly they hold on to you at the end of the day.
By Linsey Knerl, author of the Lille Punkin blog.