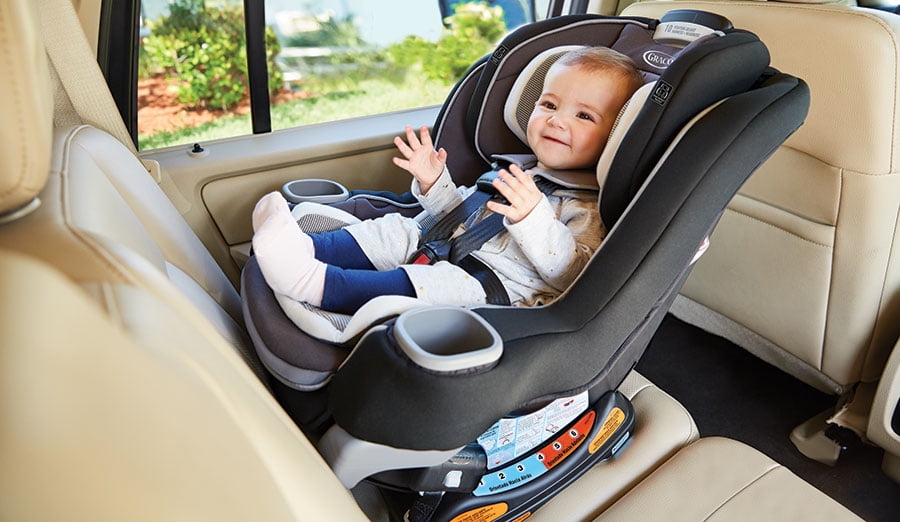 With advances in technology and engineering, keeping your child safe while traveling in a vehicle is easier than ever. Sadly, road injuries are the leading cause of accidental death of children in the U.S., with 73 percent of car seats not used or installed correctly. The good news is that having a car seat installed and used correctly can reduce the risk of death by as much as 71%, according to Safe Kids Worldwide.
Is it the right fit for your car?
With the excitement of a new addition to the family, most parents are eager to shop for the essentials. Before you add a car seat to your registry or purchase one, the first thing you need to do is read your vehicle's owner's manual. Laura Coleman, Safety Education and Prevention Specialist at Safe Kids Worldwide, says, "Your car's manual is an important part of your car seat purchase decision." Laura further adds that the car's manual will answer questions like if you can install with a LATCH system. The LATCH (Lower Anchors and Tethers for Children) system was developed to make it easier to correctly install child safety seats without using seat belts. The lower anchors are the metal bars located in the vehicle seat and a tether anchor is the spot in the vehicle where the car seat's tether is connected. Knowing where the anchors are in your vehicle will help you determine if you can use a LATCH system or not.
Used car seats
Having a baby can be expensive, but a child safety seat isn't the place to save money by buying used. "You don't know the history of that seat," says Coleman. "You don't know if it was dropped, in an accident or washed per manufacturer's instructions and lost its fire-retardant ability." For that reason, Safe Kids Worldwide and many other child safety advocates suggest that you never purchase a car seat from a thrift store or garage sale. Once a car seat has been in a crash, is missing parts or is expired or broken, it needs to be replaced.
Installing the car seat correctly
Once you have purchased a car seat, it's time to install. Begin by reading the car seat manual and car manual to decide if you are going to use the LATCH system or seat belt. You want to use either the seat belt or the lower anchors, never both. Laura Coleman says, "Use the lower anchors only if the vehicle will allow the lower anchors in that spot and if your child is within the weight limit for the lower anchors." If your child exceeds the weight for the lower anchors, you'll need to switch to the seat belt through the back of a car seat. If you aren't sure about how to install or wish to get help on installation, Coleman suggests that you visit a CPST, a Child Passenger Safety Technician. "The CPST will assist with the installation, and teach you how to put it in," she says. "That way you will be able to move the car seat from one car to the other correctly because you were taught how to put it in instead of just having someone put it in for you."
The back seat is the safest place to ride for all children under age 13.
Make sure that each spot where you plan to install a car seat has a seatbelt or LATCH system.
Car seats can be installed with either a seat belt or a LATCH system. Don't use both at the same time; pick the one that gives the car seat a snug fit.
Place the seat belt through the car seat at the belt path. Arrows on the car seat will show you the correct belt path. On all forward-facing car seats, use a top tether when securing the car seat. When using a LATCH system to attach the car seat to the vehicle, the car seats will have lower attachments that connect to the car's lower anchors.
A properly-installed car seat shouldn't move more than one inch front-to-back or side-to-side when pulled at the seat belt path. This rule applies for forward-facing and rear-facing car seats, and whether the seat is secured with either the seat belt or LATCH.
Know the weight limits for LATCH. You will find the weight limit on the car seat. If your child exceeds the weight limit for LATCH, use the seat belt and top tether.
When to upgrade
Your child will eventually outgrow the car seat. Even though there are options out there that will accommodate a growing child, there is a maximum limit. Most experts recommend not changing from rear-facing to forward-facing car seats until age two. "If you can keep them rear-facing longer, do it," says Coleman. "They're five times safer, at least until age two, riding rear-facing, according to the American Academy of Pediatrics." Coleman further recommends that toddlers wait until they outgrow the seat that they're in, or it expires, before trying to switch. "A lot of people try to go the bare minimum on weight and height for the seat," says Coleman, "it's better to wait, especially if they're not sitting in that seat correctly."
Other safety tips
Laura Coleman and Safe Kids Worldwide offer these additional car seat safety tips:
Never put an infant car seat carrier in the front seat of a shopping cart. The cart can get knocked over, causing harm, or even death, to a young child.
Anytime you put your child in a car seat, especially if you're using an infant-only seat, buckle her in. This will help prevent falls.
Register your new or currently used car seat to ensure that you are promptly notified about future recalls.
Do not take your child out of a booster seat until he is of proper size.
Your child should not sit in a seat without a booster unless she meets these six criteria:

be able to sit with her back all the way against the seat
her bottom back must fit all the way back in the seat
her knees must reach over the edge of the seat in the right spot
her feet must touch the floor
the shoulder belt must go halfway between her shoulder and the neck
she can sit that way the entire trip

The back seat is the safest place for your child. Until he is 13, he does not need to be in the front.
Never leave your child alone in a car, not even for a minute.
Be a good example as an adult, because adults that wear seat belts usually have kids that wear seat belts.
Sources:
Laura Coleman
Firefighter/AEMT/Safety Education and Prevention Specialist
Safe Kids Worldwide
http://www.chop.edu/pages/what-latch
Shop Diapering Essentials