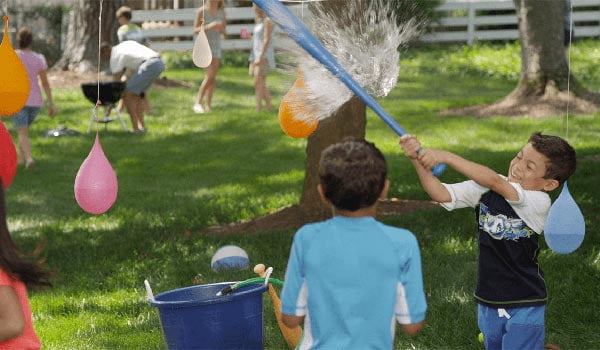 Splash into homemade summer fun! Kids LOVE playing water balloon piñatas in the backyard. It's a super way to let your little ones have a blast, work off some energy and cool off in the process. It's great for you because it's low-cost and provides a terrific opportunity to take fun action shots.
Water balloon piñatas how-to
Supplies
Nozzle
Nylon rope
Cotton string
Plastic bat
Instructions
Find a spot where you can hang a taut rope, like an overhanging tree branch.
Fill balloons with water using the nozzle, and tie up the end of each balloon.
Tie strings of varying lengths to each of the water balloons, and tie them to the taut rope. Make sure that the balloons are low enough that your little ones can reach them.
Let your kids take turns swinging, one at a time.  Be careful to make sure that other kids and adults are a safe distance from the hitter.
Have fun and take lots of pictures!