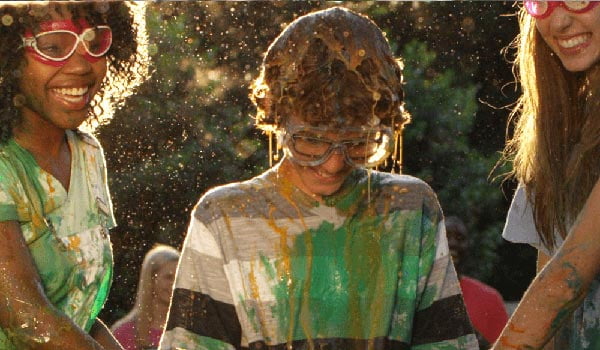 Super-messy and colorful outdoor summer fun! Paint balloons are a budget-friendly and easy homemade project, perfect for the backyard on a hot summer day. Kids will love mixing up the ingredients and having colorful "splash battles" on the lawn. All you need are water balloons, a few simple kitchen ingredients (food dye, corn starch and water) and an outdoor space to play.
Paint balloons how-to
Supplies
1 cup corn starch
1 cup water
Empty water bottles
Funnel
Water balloon nozzle
Instructions
Fill mixing bowl with water and corn starch, adding food dye as you like to get the color you want.
Using the funnel, pour your paint into water bottles and attach water balloon nozzles to bottles.
Attach the water balloon to nozzles, tip the bottle and fill it with paint.
Tie the end of balloon.
Put on goggles to protect your eyes, and then aim, throw and have a blast!