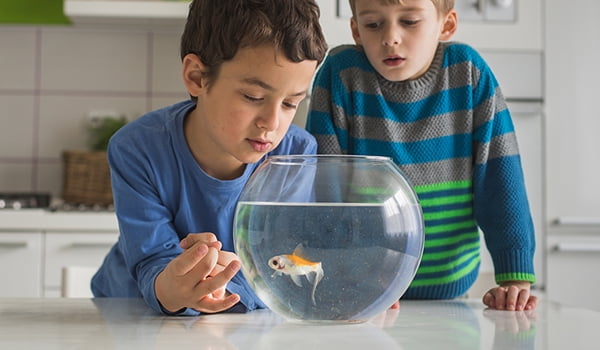 It's easy to find responsible and reliable caregivers for dogs and cats, but when you pack your bags for a much-needed vacation or weekend getaway, what should you do with your aquarium? As a fish enthusiast, you know the importance of aquarium care and maintenance to the safety of your fish, but what can you do to ensure their well-being while you're away? These aquarium
tips will keep your little friends happy and healthy even when you're on vacation.
Prepare in advance
Tackle regular aquarium maintenance before your trip so that everything is in prime working order:
A partial water change before you leave is usually a good idea, and you'll also want to do a quick check of your aquarium components to make sure everything is working correctly.
Clean and check your aquarium filters. At the same time, make sure that your heater is working properly and that your tank is at the appropriate temperature.
Plan the "menu"
The daily activity of feeding your fish is probably as vital to your schedule as brushing your teeth, so it may seem strange to think of leaving your fish without food, even for a weekend. But fish can go without eating for a surprisingly long time (a few days to even as long as two weeks), which means that the average weekend trip won't disrupt their schedule at all.
For longer trips, there are alternatives that will keep your fish fed while you're away:
Fish food blocks offer slow-release or timed-release food for your fish. Introduce this before you leave so the fish have time to become used to it. It can sometimes take the block a few days to begin releasing food, so putting it in the aquarium ahead of time will give the block a chance to start working before you leave. Food blocks may leave residue in the aquarium water.
Automatic fish feeders are another low-cost option. Just fill the drum with your fishes' preferred food, and the feeder will automatically release the appropriate amount of food at regular intervals. This type of feeder allows you to keep your fish on the same food that they're accustomed to receiving, which prevents a change in diet. As with any "automated" piece of equipment, an automatic fish feeder isn't a foolproof method; malfunctions may occur that could cause your fish to be fed too little or too much, while a food block ensures that your fish will have access to food while you're away, although it won't be the food they're used to.
Hire a fish-sitter (or not)
Even with a food block or auto feeder, you'll probably feel more comfortable if you make arrangements for your fish to be regularly fed and/or checked on during your absence, especially if your trip is longer than a weekend. You can, of course, enlist the help of a fish-sitter—a friend, family member, neighbor or someone you hire—who will come in to sprinkle in a bit of fish food and give your aquarium a once-over each day while you're away.
When choosing a fish-sitter, look for someone who:
Has experience with fish care. If your sitter doesn't, you may find that an important issue has been inadvertently overlooked.
Understands the importance of not overfeeding. Otherwise you may find that your fish have
been unintentionally overfed during your absence. Avoid overfeeding by providing carefully measured amounts of fish food in handy containers or bags.
Is trustworthy. You'll be inviting this person into your home and you'll be trusting him or her with the care of your fish.
On the other hand, if you'll only be gone for a few days and you don't have a fish-savvy sitter available, you may wish to skip the sitter altogether—your fish will be okay!
Provide guidance
If you do opt for getting a sitter, leave detailed notes with information on how to handle various situations, including equipment malfunctions and power outages.
Of course, leave feeding instructions if you are not using an automatic feeder or food blocks.
Stress the importance of maintaining the water temperature at the appropriate level.
Provide clear instructions on what to do if the filters and heater stop working properly due to a power outage or other
failure. If your sitter knows what to do in the event of an aquarium emergency, he or she will feel more confident in caring for your fish, and you'll feel
more at ease during your vacation.
Simplify the prep for your next vacation by jotting down takeaways after your trip. What worked? What would you do differently next time?
Remember, a vacation is a time to relax and unwind, so put these aquarium tips to work so you won't have to worry about your fish while you enjoy some R&R!