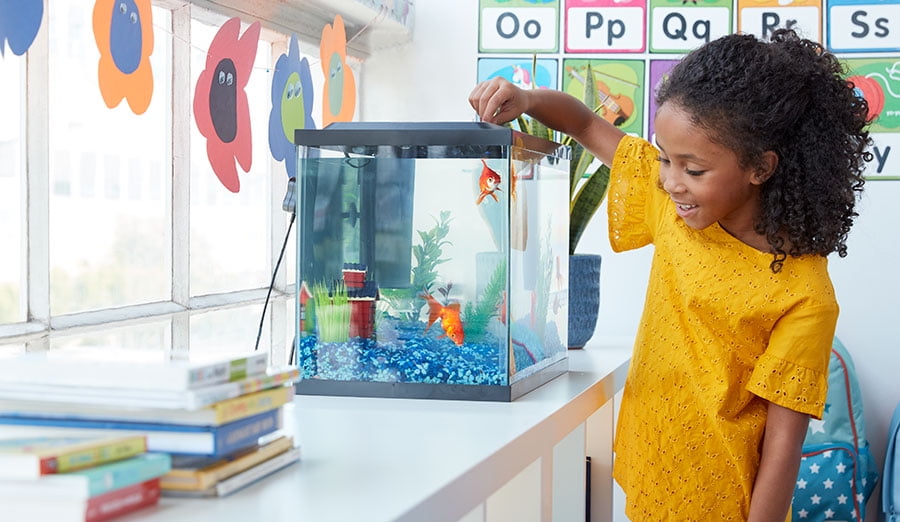 Tropical freshwater fish are some of the most beautiful pets you can own. These long-living, low-cost varieties can be great additions to your freshwater home aquarium.  
Types of freshwater fish
Guppies
Give a home to a group of guppies. Select three females to one male for your aquarium. Larger, grey females are especially hardy, but the colorful, glamorously finned males are more pleasing to watch play in the tank. They grow to approximately two to three inches, and they thrive in a temperature-controlled, filtered tank with green vegetation. Guppies are likely to live for one to three years.
Bloodfin Tetra
The bright red tails on these shiny, sleek fish add vivid color to your tank. Keep half a dozen or more together in a community tank for lively fish activity. These two-inch swimmers can delight you for up to 10 years under ideal conditions. Provide a steady room temperature or mildly heated, covered tank, as bloodfin tetras are known to jump when spawning. Neon tetras are a good choice, too.
Zebra Danio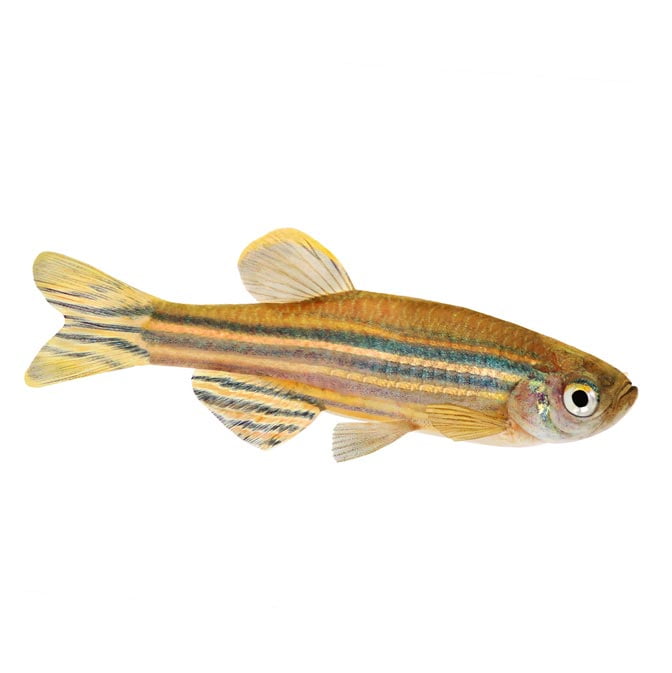 These incredibly fast and playful schooling fish have unmistakable, iridescent dark blue stripes on slender, silvery bodies. These beauties resist toxins and can withstand cooler water temperatures. Help them thrive in your home or office with just a basic tank setup and frequent attention. They have a lifespan of two to five years and grow to up to two-and-a-half inches in length.
White Cloud Mountain Minnow
Heated water isn't necessary for these curious fish — they tolerate minor fluctuations in temperature well. It's common for multiple minnows to share a habitat. Look closely at their two-inch, slender bodies to appreciate their colorful variations — from metallic tans and browns to sharp white with red fins. Manage water quality properly, and minnows will survive three to seven years in small, even unfiltered tanks.
Platy Variatus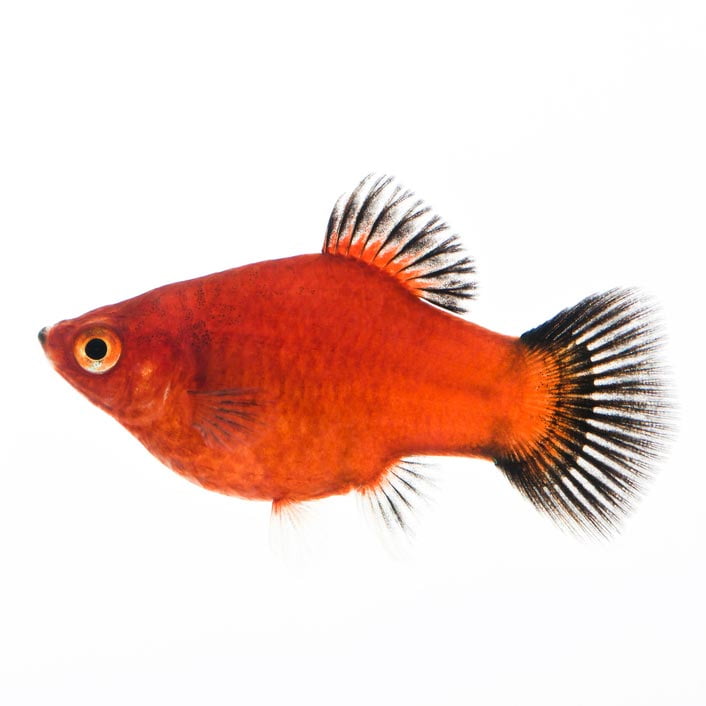 Populate your aquarium with this popular, attractive fish that has a bright red / orange / yellow body and dark tail or fin markings. These hardy two- to three-inch fish live for years and tolerate a range of water temperatures and smaller environments. You may get away without a heater, but be prepared to regularly monitor their water temperature. These fish are livebearers, meaning they give birth rather than lay eggs, and breeding can get out of control.
Rasboras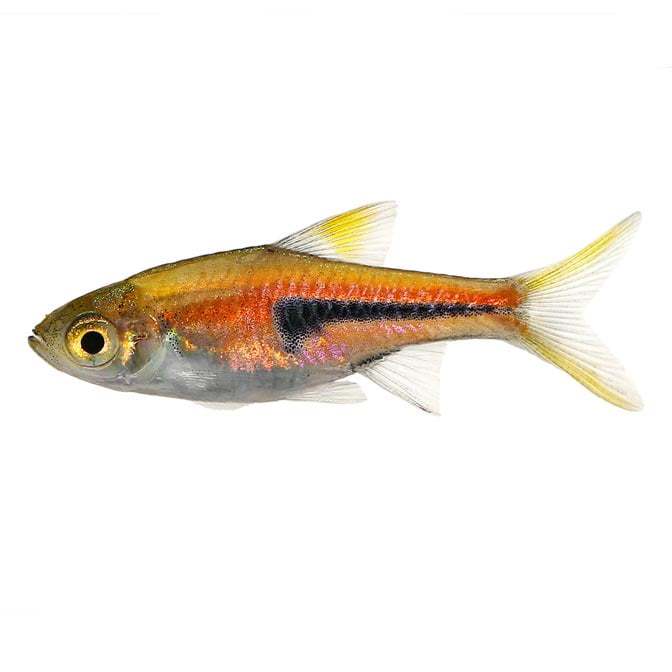 Animate your tank just with these striking two- to five-inch fish. Look into Harlequin and Scissor-Tail varieties for dazzling color and markings. Maintain a stable, warm temps using an aquarium heater and water thermometer. Build up a school of rasboras — adding a few at a time over a span of a few weeks. These peaceful fish can grace your tank for two to five years.
Betta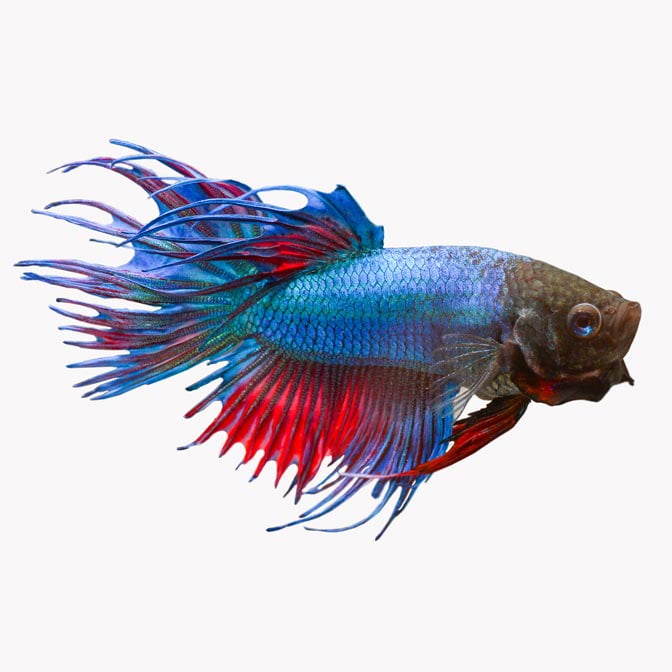 Add one eye-catching male betta fish to your tank. To avoid fights between territorial males and other fancy-finned fish, mix your male betta with smaller, peaceful community fish such as rasboras or neon tetras. Speak with an expert for specific recommendations. Monitor the warm-water temperature to ensure healthy tank activity and your betta's brilliant colors, often in patterns of reds, blues and greens. These three-inch fish can live for two to six years. 
General Aquarium Care
Always mimic the natural environment of your selected fish in the setup of your aquarium. Include the right kinds of plants, hideaway spots, water temperature, pH and the right water chemistry. Don't overcrowd the tank with decorations or fish. Select species that live well together, considering social behavior and habitat. Keep tabs on their environment with daily, weekly and monthly routines, and take good care of your pets so they thrive rather than just survive.