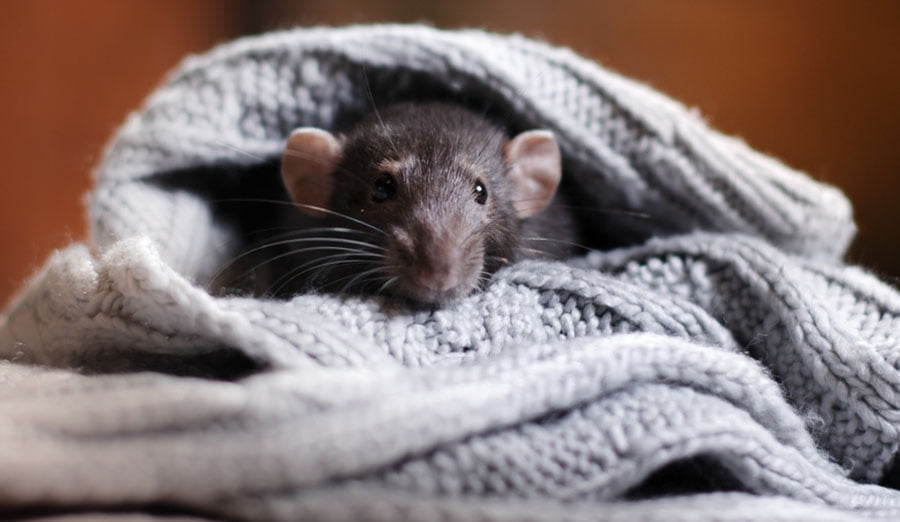 The playful antics of cartoon mice and rats in children's movies warm hearts of all ages. It's not surprising these pocket-size, gentle critters are so popular as first pets. If your child is begging for a Mickey, Minnie or the cast from Ratatouille, this new pet guide will walk you through all the mouse & rat supplies you need when getting a new mouse or rat as a pet, how to care for them and know they're healthy and happy with your family.
What's the difference between mice & rats?
Contrary to popular belief, mice are not baby rats. These two pets are different species and should be housed separately. If you have more than one child asking for a pet, consider setting up two cages: one for mice, the other for a pet rat. Thankfully, these two pet types use the same supplies and can share food, making them the perfect combo for households looking to welcome more than one furry smile and stick to a budget.
Is a mouse or rat a good pet for my family?
They're soft, small and easy to care for each day. However, these animals have short life spans. Mice tend to live 2 to 3 years, while rats may reach a ripe old age of 5. If you think your child is ready to learn about the circle of life, these docile pets are a perfect starting point for young pet lovers.
Pet mice & rat supply list
These active pets enjoy lots of room to run, play and tunnel. And when they're out of their cage with you, keep a plastic running ball nearby for safe, contained exercise. After all, you don't want your new pet nibbling electrical cords or getting lost behind the couch.
Pick the largest cage possible, with the narrowest wire walls, to discourage escaping and promote airflow. A habitat with a solid plastic or metal bottom is most comfortable on small feet and is easy to rinse when cleaning the cage. 
Be sure the cage has a running wheel installed, or room to add one, since your mouse or rat will appear to be training for a marathon.
Burrowing and tunneling are what mice and rats do best. Layer a few inches of paper-based bedding or ground corn cobs into the bottom of the cage to promote play and absorb waste.
Note: Mice and rat urine has a strong odor. Don't be surprised if you need to wash the base of the cage with dish detergent and a splash of bleach (then rinse with clear water) every few days to keep the pet's home clean and odor-free.
Bottles & bowls
Your pet will need a hanging pet water bottle filled daily with fresh non-chlorinated water and a durable bowl made from ceramic or metal for his food pellets.
Mice and rats like a blend of crunchy pellets, sometimes called lab blocks. These can come plain or in a mix with dried seeds, grains and bits of dehydrated fruits and vegetables. 
As a treat, you can also offer a pinch of timothy hay or a few toppings from your dinner salad (minus the dressing), once a day. Also include daily hard chew toys, such as wooden sticks, to keep his teeth naturally filed down.
Toys
These pets like to hide when sleeping, so offer a few house-like structures. You can also recycle toilet paper tubes and tissue boxes for this purpose. They will get chewed and soiled, so toss these every few days. Mice and rats also enjoy toys that promote climbing and chewing, such as ladders, treat balls and mineral blocks.
Running ball
Enclosed plastic balls keep your pet safe and allow him to explore both indoors and outdoors, with supervision of course. Simply open the cool trap door on the ball, carefully let him jump in, seal it and he's off and rolling! 
Avoid areas with direct sunlight, as it can get too hot in a running ball for your pet quite quickly.
Grooming
Mice and rats don't need baths, nail trims or brushing. If their fur gets dirty, you can freshen the pet using an unscented baby wipe. Do keep an eye on their naturally yellow teeth. If they grow too long, they will curve under and require a painless trim by a veterinarian.
Getting a new pet rat or mouse
As you gaze into the cage of critters, it can be tough to choose which one to take home. Look for a mouse or rat with bright eyes, a smooth coat and lots of energy.
Mice and rats enjoy both having a roommate or two, or living solo. Choose same-sex pets, preferably from the same litter so they can grow up together. When you get them home and set up the cage, consider placing it in a family room or playroom. Mice and rats tend to run on their wheels at night, which may keep light sleepers awake.
How to play with a pet mouse or rat
These critters are fast! When you take them out of the cage, have an adult present. Sit comfortably in a chair, on a bed or the couch with a towel draped over you (in case he relieves himself) and allow the animal to crawl around your arms, legs or chest. Don't let him stray too far, or he might scurry off.
The safest way to play together is by using the running ball or placing the pet in a large enclosure with tall walls, like a plastic storage tote with the lid off or an empty plastic kids' swimming pool.
Daily care checklist for new pet owners
You've found the perfect pet, have his cage all set up and now the fun begins! Each day your mouse or rat will need attention. This checklist can easily be completed before and after school or work.
In the morning:
Talk to your pet. Tell him good morning if he's awake.
Dump, rinse and fill the water bottle.
Fill the food bowl.
Look for anything out of place. Is the cage door tightly latched? Did the water bottle leak and moisten the bedding?
In the afternoon:
Take the pet out for playtime. Mice and rats are most active in the evenings and at night.
Give your pet a treat.
Check the food and water. Refill if necessary.
Clean the cage if you notice any odor. Does your pet look perky and happy?
If you notice your pet mouse or rat is sneezing, not moving as fast as usual or has a drippy nose, it's best to call a small animal veterinarian for advice. Rats and mice can catch a cold, just like you, and may need medicine to feel better. To prevent illness, keep your pet's cage away from drafts, including fans, heat vents and air conditioners.
At the end of the day, you'll know your mouse or rat is happy and healthy if he's active, inquisitive and excited to see you. These pets are super sociable and love attention from humans, especially when there are treats and petting involved.
Both mice and rats are inexpensive, simply to care for and gentle to hold, making them a smart option to add to your list of pets to consider. Happy pet shopping!