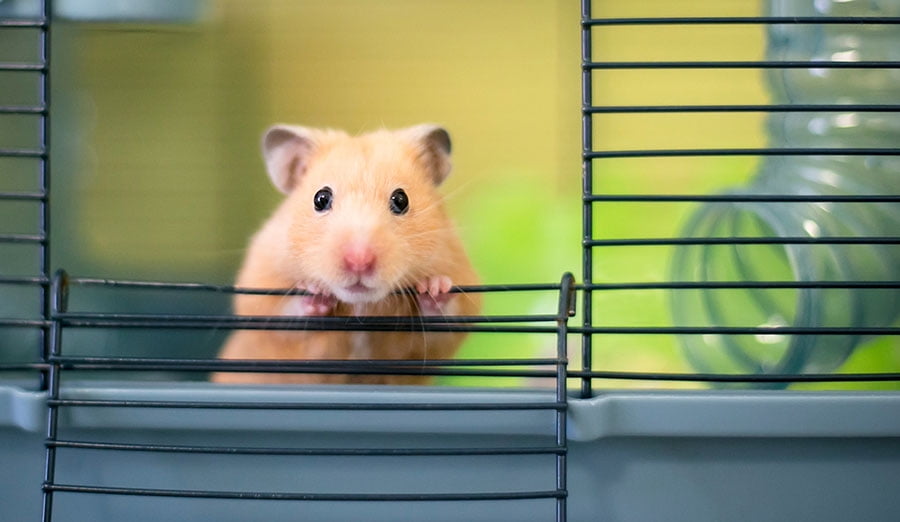 If you're parenting a child in the 6 to 10 age range who's begging for a pet hamster, you're not alone. The furry, cartoon-like smiles of playful hamsters excite most children. From watching the critters gobble down baby carrots to performing acrobatic tricks, kids can be entertained for hours with a pet hamster.
Thankfully, getting a new hamster is the perfect budget-friendly starter pet (with a short 2 to 3 year life expectancy) that you can adopt and get settled in your home in just an afternoon. 
Browse this new hamster pet guide to learn more about hamster supplies, hamster care tips and signs that your pet loves his new family.
Hamster pet supply list
Before picking out your new furry friend, pick up the essentials to keep him healthy and happy. You'll need a home for your hamster, a few accessories, food and of course -- toys!
Hamster habitat
When picking out a home for your child's new hamster, choose one with enough room for him to play, sleep, eat and exercise. A hamster habitat featuring multiple levels, enclosed tubes or ladders for climbing will keep the hamster occupied between play sessions.
A safe habitat
When it comes to safety, look for wire walls (to allow airflow) that are closely spaced together to avoid any Houdini moments. A smooth surface floor on the bottom of the cage or using plastic cage mats are best for the soft pads of hamster feet.
Cleaning the hamster cage
Make it a habit to clean the hamster's cage once a week. This task requires an adult's assistance when rinsing the base of the cage, hamster potty and any toys or houses that have fecal matter on them. Fill a sink with warm soapy water and a splash of bleach. Scrub, then rinse with clear water and allow the items to fully dry before re-assembling and placing the hamster back inside the cage.
Hamster bedding
Once you have the cage picked out, your hamster will want to tunnel, nest and dig in his hamster bedding. Choose a substrate made from paper, dried wood pulp or corn cobs. You can also offer him toilet paper tubes, shredded paper towels or tissues for him to tear and add to his favorite relaxation spots in the habitat.
Try to avoid any wood shavings that have an odor, such as pine. Fragrant oils can cause hamsters to get the sniffles and sneeze, leaving him feeling under the weather.
Hamster nutrition
Hamsters need to eat and drink! So you'll need a water bottle and food bowl and the occasional treat. 
Water
The pet water bottle should hang on the exterior of the cage, with just the metal nozzle accessible inside the cage. Otherwise, your pet may be tempted to nibble a hole into the plastic bottle. Fill the bottle daily with fresh, chlorine-free water.
Feeding
When it comes to feeding, have hamster food pellets available at all times. Some hamster food blends are mixed with seeds and nuts or pieces of dried fruits and vegetables. Don't be surprised when your hamster picks out his favorite morsels to eat first, then goes back for the "less  appetizing" bits later -- much like some kids at dinnertime.
Treats
Offer a hamster fresh treats occasionally. Hamsters love leafy greens like lettuce, spinach and kale. Carrots, strawberries and grapes are also tasty options. Only leave these fresh foods in the cage for the day, then toss what hasn't been eaten.
Hamster toys & accessories
After covering the floor of the cage with 1-2" of bedding, it's time to bring on the hamster-size furniture, toys and feeding station. 
Sleeping. A hamster likes to tuck himself away from everyone when he sleeps. Choose a comical elephant-shaped plastic bungalow or a pink castle for a cozy little hideaway.
Play toys. When it comes to toys, the best ones promote exercise. Add a hamster running wheel and hamster tubes to explore and hanging toys to climb. 
Chew toys. Hamsters also love to chew, and need to do so to keep their teeth from becoming overgrown. Wood sticks and mineral wheels should do the trick!
Great locations for your hamster habitat
Now that you have your hamster's home set up, where should you put it? It's tempting to let you child have it in their bedroom, but once they learn that hamsters are nocturnal -- or active at night -- they'll change their mind. Nobody likes to hear the whir of a spinning running wheel at 2 a.m..
Instead, choose a room where the hamster can be on an elevated table or piece of furniture out of reach of toddlers or dogs. The location should also be away from direct sunlight and the flow of air from heat/AC vents. Hamsters are not fond of loud noises, so steer clear of the TV stand.
Consider finding a place on a bookshelf or table in a family room, children's play room or the TV room, away from electronics. You hamster will appreciate a quiet area free of bright lights.
Getting a new hamster & learning his needs
Now, the big moment. Let's choose a hamster! There are two common species of hamsters that children love: dwarfs and teddy bears.
The dwarfs are smaller in size (3-4" long) with a nub of a tail and bold stripes on their short fur. The teddy bears grow to 5-6" and are easier for small hands to hold. Their coats vary in color, patterns and length. Some are smooth while others are shaggy like a long-haired cat!
Are there concerns to having a hamster as a pet?
Hamsters have a 2 to 3 year life span. Since these pets come with less of a commitment than say a cat or dog that can live 10-15 years or longer, but you may need to prepare to discuss the loss of a pet of with your child.
If possible, make it an educational experience to help your child process loss in a personal way. Are they struggling to understand where a grandparent went or why their dog isn't around any longer? Seeing a short-term pet pass away might help them accept that death is a natural part of life.
Should I have more than one hamster?
Hamsters are best kept solo. However, if you have more than one child and plan to have a pet for each, purchase the hamsters at the same time, from the same enclosure and preferably from the same litter. Hamsters that have lived with one another since they were born get along much better than trying to introduce a new roommate. 
If you're getting two hamsters for one cage, be sure they have ample room to play at the same time in separate areas and are of the same gender to avoid unwanted mating.
Note: Hamsters should not be housed with other pets, such as mice or guinea pigs.
How do I handle my pet hamster?
When interacting with the hamster outside his cage, it's best to have an adult present. While the child sits, they can pet the hamster in their lap or play with the pet on the floor.
A small animal fence or running ball allows the pet to be outside of his cage and stay contained, so he doesn't wander off and get lost.
Do I need to groom my hamster?
Like many small animals, hamsters keep themselves tidy by licking their fur. You won't need to give them a bath or brush them (unless it's a long-haired teddy bear hamster), but if you notice a wet spot around their tail and bottom, give a veterinarian a call. Stressed hamsters can get "wet tail", a condition that requires medication to remedy.
Signs of a happy, healthy pet hamster
You'll know your new furry family member is loving his home if he's sleeping during the day and active in the evenings. He'll run in his wheel, climb in the cage, drink from the water bottle and fill his cheek pouches with his favorite foods.
Your hamster's eyes will be bright and his fur silky smooth. And, yes, those bright yellow teeth are perfectly OK! His breathing should be quiet and sometimes he may squeak or chatter when excited.
Finally, he should be inquisitive and curious when you're around the cage during his waking hours. Hamsters are sociable and like to know what you're up to and will even chew on the bars of their cage to grab your attention.
Take the plunge! The silly antics and docile nature of a pet hamster provide hours of entertainment for everyone in your home. With one visit to our pet department, you can easily pick up everything you need to set up your new pet this weekend.