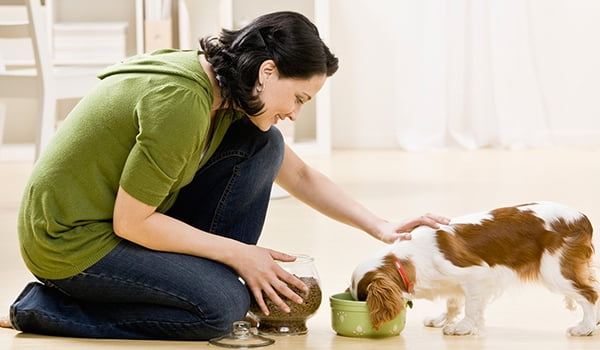 We sure do love our pets; and that's why we do everything we can to keep them healthy and well-fed. So much of that has to do with providing them with the proper nutrition. And, as more people are committing to eating well as part of their own diet, they are wondering if organic pet food or all-natural choices can benefit their four-legged friends, too.
If you're considering making a pet food transition, the good news is that it's easier than ever; there are more natural and/or organic dog food and organic cat food products available than ever before. From dry and wet meals to jerky treats and bones, it's easy to find the right pet food for your loyal companions. The question is, does it really matter if pet food is organic or natural, and what is the difference? Read on to learn about the potential benefits, and how to get started.
Advantages of organic & natural pet food
While there is no definitive research that proves organic or natural pet food is superior to other choices, many pet owners who make the switch report that their dogs and cats seem more energetic, and have fewer health issues overall. That could have something to do with the fact that natural and organic pet food is loaded with nutrients and lacking artificial ingredients. In general, organic means the food does not have pesticides, artificial colors or flavors, antibiotics, growth hormones, GMOs or by-products.
Foods with the "natural" label might vary, since it's a less uniform definition, but some of the benefits to look for include: added vitamins and minerals, U.S. farm-raised chicken as a top ingredient, no by-products or fillers, natural fiber sources and no artificial flavors or preservatives.
If you think about how good you feel when you make healthier choices in your own diet, it makes sense. Here's why:
A burst of nutrition in every bite. Because it does not have bulk fillers, organic and natural pet food is densely packed with nutrients that come from high-quality, all-natural, protein-rich ingredients. Therefore, your pet can eat a smaller portion to meet its nutritional needs. Bonus: getting more feedings out of an organic food package means it's more
wallet-friendly than you thought.
Tamer tummies. If your fur babies tend to have issues with digestion or bad breath, it could have to do with the cat food or dog food they are eating. Organic and natural pet foods, with their fresher ingredients, tend to be easier on those bellies that you love to rub so much.
A healthy coat. Thanks to the vitamins in organic dog food, owners report that there is a noticeable difference in the softness and shininess of their pooches' fur. Natural selections can have the same soft coat perks as well.
A solution for allergies. If your dog or cat is prone to skin conditions, don't be surprised if your vet recommends dietary changes, such as trying organic pet food, or feeding with all natural products. If it works and you can eliminate the need for creams and medications, it means fewer expenses for you, too.
Making the leap to organic & natural pet food
If switching your cat and dog treats and meals over to organic or natural is something you'd like to try, here's what you need to know.
Talk to your vet. Every pet has unique needs, so ask your veterinarian what ingredients to look for when transitioning to a new pet food.
Read labels. If you want to go the organic route, look for the USDA organic seal, or a label that touts at least 95, and up to 100 percent organic ingredients. For natural selections, real the labels carefully to understand the ingredients and added benefits.
Give it time. Make diet changes gradually. Your cat or dog might not like the taste at first, or it might trigger some gastrointestinal discomfort or changes if you introduce the new
food all at once. Mix the organic or natural food in with the old brand for a week, and then slowly phase out the old food.
If eating healthier is an important lifestyle goal of yours, consider bringing your cat or dog along for the organic or natural ride, too. It just might help keep your beloved pet healthy and happy for many years to come.