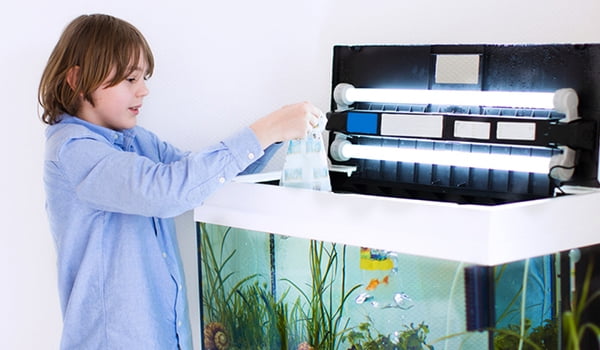 Having an aquarium can add a lot to your life: a sense of calm and tranquility that has been shown to help lower blood pressure and levels of stress and anxiety in some people. And in exchange, all you have to do is a bit of regular maintenance to keep your finned friends happy and healthy. Doing so will also help you keep costs down since you won't have to replace parts as often. More importantly, you won't have to go through the sad process of replacing favorite fishies that die as a result of an unhealthy tank environment.
The first step in setting up a successful aquarium is to establish a balanced ecosystem. This process is commonly called the water cycle. When you remove unhealthy elements from the water, the aquarium gets an influx of good bacteria that help your fish thrive.
It takes an average of five weeks to complete the first cycle. To begin, follow these steps:
Start slowly, running the aquarium for one day without fish.
Choose strong fish breeds like gouramis or livebearers, who are less sensitive to chemicals like ammonia and nitrites. Build carefully, with three fish per week as the maximum.
Add bacteria to the tank via a cycling aid product.
Now, let's discuss the subsequent water care schedule you should implement along with the filtration steps and tips for caring for your fish.
Recommended water care schedule
Here's how you can spend minimal time caring for your fish and tank.
Daily. Check water temperature.
Weekly. Take out 10 to 15 percent of the water, and add in dechlorinated water. Then, test the conditions regularly to be sure that all of the chemical levels are normal. You can easily purchase a water test kit to complete this task. Lastly, scrub for algae.
Monthly. You'll want to remove 25% of the water and use a gravel vacuum in addition to adding more dechlorinated water. Then, replace the aquarium's filter cartridge and its carbon. If
your filter contains charcoal, the charcoal should be replaced once a month as well; otherwise, it will stop absorbing odors. After you rinse the pre-filter, it's always good to do another scrub of algae if necessary. This is also a good time to wash plastic plants and decorations, as well as prune any live plants.
Aquatic filtration
Proper filtration is important and absolutely doable with the following affordable tools. Using the below filters will neutralize ammonia and nitrites and remove floating debris.
There are three basic filtration methods—mechanical, biological and chemical. Here are four filters to consider that embody all three:
Undergravel filters are slotted plates under the gravel bed that continuously circulate the aquarium water.
Power filters are the most commonly used filtration systems in tanks up to 55 gallons. They can be used along with undergravel filters to increase biological filtration.
Eternal power filters are external, hanging on the back of your aquarium and drawing water from the tank, while pumping it through a replaceable filter cartridge.
Canister filters are usually used on aquariums with 55 gallons of water or more.
Testing the waters
Here's how you will gauge your tank's levels and understand the result of your water tests. With this checklist, you'll be done as fast as you can say "water test log."
pH level. Normal range is 6.5-8.2. A pH level tests hydrogen ions within the water. As alkaline levels and water hardness change, so will the pH level. You never want this measurement to change suddenly, as it could harm your fish.
Chlorine and chloramine. Normal results: 0.0 mg/L. No chlorine allowed. Dechlorinators are essential to removing toxic chlorine from the water, keeping your pets safe.
Ammonia. Normal results: 0.0-0.25 mg/L. The filters are responsible for removing ammonia from the water, which is a crucial step.
Nitrite. Normal results: 0.0-0.5 mg/L. Too much nitrite can cause fish to lose oxygen. The way to limit nitrite levels in your tank is to add aquarium salt at 0.1-0.3%, which is about 2 teaspoons of aquarium salt per gallon.
Nitrate. Normal level: 0-40 mg/L. Too much nitrate, on the other hand, will increase algae. Changing the water periodically will take care of that.
Hardness. Normal range: 100-250 mg/L. A high pH reflects hardness in the water. By lowering the pH, water becomes softer.
Alkalinity. Normal range: 120-300 mg/L. Low alkalinity can shift the pH too fast, which is highly
dangerous to fish.To stabilize the water, increase the alkalinity.
Temperature. Normal range: 74-82º F (23-28º C). To keep the water temperature stable, use an aquarium heater. Some fish, such as tropicals, can be harmed when the water gets too cold.
Top tips for keeping your freshwater fish happy and healthy
Fish are fragile, so it's important to follow specific steps in acclimating them to their tank.
First, float your fish in a sealed bag for at least 15 minutes, but no longer than one hour. Then, open the bag and slowly add one quarter cup of water from your aquarium. Repeat this by adding a quarter cup of water every five minutes until the bag is full. This will bring the temperature and chemistry together slowly without shocking your fish by the sudden change.
Remove the bag from the aquarium and slowly pour off as much water as possible before lowering the bag into the aquarium. Now let your fish wriggle out into the tank.
Avoid overcrowding when adding fish, as this can lead to low oxygen levels and excess waste.
Once you get your aquarium maintenance into a rhythm, it'll become as easy as second nature. And, as a reward, you'll be able to enjoy happy, healthy fish for a long time to come.