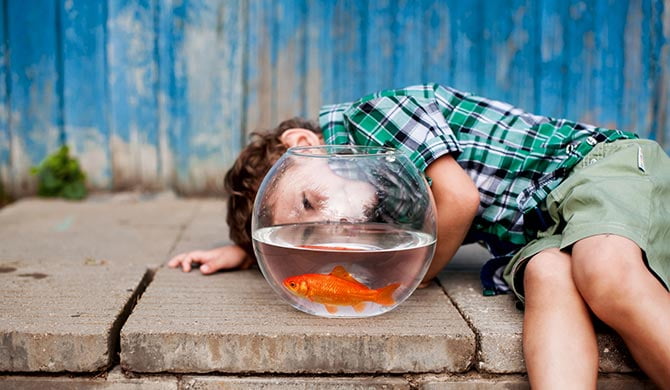 Adding a new pet to your family is always a joyous occasion, and a new aquarium of fish is no exception. Not only does a pet fish introduce your school-age children to the responsibility of pet ownership, but it also opens their world to all of the satisfaction and fun that comes along with the experience of a family pet.
Reasons why fish are a great choice of pet:
Fish are fascinating to watch and interesting to learn about.
They are less time-consuming than some types of pets like dogs, cats or even guinea pigs.
Fish are a budget-friendly type of pet, which is a fin-win—oops, make that win-win.
Once you've made the decision to purchase pet fish for your kids, you may find yourself asking a few questions. So before you begin wandering the aisles without a plan, here are few family fish-keeping considerations to keep in mind.
What kinds of fish should I choose?
Research
Start off by researching and choosing a species. It's possible that your children have preconceived ideas about the kinds of fish they'd like to own, and these may include colorful saltwater species like clownfish, tangs or even seahorses. (It's fun—we get it!) While there's no doubt that these are charming fish, understand that these are saltwater species. You'll want to research tropical vs. coldwater fish, as this will determine whether or not your home aquarium will need to be heated.
Saltwater vs. freshwater
When discussing and making family plans about the new pet(s), keep in mind that a saltwater aquarium is a considerably more complex setup than a freshwater aquarium, and usually requires additional expense. If you're just getting your feet wet with fish, it might be best for you and your kids to start with freshwater fish until you gain experience.
But there's no need to feel disappointed! You can choose from many wonderful—and colorful—examples of freshwater fish, including guppies, goldfish, tetras and the ever-popular betta (Siamese fighting fish), among others.
How many fish should I get?
The number of fish is an important decision, as this will affect the size and complexity of your aquarium. (Remember: not all fish are suitable for life in a group aquarium. Some fish—like bettas and goldfish—are better off housed individually as a single fish in a single habitat.) For small-bodied fish like bettas and guppies, you can figure a rough estimate using the "one-inch-per-gallon" rule, meaning that for every inch of fish body, you'll need another gallon of aquarium size. Larger-bodied fish, such as goldfish, will require additional room.
Size of fish and other factors
When choosing an aquarium, make sure that you estimate using the adult size of your fish, since many fish are sold as juveniles. Also, be aware that not all fish species can co-exist happily, as some are more aggressive than others. Do your research before combining different species. To keep things fun and easy at first, you might consider a smaller (fewer than 20 gallons) tank and fewer fish.
How can we play with our fish?
Once your pet fish are successfully settled in your home, you and your kids can begin enjoying—and learning—about them. Beside the enjoyment of simply observing your fish and the antics of meal time, there are also a few "games" you can try to play with fish. A few include:
Teach your betta fish to swim through a hoop. This may involve a long process of repeat training, but many people have had success teaching their pet fish this fun trick—the key seems to be in getting your betta's attention and then directing them towards the hoop held a few inches under the water.
Let your fish play with a ping-pong ball. Some fish will become interested in a floating ping-pong ball and may push it around or bat at it. But be sure to remove the ball after a little while or if the fish seems afraid of it.
Include aquarium decor. Small tunnels, artificial or live aquarium plants and other forms of aquarium decor can help keep your fishes' environment interesting for them—and you!
Are you ready to help your kids discover the joy of pet fish? A world of delight awaits!