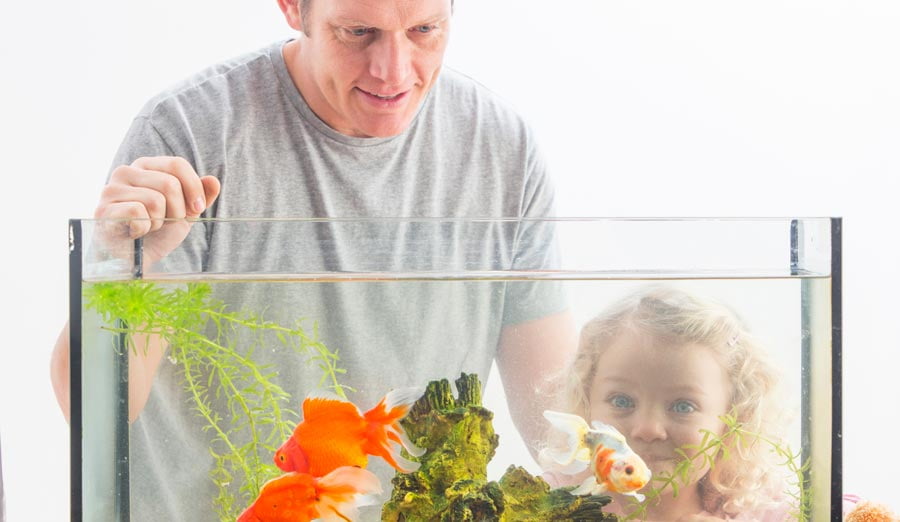 If you're a first-time aquarium buyer, you will feel like a fish out of water if you hit the pet store aisles without diving into some research first. This aquarium buying guide is just what you need to get your feet wet as you gather all of the materials required to set up a beautiful and soothing aquarium. Learn more about the different aquariums you can choose from, the different kinds of fish that are available and their unique needs, how to set up an aquarium and what you'll need for ongoing care. Indeed, consider it your guppy guide to fish tank shopping.
Testing the aquarium waters
All too often, people who create aquariums experiment through trial and error, which not only blows their budgets but can also be harmful to the fish. It makes more sense to do some research first in order to acquire some aquarium acumen:
The fishy facts: What kids of fish would you like to own? How much budget are you working with? Do you prefer a freshwater or saltwater aquarium? Seek out advice and information from reputable sources to learn the pros and cons of different fish, the typical upkeep costs, and what's involved in maintaining a healthy aquarium.
Size matters: Do you have the space necessary to set up the aquarium you'd like? Remember, a decent-sized tank requires room, and is also heavy once it's full of water and items. In other words, you'll need a sturdy surface to hold the aquarium.
Get your feet wet: Before you go all in, you might want to see how you fare with a small tank and just a couple of fish, and upgrade later.
Aquarium 101
The biggest decisions you'll need to make when choosing an aquarium is how big the tank should be and what type of fish will be in it. Here are some ways to narrow down your purchase:
Fish tank size
When it comes to tanks, bigger is always better in terms of creating a healthy habitat for your fish. You can start out on a smaller scale, with only a couple of fish, so you don't have to make a big commitment right away. But if you're serious about making this a hobby, consider starting with a tank size of 20 gallons.
One fish, two fish?
A good rule of thumb to follow when figuring out how many fish will fit in your tank is one inch of slim-bodied fish (not counting the tail) per gallon of water. Keep in mind that when you purchase fish, they might still have some growing to do, so do your calculations based on their expected size. What you don't want to do is have an overpopulated tank, since that can result in poor water quality, more fish waste and extra maintenance for you.
Aquarium aesthetics
Beyond size, aquariums come in many different styles and shapes. When choosing from among aquarium designs, pick one that will fit into your home decor while accommodating your new fish comfortably.
Freshwater vs. saltwater
The next item on your agenda is choosing between a freshwater or saltwater aquarium. The equipment and even the fish that go along with saltwater aquariums tend to be more expensive than their freshwater counterparts. That being said, saltwater fish are beautiful, colorful creatures that enthusiasts say are worth the extra upkeep.
It's really a matter of preference, but experts note that beginners usually feel more comfortable tending to freshwater aquariums.
Get schooled on fish types
While you're probably familiar with certain pet fish species (like goldfish), getting to know which ones thrive best in aquariums will make your experience easier and more enjoyable.
You should investigate which fish species mingle well and which ones prefer to stay with their own kind. Let's break it down between freshwater and saltwater fish.
Freshwater fish
The species lowdown: Neon tetras, swordtails and domestic platies usually live well in a community. Bettas, however, are aggressive and do better if they are kept separate from other species. Mollies, while mild-mannered, can be a challenge since they are sensitive. And goldfish, because they can grow so big, can end up producing too much waste for a community aquarium. Check out our article on freshwater fish to get better acquainted with your options.
Saltwater fish
The species lowdown: Popular fish choices that are lower on the maintenance scale are angelfish and clownfish (like Nemo!). Damsels are easy to keep, too, but do better among just their own species.
When choosing a combination of fish to start your new aquarium, be sure to speak with a professional who can help guide you.
Aquarium accessories
Once you choose your fish, you'll need to decide what to add to your aquarium.
Aquarium decor
Some aquarium items have aesthetic appeal, but also give the fish a habitat that suits them. For example, live or fake plants, rocks, treasure chests and other aquarium decor items can give fish the hiding places that they sometimes require. Get other tips on decorating your fish tank with this article.
Lighting and temperature
How much light and heat your aquarium has matters, especially for more sensitive fish species. Remember, many of them are tropical, so a comfortable temperature around 80 degrees is ideal and can be regulated with an aquarium heater, which comes in different styles, such as hang-on or submersible. As for lighting, some live aquatic plants will require it to thrive. LED hoods that go on top of the tank are great for giving the tank a natural daylight feel.

Filters
There are many different types of aquarium filters to choose from, but for your first aquarium, the simplest ones to use are those that hang on the tank.
Testing equipment
Check the water quality regularly to ensure that your fish are in a safe environment. Kits can help you monitor pH levels.
Fish net
When you're adding or removing fish for any reason, you'll need fish nets to safely transport your fish.
The foundation
Gravel, sand, rocks or pebbles should line the bottom of the tank, acting as a substrate. Just be sure to use material that is non-toxic, and adds a natural foundation to your tank that is safe for the fish.
Cleaning items
An algae scraper is great for removing any film that accumulates on the glass, while a gravel vacuum can clean up debris without a full water change.
New aquarium setup
After getting all the equipment and accessories you'll need, it's time to set up your new aquarium. The most important factor is filling it with clean water. To be on the safe side, you can purchase bottled spring water to use for the first fill. Otherwise, you'll have to use water conditioning products to remove chlorine and other potentially harmful substances from tap water. From there, you'll want to run your filter for at least 24 hours before you add any fish to ensure that the environment is clean and safe. You should also stabilize the temperature. When adding your gravel, rinse it in clean water first.
Once you've brought your fish home, don't simply pour them into the tank from their plastic bags. Put the whole bag into the tank for about 15 minutes so that the fish don't experience a temperature shock. Then, gently remove the fish from the bag using a net and place the fish into the aquarium. Avoid pouring in the water from the bag since it's likely not as clean and fresh as the tank water you've prepped.
Lastly, cover the tank with the hood and turn on the lights.
Fish feeding and tank cleaning
As an aquarium owner, the most important things on your to-do list are feeding your pet fish and keeping the tank sparkling clean.
Feeding is the easy part, since fish food is usually labeled clearly so you know which food is appropriate for your fish type. The key is to avoid overfeeding your fish. Ask a professional about the ideal feeding schedule for your fish and stick with it.
As for cleaning, regular maintenance will keep your aquarium tidy. There's no need to remove all of the items or your fish out of the tank to give it a thorough cleaning. Experts recommend changing out only 10 to 15 percent of the tank's water at a time, about once per week. Be sure you're replacing it with de-chlorinated water. Other regular maintenance includes using a gravel vacuum to suck up accumulated bits of waste, and an algae scraper to keep the glass clean. Maintaining a clean filter is important, too, so be sure to replace cartridges and other parts as recommended.
New aquarium checklist
Ready to go aquarium shopping? Bring this handy aquarium checklist to the store with you so you can pick up everything you need for your soon-to-be underwater companions.
Heater
Gravel vacuum
Non-toxic decorations
Fish net
Chemicals for water
Having an aquarium is a hobby that many people come to enjoy. By setting it up right, right from the start, you'll become an expert in
no time.