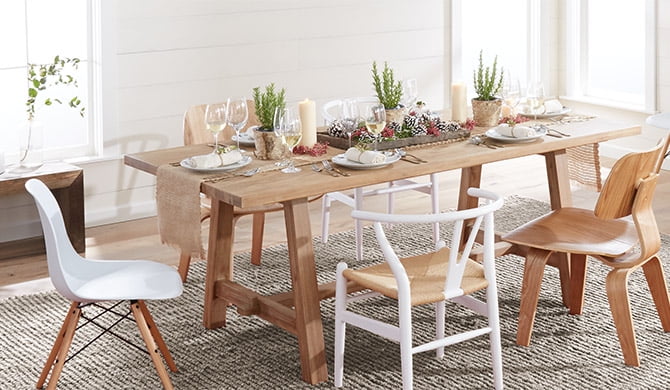 Turkey, ham, sweet potatoes, pumpkin pie…you've made a list (and checked it twice) with all of your family's favorite holiday feast fixin's ready to go. But, what about the holiday table setting?
Don't underestimate the power of a pretty tablescape! It sets the tone for the whole meal, and can help guests get comfortable and spark conversation. Get inspired by the lovely looks below, and you'll be ready to set a scene that will wow each and every guest.
Modern-rustic yet refined
Who wouldn't want a seat at this stunning table? Take the "less is more" approach by skipping a floral centerpiece, instead opting for a simple sprig of greenery that won't block guests' view of one another––or the delish food you've whipped up! A simple scattering of pinecones and elegantly wrapped gifts completes the tabletop decor.
When it comes to the place settings, this style is all about subdued hues, like those in the festive salad plates you see above. A glimmer of glamour comes in via gold-toned flatware, and pretty dinner plates that with a 12 Days of Christmas theme finish the look with flair to spare.
Festive family-style fun
Are your dinners a casual family-style affair full of laughter, sharing and perhaps a stolen biscuit or two? Then this table setting filled with bright colors and pretty platters that can hold enough to feed a hungry crowd is for you. Since the dishes are so eye-catching, we suggest adding just a handful of decorations you already have on hand, like pinecones, ribbon and a few ornaments.
The Pioneer Woman new collection features a cheerful array of hues, including red, mint and gold, making for an unexpectedly elegant holiday palette. It's impossible not to get into the spirit of the season when you're enjoying treats from these darling dishes!
Timeless and traditional
Going for something a little more classic? Create a centerpiece with evergreens, berries, pinecones, a simple table runner and a few candles to set a serene scene. The place settings are the real star of the show here, though!
Winter scenery, including snowmen, Christmas trees and holly, decorate this beautiful Better Homes and Gardens Heritage Dinnerware Set. Keeping with a traditional red-and-green color scheme, crimson fabric napkins make an elegant resting place for silverware and sprigs of greenery. The result is a table that's traditional, timeless––and perfect for a memorable family meal.