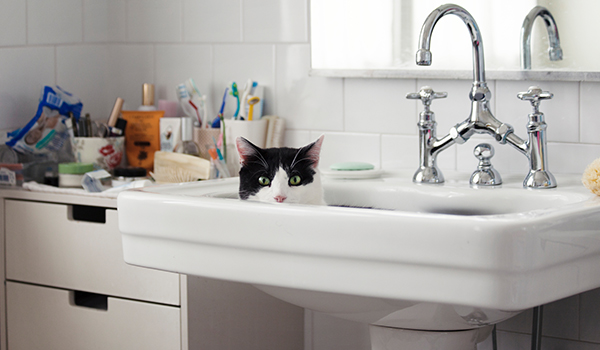 Know your project
Level of difficulty: Medium
Time required: 1–2 hours
Cost: As little as $100
Materials checklist
Instructions
Ready to replace your faucet? Let's get started.
Turn off the water. First, put on your safety goggles. Next, find your water cut-off for the sink—chances are it's underneath the basin. Just follow the vertical pipe from the top down—the cut-off is often where the pipe turns horizontal, though some pipes continue vertically through the floor. Turn off the water by turning the knob to the right.
Remove the water supply. Loosen the nuts that connect the water supply to the faucet.
Remove the faucet. Loosen and remove the nuts above where the water line is attached (these attach the faucet to the sink), and then remove the faucet from the sink. You may also want to use a basin wrench for this.
Clean the surface. Scrub the area of the sink where the old faucet was so that the new faucet will adhere.
Help it stick. Apply plumber's putty to the undersides of the new faucet to help it stick to the sink.
Position the new faucet. Attach it to the sink with the nuts.
Flush the valves. Remove and material or debris before connecting the water supply. This will prevent build up or back up in the faucet's waterways.
Reconnect the water supply.
Turn on the water. Test for hot and cold flows, and check for leaks where the water line attaches. Tighten the nuts further if any drips appear.
Troubleshooting repair issues
Oops, my hot and cold waters are switched. Simple fix. Just "x" the supply hoses from one to the other.
Shop Bathroom & Kitchen Faucets