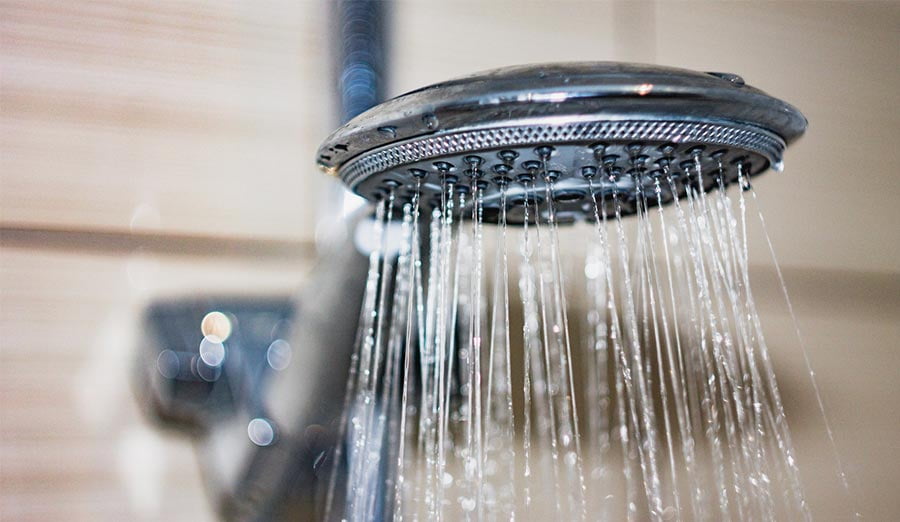 Tired of a shower that's a sad sprinkle instead of an exhilarating stream? Want to slash your water bill and be kinder to the earth? Get a new shower head. You don't need mad skills or a plumber to install a new one. Most are screw-in and require no tools. The hardest part of replacing your shower head is deciding which features and finishes you want. Rainfall or handheld? Brass or nickel? Full body spray or massaging pulse spray? We'll walk you through the choices with this shower head buying guide so you can choose one that gives your shower power.
Types of shower heads  
There are three basic types. Here's how to choose a shower head that's right for you.  
These have a large, flat head with a wide spray pattern that reduces the water pressure to a gentle cascade. They make your shower feel like soothing raindrops falling on your head. They're very boutique hotel. Many don't have adjustable spray settings, but some come with a handheld sprayer so you can have your rain and your power massage, too.
This one's a twofer. You can leave this shower head in its holder, like a fixed one, or take it off and aim the spray any place on your bod that you want. Most have a range of spray settings, from mist to massage to rain. They have a rubber hose that makes them more mobile, so you they'll reach all of you whether you're 4' 11" or 6' 7".
This is your basic, no-frills, get-it-done shower head that doesn't move. It comes with multiple settings that give you a range of sprays, from mist to massage. It's the most affordable option.
Shower head spray patterns
The three biggest things to consider when you choose a shower head are the spray patterns, water flow and water pressure.
 Basic spray patterns
Full body sprays are what standard shower heads deliver, an all-over spray of medium pressure.
Massaging sprays deliver pulsing jets of water to knead the stress out of your tired muscles.
Power sprays focus a high-power stream of water in a small area. It's good for rinsing off soap or shampoo.
Pause is a water-saving feature that lets you stop or slow the shower with the push of a button.
Drenching rain spray is a gentle overhead stream that feels like rain falling on your body.
Combo spray mixes a power spray with pulsating one, for times when you want a massage with your focused spray.
About water flow & water pressure
The volume of water a shower head delivers is measured in gallons per minute (GPM). Shower heads made in the U.S. have a maximum flow rate of 2.5 GPM, making them low-flow shower heads. Low-flows have high-powered sprays that may not work as well if your home has low water pressure. Look for one designed to work with low water pressure when you choose a shower head.
Find a shower head to suit your style
The first rule when you choose a shower head is to match its finish with the other fixtures in your bathroom. Mixing fixture finishes is a no-no on par with pairing plaid with polka dots. The second rule is the shower head style needs to go with your bathroom style.
Chrome is a classic look. It's shiny and metallic and generally the least expensive finish. It resists rust but is prone to water marks. Chrome works in a range of design styles, from transitional to contemporary.
Brass is back. It's not 1980s brass, and it's not your grandmother's brass. The new brass is not as shiny, orangey, overpowering and well, not as brassy. It adds a touch of luxe to your bathroom, and works with traditional, transitional, farmhouse or contemporary styles.
Nickel is satin-look silver that's durable and easy to clean. Nickel shower heads with a titanium finish resist scratches and tarnish. This finish works with transitional, contemporary and industrial style rooms.
Stainless steel is shiny, modern and sleek. It resists scratches, tarnish and rust, but it needs to be wiped down regularly to keep its gleam. Unlike chrome, which is shiny and reflective, stainless has a matte, brushed look. It's not as blingy. It works with contemporary, transitional, minimalist and industrial style rooms.
Bronze is a great pick for a rustic look. You can get polished, brushed or a dark, oil-rubbed look. It's tough, and resists rust, scratches and tarnishing. Bronze goes with neutral palettes and it's perfect for a range of retro decor from farmhouse to industrial.
Find a shower head that saves water
You can cut your water usage in the shower by as much as 70 percent by tossing your old shower head and replacing it with a low-flow model. Shower heads made before 1994 had a water-guzzling flow rate of 3 to 5 gallons per minute. Newer ones use half as much water, thanks to tougher regulation. So if your shower head dates to the hair metal era, get rid of it. 
Choose a shower head with a WaterSense label. They have an economical flow rate of 2.5 gallons per minute or less, but still deliver a strong spray.
Pick a shower head that fits your budget
Choose a shower head that gives you style and fab features without blowing your budget.
$30 or less: A basic fixed shower head with a single setting costs less than $10. You can get a fixed head with multiple spray settings in this range, or a low-end handheld shower head with multiple spray settings. Chrome is the budget finish.
$50 or less: A unit with both a fixed head and a handheld with multiple spray settings and a 5–7-foot stainless steel hose. You can get a rainfall shower head in this range, too, or a higher end handheld. You're entering the nickel finish zone in this range.
More than $50: You're in high-end territory now. You can get multi-head shower towers in rubbed bronze. Shower towers have a couple of heads arranged on a vertical bar. They're gorgeous and super-luxe.
Install a shower head yourself
Replacing most shower heads is an easy DIY project.  
Just unscrew the old head with a wrench, and screw in the new one. Most can be installed in less than 10 minutes with no tools. Yep, you won't even need the wrench to put in the new one. The shower head will come with nuts and washers you can tighten by hand. If you choose one that's high-end, like a shower tower with multiple shower heads on a vertical rod, you'll probably need a plumber because you can't screw type into an existing shower arm. You'll need to make alterations to your plumbing.
Shop Best-Selling Shower Heads