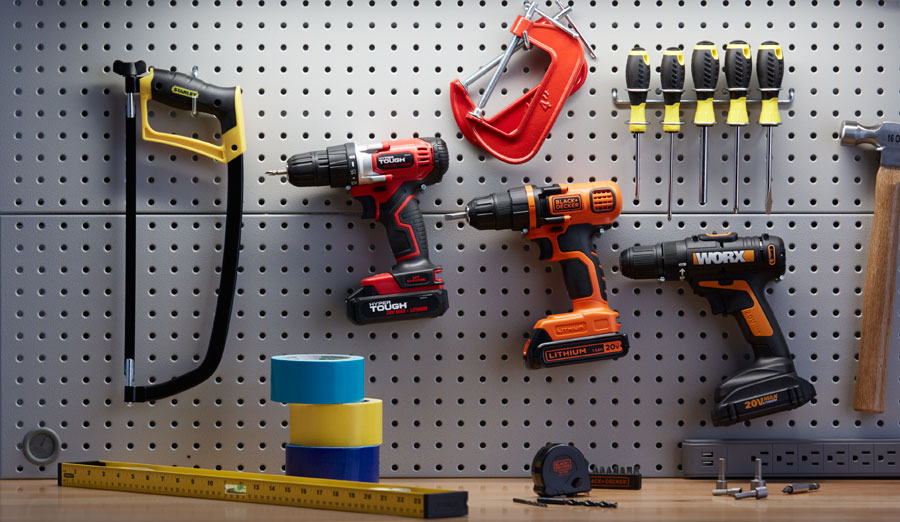 Whether you're a DIY construction type or just want to be able to hang a fixture without calling in a handyman, having a power drill as part of your arsenal is a must. If you don't know your amps from your volts, this quick guide will help take the guesswork out of shopping so you can power up your projects with the perfect drill for your needs.
What to consider when buying a drill
Corded vs Cordless
Both corded and cordless drills have their advantages. If you're looking for more power and higher speeds, corded is probably the way to go. However, you may have to run extensions and deal with clunky cords when you're working. Cordless offer convenience and better mobility, but you're at the mercy of battery life, and must remember to charge your drill. The good news is many models come with a backup battery.
Battery
When it comes to drill batteries, you have two main choices: Ni-Cad and Lithium-ion. Ni-Cad is the less expensive option, and it might be sufficient for those who won't be doing major home improvement work. Some of the cons are that it's a bit heavier, and it has "memory effect," meaning it works best when you use up the whole battery before recharging. Lithium-ion is a newer, more popular technology, but it can nearly double the price. Serious DIYers may think it's worth the splurge. You'll get a longer battery life overall, and it won't lose any charge when it's stored away. It's also a bit more environmentally friendly, and lighter weight.
Voltage
Cordless drill power is measured by voltage. The higher the voltage, the more powerful the drill, but also the heavier (and more expensive) it will be. Drills range from 9 volts all the way to 24, but how much power you need really depends on how you plan to use your drill. Most everyday household projects can be done well with drills with fewer than 14 volts. However, if you have to drill through harder surfaces or are doing a major renovation, a 20-volt drill or higher would serve you better.
Amperage
For corded drills, power is measured in amps. The higher the amps, the more steady power you'll get. Corded drills with 5 to 8 amps can handle small tasks like hanging shelves or curtain rods with ease, but you can find models with up to 10 amps.
RPM
RPMs, or rotations per minute, basically tells you how fast the drill spins. Higher RPMs indicate faster speeds and more power. However, it's worth noting that not all jobs require high speed. For instance, if you're drilling into tile, you'll want to go slow and easy. Most drills allow you to select a slow or fast speed, so that's an important feature to consider. That being said, look for RPM higher than 1,000 for heavy duty jobs; otherwise, 500 is sufficient.
Clutch
Every drill has a clutch, located behind the chuck, which can be adjusted to allow the drill to apply the correct amount of pressure and the maximum torque, or twisting power. Adjusted correctly, the clutch allows you to drive screws to the correct depth, without either sticking up or driving them too deeply. Also, the drill will stall before stripping the head of the screw or fastener. Set the clutch by choosing a number setting—the higher the number, the greater the torque. It may take a few tries to get the clutch adjusted just right for each job, but a general rule is to use higher clutch settings to drive in thicker screws or into harder material, and lower numbers to drive thinner screws or into softer material.
Chuck
This refers to where you insert the drill bit on your drill. Chuck size can either be 3/8-inch in diameter, which is appropriate for basic jobs, or 1/2-inch for more complex projects. When shopping, also see if the drill chuck is keyless. Some need a key, called a chuck wrench, to open and close the chuck when adding or removing bits. Keyless chucks simplify the process.