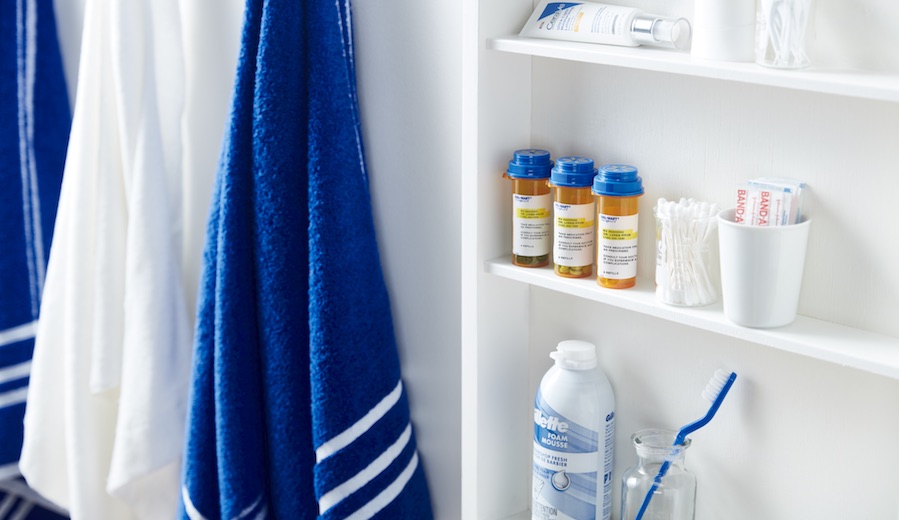 1. Make it easy to take your medications & supplements
To stay healthy, it's important to take your medications as prescribed by your doctor. But, it's so easy to forget, right? Fortunately, there are lots of options to help you stay on track—from basic pill organizers to digital models with smart technology specifically designed to keep you on track with your daily home health care. These devices use Bluetooth or an app to vibrate, ring or notify you when it's time to take your medications. Easy peasy! 
Check out a bunch of handy automatic pill dispensers here.   
2. Keep track of your numbers
When it comes to healthier living choices, one important and effective step is to frequently monitor your personal health numbers. It can be surprisingly simple to keep track of your blood pressure, heart rate, sleep and other health indicators between doctor visits.
Here are some ideas:
There are a few important numbers to keep track of when it comes to personal health: blood pressure, resting heart rate, blood sugar and cholesterol to name a few. Find out what the healthy range for your personal numbers should be, so that you can identify any variations that may signify if or when something's not right. Pulse, blood pressure and blood glucose monitors are easy, affordable ways to consistently and frequently keep track of some of these numbers. 
Smartphones, smartwatches and fitness trackers are devices that put the power to stay healthy in the palm of your hand. There's an app for almost anything you want to track—weight, movement, diet, blood pressure, sleep, heart rate and much more—soon, they may even be able to monitor blood sugar levels. Since it's already on your wrist, a smartwatch or other wearable device makes using technology to track your health second nature. 
3. Try at-home lab test kits
The availability and ease of home lab testing has made huge advances in home health care over the past few years. These days, at-home diagnostic test kits are a convenient and affordable way to reveal way more than just your DNA and ancestry. They can test for food allergies, thyroid and cortisol levels and much more. Just follow the instructions on the kit to complete your sample, then ship the test back to the lab and await your results. With this data already in hand, your next visit to the doctor can be even more efficient. 
Note: Be sure to confirm that your state allows mail-order lab tests before ordering your kits. 
4. Relax, recharge & get plenty of rest
Most of us already know how important regular, good sleep is to good health. Since stress can build up during the day which can affect your sleep, it's essential to take steps to help keep yourself centered and calm. Here are some quick, easy tips on relaxing and sleeping:
To relax during the day:
Try a little mindful meditation or just some quiet time with your eyes closed, breathing deeply. Even just two or three minutes can make a big difference!
Take a yoga class.
Journaling can be a great way to channel and transform your stress into snippets of self-discovery and actionable steps forward.  
For better sleep: 
5. Toss expired & unused medications
Doing some decluttering? Start in your medicine cabinet and set aside all your old and unused medications. Most of us have a few expired prescriptions and vitamins lining our shelves, but getting rid of them isn't always as simple as throwing them out. Learn about the safest ways to get rid of those meds. 
Choosing some of these tools can help you and your family members get your home health care routines on track. Whatever you need to track, test or take, there are many options to help you do it easily and affordably. 
---------- 
Important Walmart Disclaimer: All content, including but not limited to, recipe, health, wellness and/or medical information provided herein, is for educational purposes only. It is provided "as is" and as such, the accuracy of same is not warranted in any way. Such content is intended to supplement, not substitute for, the diagnosis, treatment and advice of a medical professional. Such content does not cover all possible side effects of any new or different health or exercise program. You should always consult a medical professional for guidance before changing or undertaking a new health/exercise program. Advance consultation with a medical professional is particularly important if you are under eighteen (18) years old, pregnant, nursing or have health problems. Never disregard professional medical advice or delay in seeking it because of something you have read on this website!