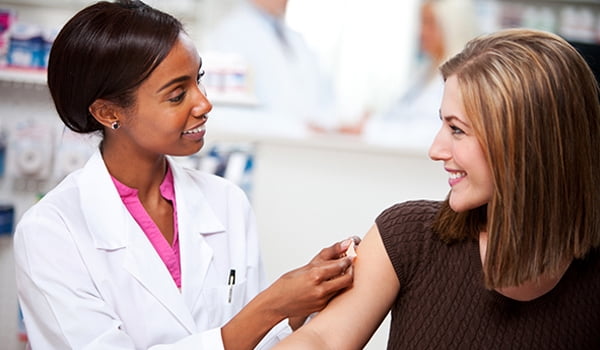 Who needs a flu shot?
Flu shots are available to anyone looking to reduce their chances of becoming ill. The Center for Disease Control (CDC) advises the following groups of people to receive a shot every year:
Kids from the age of 6 months to 19 years
Seniors over the age of 50
Individuals with certain chronic medical conditions
Nursing home residents
Health care workers and anyone that encounters high-risk individuals, for the sake of others
Flu shot warnings
The common myth that the flu shot can cause the flu is false. In fact, the three flu viruses in each vaccine are effectively killed, meaning they cannot cause infection.
However, there are still side-effects, including soreness where the shot was given, minor fever and aches. The CDC also warns that serious allergic reaction, while rare, can occur. Be sure to call a doctor right away if you experience breathing problems, wheezing, paleness, weakness, fast heartbeat or dizziness.
Talk to your doctor
The CDC also notes that some individuals should not be vaccinated without first consulting a doctor. These include, people who have a severe allergy to chicken eggs, people who have had a severe reaction to an influenza vaccination, people who developed Guillain-Barré syndrome within 6 weeks of getting an influenza vaccine, children less than 6 months of age and people who have a moderate-to-severe illness with a fever.
Does it work?
The flu vaccine is not a sure-fire solution for avoiding the flu. According to the CDC, effectiveness of the vaccine depends on a few things:
Type of flu: There are different types of the flu and the vaccines are made for an individual strain. You may get the shot and then be exposed to an entirely different strain, causing you to still get sick.
Age and health: Much of your body's reaction to the flu depends on your condition before catching the virus.
Flu season
While the worst flu hits in winter, you can still catch it in the fall. But it is never too late to protect yourself.
Work: Many companies provide free or reduced-cost flu shots to employees.
Local programs: Call your local city hall and ask if there are programs or free flu shots distributed in town. Ask what the requirements are to participate in the local program.
Walmart: During the month of October, Walmart offers low-cost flu shots without an appointment. This is a convenient way to find an inexpensive flu shot available in your area.