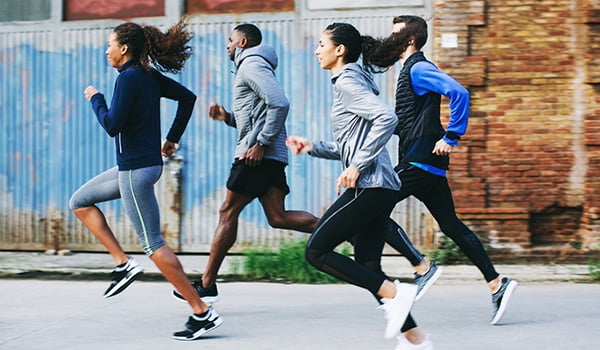 One of the greatest gifts you can give to your heart is physical activity.
Exercise can lower the blood pressure as much as some medicines do, and it can boost the level of good cholesterol. It strengthens the immune system and helps burn off calories. And it's good for your mental health, too, relieving tension, lifting the mood and increasing the flow of oxygen to your brain, which can sharpen the mind and improve memory, according to the American Heart Association. (i)
For many of us, the first step is the hardest one. Commitments of work, family and community too often take priority over our own self-care, especially for women who may be the family nurturer, provider, cook, nurse and home cleaning service.
"Women are so used to being caregivers, they don't give their own health priority," says Dr. Nanette K. Wenger, Professor of Medicine (Cardiology) Emeritus, Emory University School of Medicine.
By taking better care of themselves, she says, women are better able to fulfill all the roles she chooses. After all, "a woman who is sick can't take care of her family," Dr. Wenger says. "Healthy women, healthy households."
Think it's too late to start exercising? Experts at the AHA say even if you have managed to avoid exercising until middle age, every hour of regular physical activity you do adds about two hours to your life expectancy. Start slowly, they advise, and build up to at least 30 minutes of brisk walking or other activity most days, or whatever your doctor recommends. (ii)
The U.S. Centers for Disease Control and Prevention says most of us – four out of five Americans – are not getting the recommended amount of exercise. (iii)
The CDC and AHA offer tips to get started:
Carve out time. Pay attention to your daily routines for a week or so, and identify three 30-minute time periods when you can squeeze in some activities. Add exercise to everyday routines – jog in place while watching TV; park at the far end of the lot when shopping; take the stairs instead of the elevator; go for a walk at lunch time.
Make it social. Ask friends and family to walk or go to the gym or take a class with you. Join a hiking club or walking group. If you have children, get them involved – play tag, walk to the playground, put on some music and have a dance party.
Don't let the weather stop you. Plan activities that can be done outdoors or inside. If it's raining or cold, walk at the mall or put on an exercise video.
Mix it up. Swimming, biking, walking, dancing – spice up your week with a variety of activities, so you don't get bored. Add music to keep your energy up.
Make it fun. If you're having a good time, it won't feel like exercise and you're more likely to stick to it.
(i) Physical Activity Improves Quality of Life. January 2009. American Heart Association. Accessed 12/06/2011. http://www.heart.org/HEARTORG/GettingHealthy/PhysicalActivity/StartWalking/Physical-activity-improves-quality-of-life_UCM_307977_Article.jsp#.Tt5bSZg3QUU
(ii) Getting Started – Tips for Long Term Success. January 2011. American Heart Association. Accessed 12/06/2011. http://www.heart.org/HEARTORG/GettingHealthy/PhysicalActivity/StartWalking/Getting-Started—Tips-for-Long-term-Success_UCM_307979_Article.jsp#.Tt598Zg3QUU
(iii) Exercise or Physical Activity. January 2017. CDC/National Center for Health Statistics. Accessed 12/20/2017. https://www.cdc.gov/nchs/fastats/exercise.htm