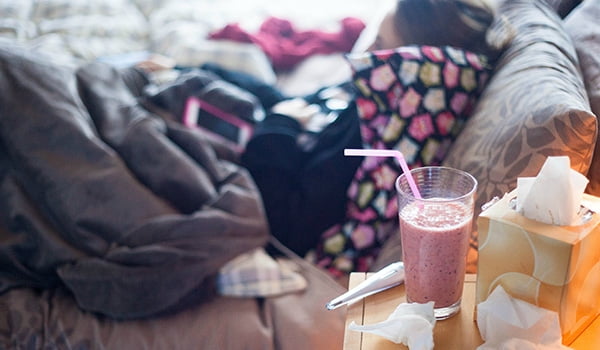 Act Fast
Healthy habits: Although it is easier said than done, taking basic steps to stay healthy, including taking your vitamins, getting plenty of rest and eating right can help you avoid getting sick in the first place.
Advance prescription: According to the FDA, influenza can run its course with or without treatment, baring no complications. However, they have approved multiple prescription drugs that help reduce the time it takes for symptoms to improve in uncomplicated flu cases. These are not over-the-counter remedies and require a doctor's consultation.
Flu shots: The Center for Disease Control (CDC) recommends flu shots for anyone looking to reduce their chances of getting the flu. However, they stress yearly flu shots for the following groups: The elderly and infirm, college students or others living in close quarters like nursing home residents or military personnel, medical staff, daycare workers and others that are frequently exposed to influenza. As always, it's best to prepare and plan early.The CDC also notes that some individuals should not be vaccinated without first consulting a physician. These include, people who have a severe allergy to chicken eggs, people who have had a severe reaction to an influenza vaccination, people who developed Guillain-Barré syndrome within 6 weeks of getting an influenza vaccine, children less than 6 months of age and people who have a moderate-to-severe illness with a fever. Get your flu shots at Walmart. 
Keep Clean
Wash hands frequently: Colds, coughs and flu are easily spread through direct contact, so make it a priority to wash your hands frequently throughout the day especially before eating.
Keep hands away from face: While it might seem like common sense to most adults, children frequently forget to keep their hands away from eyes, nose or mouth.
Use disinfecting wipes: Shop for wipes that work against cold and flu viruses then carry them with you where ever you go; use them to wipe down the handle of shopping carts, door knobs, ATM buttons and other high contact areas.
Clean house: Use the anti-microbial setting on the dishwasher at home and keep the kitchen and bathroom extra clean. Ditto for laundry — make it a priority to wash bed linens, towels, outerwear and other items that may have come into contact with someone who was sick.
Don't Share
While it may sound selfish, sharing isn't always the best policy when it comes to preventing the spread of cold and flu. Instead, use a bit of prudence and keep the following to yourself.
Food or drinks: Taking a sip from the wrong cup or tasting a bite from someone's plate might seem innocent enough until you start feeling those aches and pains coming on.
Toys: Children are particularly prone to spreading disease in part due to the way they play. Make a practice of disinfecting toys and teaching children to wash their hands and face on a regular basis.
Cosmetic, office or other personal items: It is easy to forget how many people come into contact with everyday items, for example: the cosmetic counter at the mall or the computer keyboard at the office. Bring your own pens, phone and other commonly used items and avoid lending to others or sharing.
Run for the Health of It
While you may not realize it, a little fitness fun is a good ways to help keep colds and influenza at bay. According to the Mayo Clinic, exercise boosts your immune system. While that doesn't prevent infection, it may lessen the symptoms and speed up recovery time. Add a vigorous walk and a bit of fresh air into your daily routine for a flu-fighting activity the entire family will enjoy.