One of the most remarkable aspects of the rise of virtual reality is how quickly it's gone mobile. The first portable gaming systems came decades after the first video games, but portable VR headsets released out within months of their earliest PC-based counterparts. That's largely due to the fact that smartphones already have so much of hardware needed for VR built right in. We've all got computers with high-quality screens, powerful processors and sensors for detecting motion right in our pockets. Sure, smartphone virtual reality is all about using our devices' tech in ways the original designers never intended, but that doesn't mean it can't deliver amazing, immersive experiences all the same.
How does smartphone virtual reality work?
Virtual reality headsets all rely on the same simple principles. First, there's the headset itself, designed to fit over your eyes. Inside, there's a pair of lenses, and behind that, a screen. By displaying slightly different images for each of your eyes, the headset can trick your brain into thinking you're seeing an image three-dimensions. Throw in sensors that can tell when you turn your head and change the image accordingly, and you can actually look around that virtual world as though you were actually there.
Smartphone virtual reality works much the same, but it simplifies things by using your phone for the screen and the sensors. All you need is a headset and a compatible phone, and software can take care of the rest. It really is that simple. Just boot up the right app, place your phone inside the headset and put it on your head, and you're off.
What are the pros and cons of smartphone virtual reality?
Smartphone virtual reality is all about tradeoffs. Some of its biggest advantages are unmatched by other types of VR platforms, and probably will be for the foreseeable future. Nothing comes close in terms of affordability or portability. But the very same aspects of smartphone VR that make those strengths possible also serve as a limitation. A phone will never be able to compete with high-end hardware when it comes to depth and quality. For some, smartphone virtual reality will be more than good enough. For others, however, it may just be the first step on the road to more ambitious VR hardware.
Pros
Price: If you're interested in dipping your toes into the world of VR but don't want to spend the hundreds of dollars required to get a console- or PC-based system up and running, smartphone VR is the way to go. If you already have a compatible phone, you can get what you need for under $150, if not much less. Plus, even if you have to buy a compatible phone, you're still getting a device you can use for all your other smartphone needs. In other words, that money wasn't exclusively spent on VR, or even on gaming.
Portability: At the moment, smartphone VR headset are the only ones you can quickly and easily take with you on the go. There's no need to worry about wires or external hardware. Just grab your phone and headset, and virtual reality will be on hand no matter where you are.
Familiarity: By relying on a device nearly everyone has grown comfortable with over the past decade, smartphone-based VR is much less complicated and offers much less potential for confusion than other VR platforms. Setup is as easy as placing your phone in the headset. Downloading new apps, in or out of the headset, uses the same app stores you're likely already familiar with.
Future friendly: With other VR solutions, staying up to date on the latest advancements will require shelling out a lot of money for new consoles, upgrades to your PC and brand new headsets filled with expensive tech. The smartphone ecosystem means headsets and apps will likely support your hardware for as long as you have it. You'll also get to experience upgrades when you naturally upgrade to a new phone. And if a new, significantly different headset does come out, it won't cost you and arm and a leg to replace it, since all the tech is still on your phone.
Cons
Underpowered: It goes without saying that a smartphone isn't as powerful as a full-size gaming console or PC, and that has a noticeable effect on the quality of visuals you'll see in VR games, as well as any content beyond simple 3D video. You'll never be able to play games as large in scope or as graphically impressive as a high-end VR setup.
Limited control: While both the Gear VR and Daydream View support controllers, their simplicity limits the things you can do with them. As a result, smartphone VR experiences tend to lack complexity. Control options on Google Cardboard headsets are even more limited.
Battery life: The flip side of smartphone VR being wireless and portable is that you simply can't use it for long stretches without draining charge from your phone. Between tracking your movements, displaying 3D graphics and powering the screen, virtual reality can be a real drain on your battery. You may need to think twice before using your phone for VR while away from a charger.
Limited support: Currently, the most advanced smartphone VR platforms only support a handful of specific devices. While Google Cardboard does offer near-universal support on a wide selection of both Android and iOS phones, it's limited to mostly passive experiences. The two established VR platforms with real gaming potential only work on Android, and only with a small group of approved phones.
What are the options for smartphone VR available today?
At the moment, there are three main options for smartphone virtual reality. Samsung was the first manufacturer to make a big impact in phone-based VR, and it remains one of the biggest players. Its Gear VR headset is now in its second generation, and it offers control with both a touchpad on the side of the headset and a handheld controller. Samsung designed and built Gear VR in partnership with Oculus, one of the leaders in PC-based VR. The headset has garnered a great deal of support from developers as a result, and there are loads of great games and multimedia apps available. One caveat? The Gear VR only works with a small selection of Samsung phones.
Next up is Google Daydream View, a headset designed and built by Google. It's lighter and cheaper than the Gear VR, and supports its own handheld controller. While it's a relative newcomer to the world of smartphone virtual reality, Daydream View has the advantage of being backed by Google. That means it's already managed to nab some impressive games and apps of its own. Plus, Google is more open with the platform than Samsung, meaning Daydream View supports a wider selection of Android phones from a number of manufacturers. Google plans to expand the number of supported devices in the future, as well.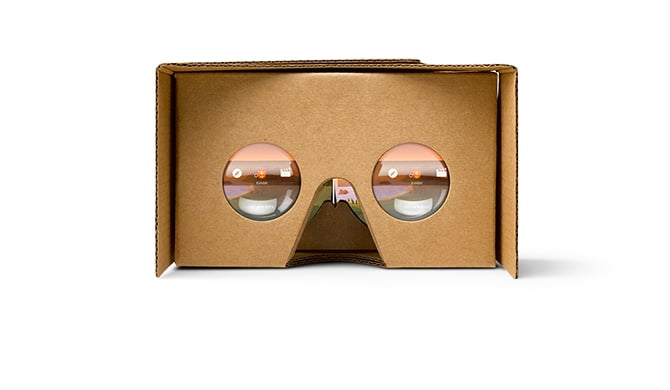 The third option is Google Cardboard, which is more like a proof of concept than a fully featured VR platform. There's no singular Cardboard headset, but instead a set of guidelines created by Google that allow manufacturers to build their own versions. Because the specification only includes a single button, Cardboard apps don't usually offer much interactivity. Cardboard-based apps are far more likely to use the headset to watch 3D videos as a result. Still, a wide variety of apps offer Cardboard support, and it's currently the only solution that works with Apple's iPhones in addition to Android devices.
Beyond these three main options, you'll find a number of manufacturers who offer their own take on smartphone VR headsets. Many are compatible with Cardboard apps, as well as apps built specifically for these headsets. But be careful. If a device only supports VR apps built for its own platform, you may find yourself with a headset that doesn't work with many apps at all. For the time being, it's safest to stick with a headset tied into one of the three major smartphone VR platforms.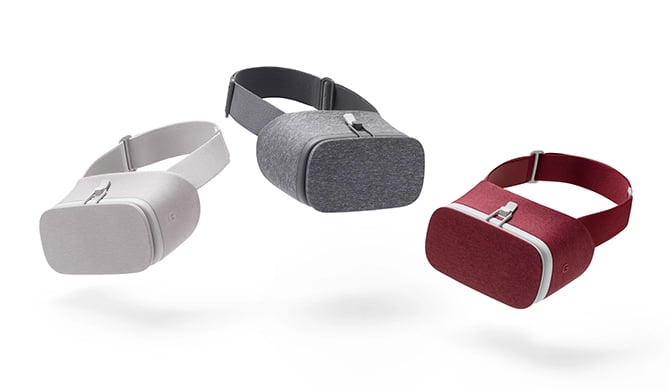 Display type: Phone
Refresh rate: Phone-dependent
Display size: Phone-dependent
Display resolution: Phone-dependent
Field of view: ≈90 degrees
Headset size: 6.56 in x 4.18 in x 3.88 in
Headset weight: 0.49 lbs
Sensors: Accelerator, gyrometer, proximity sensor
Supported phones: Selection of Android OS phones, including Google Pixel and Pixel XL, Samsung Galaxy S8 and S8+, Motorola Moto Z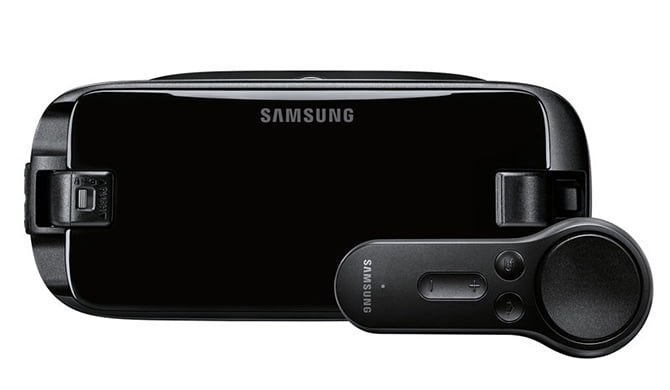 Display type: Phone
Refresh rate: 60 Hz
Display size: Phone-dependent
Display resolution: Phone-dependent
Field of view: 101 degrees
Headset size: 7.95 in x 4.58 in x 3.65 in
Headset weight: 0.76 lbs
Sensors: Accelerator, gyrometer, proximity sensor
Supported phones: Samsung's Galaxy S6, S7 and S8 lines (including +, edge, and edge+ models)
How much does a smartphone virtual reality setup cost?
The biggest cost involved with a smartphone virtual reality setup is the phone itself. Assuming you already have a compatible device, the Daydream View retails for the suggested price of $79.99. The latest model of Samsung Gear VR comes in slightly higher, with a recommended retail price of $129.99. Both of those prices include a bundled controller.
Prices for headsets supporting the Google Cardboard platform vary considerably based on the materials used and the quality of the device. Google sells an official version made out of actual cardboard for just $15 (or $25 for a two-pack), though sturdier options can cost considerably more. The Merge 360 headset, for instance, which supports both Cardboard apps and those built directly for the platform, costs $59.99.
What are some of the biggest smartphone virtual reality games available to play?
Virtual Rabbids: The Big Plan is a Google Daydream exclusive starring Ubisoft's zany cartoon rabbits. The game feels equal parts wacky and experimental, placing you in a sandbox where you can play around the Rabbids and a host of silly interactive objects. While you shouldn't expect any deep or challenging gameplay, Virtual Rabbids helps highlight the another strength of VR: humor. When you're in a virtual world, after all, you can engage in all sorts of ridiculous, slapstick shenanigans without having to worry about the consequences.
Minecraft Gear VR takes the biggest gaming phenomenon of the last decade and lets you play it on the go in full virtual reality. This isn't some shrunken down version of Minecraft, either. The Gear VR version supports all of the features available in Minecraft: Pocket Edition, including skins, multiplayer, and both Creative and Survival mode. Neither Google Daydream nor Cardboard have any equivalent version, either, making it a true exclusive.
Gunjack is a space-battle shooter set in the world of the popular massively multiplayer game EVE: Online. It was one of the early smartphone virtual reality games, and it's still regarded as one of the best. The game is exclusive to Gear VR, but it also has an equally great sequel, Gunjack 2: End of Shift, that's exclusive to Google Daydream. Odd as it may seem, each major smartphone VR platform currently has one — and only one — Gunjack game.
Keep Talking and Nobody Explodes is another imaginative VR experience that doesn't skimp on the laughs. Designed to played by two people cooperatively, the game draws heavy inspiration from the bomb defusing scenes found in countless action movies. One player wears the headset and interacts with bomb, while the other must use a manual (either printed out or viewed online) to walk them through the very complicated process. The result is often frantic and hysterical. Best of all, Keep Talking and Nobody Explodes is available for both Gear VR and Google Daydream.