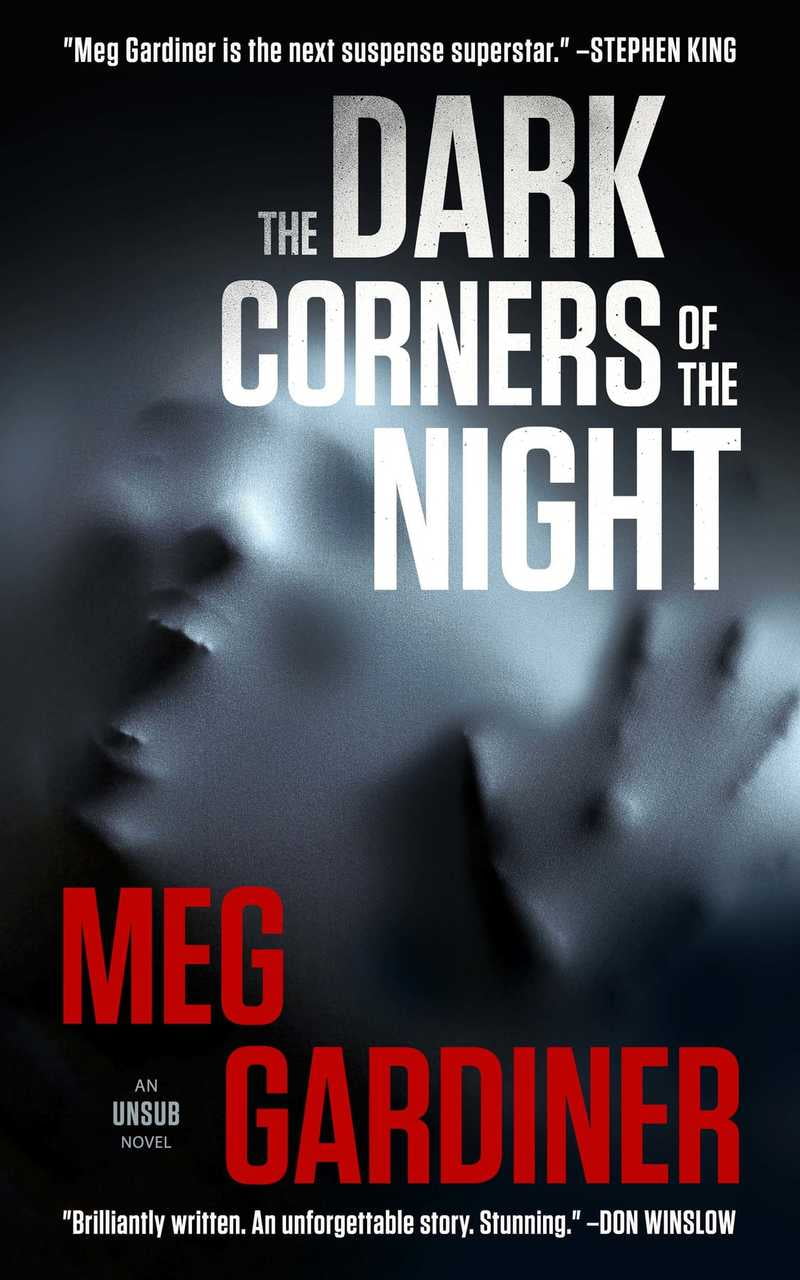 1. Do crimes that happen in real life inspire your work? If so, could you give an example?
The UNSUB series features a young FBI profiler who hunts serial predators, and each book has been inspired by a true crime case. The first novel, UNSUB, was loosely based on the Zodiac. The second was based on Ted Bundy. The Dark Corners of the Night was sparked by the Night Stalker—a home invader who struck the Los Angeles area more than a dozen times and left nightmares in his wake.
2. Could you describe the process and research that went into developing The Midnight Man, the serial killer in The Dark Corners of the Night?
I lived in Southern California during the Night Stalker's attacks, and remembered the dread I felt back then. An unknown killer haunted the darkness, and seemed unstoppable. No matter how vigilantly everyone tried to stay on guard against him, we all had to sleep sometime. He owned the night.
When developing the Midnight Man, I dredged up that sense of dread. What kind of person feeds on relentless fear? I researched the Night Stalker, Richard Ramirez (who was eventually chased down and captured by outraged East L.A. residents). Despite his terrifying reputation, he wasn't some supernatural demon. He came from an ordinary family. He played football as a kid. I tried to understand what sent his life careening off track. What turned him into a killer? I studied the latest psychological and neuroscience research on psychopathy and personality disorders. From that I created a home invader who slinks through the night like smoke, scrawls messages on the walls of homes he attacks, and leaves surviving witnesses to tell the tale.  
That's who the heroes are up against.
3. How has Caitlin Hendrix, the protagonist of the UnSub series, changed over the course of the three books? What has remained consistent about her?
Caitlin has grown from a rookie detective working her first homicide to an FBI special agent in the Bureau's elite Behavioral Analysis Unit. She's become a more seasoned investigator. She's still a cop's daughter who regards it as her duty to protect others. She's still willing to throw herself headlong into deadly cases, despite the risk. She's still in love with ATF agent Sean Rawlins. And she's still a pushover for her dog, Shadow. 
4. Which character in The Dark Corners of the Night came easiest to write? Which was the most challenging?
The easiest was Hannah Guillory, a twelve-year-old girl who becomes a witness in the case. I've been a twelve-year-old. I loved putting myself back inside the life of a sixth grader, someone who's discovering the world in all its excitement and promise, its danger and confusion. The hardest to write was the Midnight Man. He's a frightening antagonist. But he had to feel like a real, three-dimensional person. So I had to understand his motives. From the Midnight Man's point of view, everything he does—every terrible thing—seems justified. I had to twist my mind around to get into that dark, tortured, torturing heart. It was challenging but necessary. 
5. One of the recurring characters in the UnSub series is Unit Chief C.J. Emmerich, who is Caitlin's boss and mentor. In The Dark Corners of the Night, he advises Caitlin to "fine tune the edge." Can you elaborate on what he means by this? Can you describe Emmerich's leadership style? How has his mentorship shaped Caitlin?
Emmerich is a legendary FBI profiler who recruited Caitlin for her courage, smarts, and especially her empathy. From Day One he has urged her to open up emotionally and place herself in the UNSUB's point of view. In behavioral analysis, it's vital to see the crime scene through the offender's eyes. Caitlin has resisted, fearing that if she peers too deep, she might become dangerously obsessed with a case, and fall into the abyss. But with the Midnight Man's murders, her compassion for the victims and survivors threatens to overwhelm her. 
The edge is the place where her insight kicks off an imaginative leap that breaks the case. But it's also the place where the investigation can cut her open emotionally. Emmerich sees that she's about to bleed, and warns her to pull back. 
Emmerich's a guide, and a team builder. He has instilled Caitlin with confidence, and helped her hone her skills to razor sharpness. But he's tough, and mission-focused. Though she admires him, she thinks he regards her as a weapon in the FBI's arsenal, his to deploy.
6. What do you think readers would be most surprised to find out if they could glimpse inside the mind of a mystery author?
Mystery authors can take the tiniest scrap of information and use it as the inspiration for a devious tale, but we aren't actually detectives in real life. In fact, we can get so focused on thinking up twisted plots that we miss what's right in front of our face. It took me a year to figure out why a stylist at the hair salon usually greeted me by name, but one day acted like he'd never met me. It was because twin brothers worked there. 
Like I said, it took me a year.
7. Which thriller novel has had the biggest impact on you as a writer?
 A Is For Alibi singlehandedly ignited my love for mysteries. From page one, I couldn't get enough of Sue Grafton's writing—the unexpected twists, the wit, the unforgettable characters. Thanks to Grafton and her heroine, Kinsey Millhone, I started to dream of writing crime fiction myself.  
8. What do you think appeals to so many readers about the mystery/thriller genre? What are your own favorite things about the genre, as a reader and writer?
I'm like so many readers: I love the tension and suspense. I love the twists and the fast pace. I love going on a journey with compelling characters who must face the greatest test of their lives—people who find their backs against the wall, and rise to the challenge with grit, ingenuity, and courage, against tremendous odds. As a reader, I love thrillers because they take us on a roller coaster ride and bring us back, safe and exhilarated. As a writer, there's nothing I love more than building that ride.
9. Is there anything else you would like to add about The Dark Corners of the Night, or any other message you'd like to convey to readers?
I want the novels I write to be thoroughly entertaining. With The Dark Corners of the Night, I hope readers will find themselves pulled into an exciting story. If you stay up late reading it, or tell yourself, "Just one more page…" then I've done my job—and you'll make my day. Enjoy!
Meg Gardiner is the critically acclaimed author of the UNSUB series and China Lake, which won the Edgar Award for Best Paperback Original and was a finalist for NPR's 100 Best Thrillers Ever. Stephen King has said of Meg Gardiner: "This woman is as good as Michael Connelly…her novels are, simply put, the finest crime-suspense series I've come across in the last twenty years." Gardiner was also recently reelected President of the Mystery Writers of America for 2020.
The Dark Corners of the Night is the third novel in her Barry Award–winning UNSUB series, which received three starred reviews from the major trade publications and is soon to be a major television series.