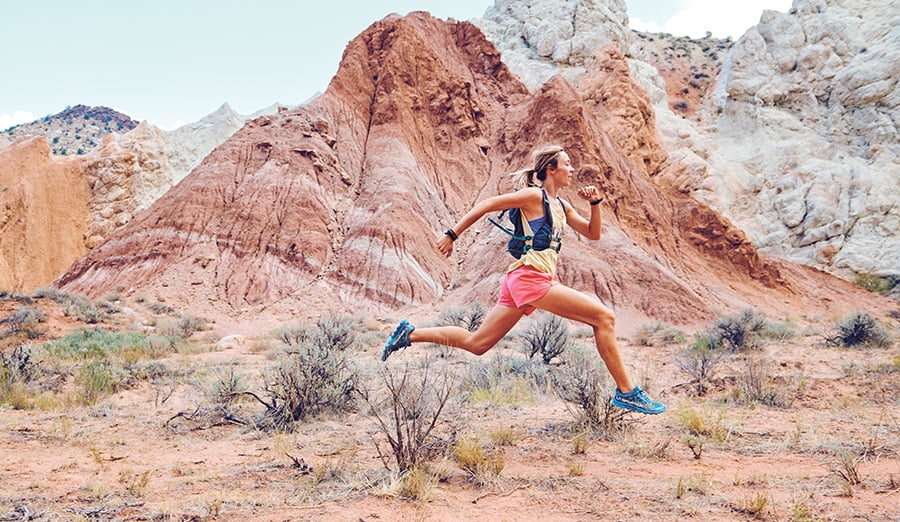 There is no hint of where I am in the darkness. Only trust as I creep towards a place to park for the night. Weary from months of ceaseless roaming and running big miles to explore and write about wild places in the West my eyes cannot resist closure as soon as I arrive. Presence is as much about turning in as absorbing what is outside. As I drift off to dreamland my last thoughts are a micro-jolt of anticipation about my location. 
I crave the mystery of this anticipation. At first light I open my eyes to tropical waters dancing as the pink sunrise kisses the ripples as they drift back to the sea. The air is soothing and warm against my bare skin, it smells of sweet plumeria blooms. Where the hell am I?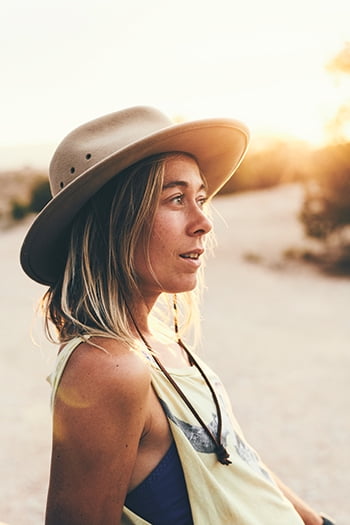 Beep! Beep! Beep! The sound of a delivery truck backing up wakes me from my tranquil dreaming. The sunlight sneaks around the Mexican blanket covering the front windshield and pinches my eyelids open. I curse reality—I have to pee. Sitting up, head still ducked below the low hanging roof, I swing the door open and face the day.
It's a Walmart parking lot. Again. 
Camped out on public lands I usually hop barefoot into the dirt, squat, and pee as I take in each new day's beautiful view. Canyon walls washed aglow in orange light, sparkly snow dusted mountain tops, and gurgling rivers weaving around boulders. 
And yet, this parking lot feels decidedly even more public and wild with the fluorescently lit isles swarming with eclectic and eccentric human creatures (myself least not removed from this strange herd). I grab my leather moccasin boots, and I walk through the lines of the parking lot to face the day.
I'm barely awake as I walk through the doors, pleasantly greeted by a kind woman with gray hair and smiling eyes. I fumble my way to the restroom and after I'm relieved beeline it to McDonald's to grab a coffee. I hit the produce section and stock up with a rainbow of fruits and vegetables—in the southwest, Walmart is an oasis.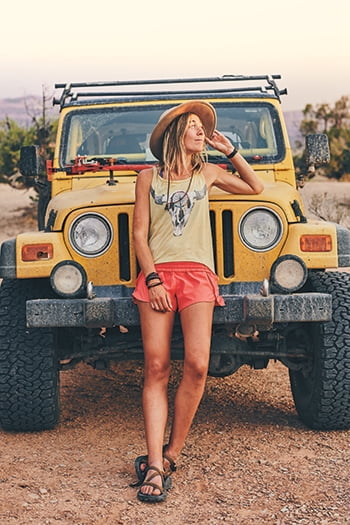 I take my bounty and coffee back to the parking lot where a few sips of liquid black jet fuel propel my memory to jog back to last night's dream. 
The turquoise waves on a white sandy beach called to me, and guided me to a boat anchored not too far from the coast. Unquestioning I walked toward the humble wooden boat, stepping my toes into the warm water first, then wading and then finally swimming before pulling myself aboard. There the calm waters immediately grew into immense swells. It surprised me but did not scare me. I knew what to do—I pulled up the anchor and drifted directly into the beautiful storm—knowing that each and every direction was my own.  
I quickly get back in the Jeep, turn over the ignition, drop the e-brake, and depart from the parking lot. My destination is still unknown, but my path is clear. Hope is not actually waking up on a sandy tropical beach, it's that every single day the sunrise can kiss your cheeks and open your eyes. 
Public lands and parking lots like this are beacons of freedom—a place that anyone can choose to rest their weary body and soul to recharge in pursuit of living their life. These are the places where you can always feel at home in this world. Yes, in the middle of nowhere and even at a Walmart parking lot. This is the American dream.
Explore and stay prepared