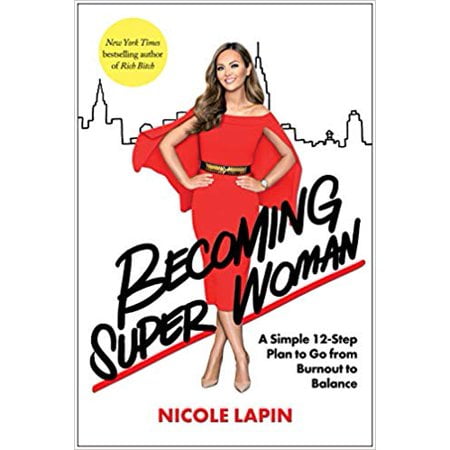 We sat down with Nicole Lapin, television news anchor, best-selling author and businesswoman, to discuss her latest title Becoming Super Woman. Throughout her career, Nicole has anchored shows on CNBC, Bloomberg, and CNN, contributed money reports to TODAY and MSNBC, and starred in CW's business competition reality show Hatched. Nicole holds the title of youngest news anchor on CNBC and CNN, and was also the first woman to be voted "Money Expert of the Year." This transcript is an adaptation of a live interview with Nicole in front of a select audience at Walmart offices in Hoboken, New Jersey.
Nicole Lapin: So I wanted to start out [with] an assignment for all of you in the room. What I want you to do is just take a couple of seconds and think of or write down your top five priorities in your life. Ask yourself what are the top five things you value most. [Pause.] Okay, let's assume that you have them. What are they? 
Audience: Family. Friends. Health.
NL: Great. Good. How many of you on your list actually included yourself? Anyone? No. No one thought to put yourself on the list. Neither did I the first time I did that exercise. So I actually did a social experiment with women in LA. I gave them a whiteboard. And I said, "Why don't you guys list the top five things you value most in the world?" They had the very same answers that everybody did, and none of them have themselves on the list. I asked them why. And they didn't even think to put themselves on the list. And that's really the premise of where this book came from.
Walmart Editorial: That makes a lot of sense. We learn about putting our oxygen mask on first before helping others on the plane, but we actually don't incorporate that into our lives very often.
NL: Exactly. I think it's so important to do that in all aspects, because you can't be of service to anyone else, whether it's your family, your friends, your community, your job, if you're crashing and burning yourself. There was a very popular book a few years ago called Lean In and a very popular movement for women to do just that, but sometimes I find that we lean in so far that we topple over.
WM: What are some of the things that have helped you in your career to find balance and not topple over?
 NL: I grew up in an immigrant household and was a first generation American. I never expected to be a money expert by any stretch of the imagination. I got my dream job at CNN when I was 21. I was once quoted as saying: "If I can say, Nicole Lapin CNN before I die I'll die a happy woman." So anyway, I got the job and I wasn't ready to die ha, and I wanted to be an anchor on CNBC. And then I got there. I tell you all of this to make the point that I just kept raising the bar. I always thought that I would be happy when I got "there," to a certain level, to a certain job, to a certain salary. And then I got there and almost immediately I changed the goalpost on myself so that job became another, that salary became another. I never got my brain to the other side of balance or happiness. Eventually, I realized we have this equation wrong, that actually balance and happiness will bring you more success and not the other way around.
WM: You open with an extremely raw scene of you in the hospital following a breakdown. Can you talk to us a bit about that piece of your journey? 
 NL: After my second book came out, I had a severe mental, emotional, physical breakdown that stemmed from burnout. It made me rethink everything. At that point, you know, I was out there preaching "boss b*tch" stuff of negotiating and getting ahead at work, networking, all the things to get ahead in your career. But [my breakdown] was what made me realize the thesis of this latest book: that self-care is actually the biggest asset, or liability, in your career. When it's off, it can bring you to rock bottom. And when it's en pointe, it can actually bring you more success than you ever imagined. 
WM: What advice would you have for your younger self that could be helpful to some of the folks in here to prevent them from going through something like this?
NL: You know, there's a great meme that I always go back to on Instagram: "I got through the fire and all I wanted to do was bring back buckets of water for those still suffering and the flames." And it's true. You know, I have reached a lot of goals in my life… at this point it's just gravy. So if I can tell my story the most honest way possible, then hopefully I can empower others to do the same. You know, when it comes to mental health, I think that's still one of the biggest taboos. So is fertility. And there are many other things. I find that the most embarrassing things are the very things I want to talk about most. And so that's how I got to this "I'll go first" mentality. Let's at least open up the dialogue. 
WM: You've clearly said before, and I'll reiterate, there's no such thing really as "work/life balance," there is just "life" and you have to find balance within life. What are some of the things that help you feel balanced? What are some of the techniques you use for self-care?
NL: Great question. It seems the question always is: "is this work or life?" I don't know. This is kind of work kind of life. It's unclear. Like, who is Lady Justice with her too stupid bowls? This is a very overwhelming ideal that we're supposed to live up to that doesn't make sense, especially for super women and super men—notice there's a space there. That's very important because I wanted to kill the idea of "Superwoman." The character who tries to be it all and do it all and be all things to all people. Ultimately, she's nothing to herself. 
WM: Talk to us a bit more about this concept of "having it all." It comes up in the book, and in your usual style you rethink it for us.
NL: Defining balance for me was important because it looks different at different points in your life. If you don't feel successful, really reflect on what does success look like to you? Are you just comparing yourself to the best version of all aspects of your life on Instagram and you're just assuming you're not doing well? We often do this. We compare our fitness regime to some fitness blogger who works out five hours a day, or if we're moms like we compare ourselves to a mommy YouTuber who homeschools her children. That is so not realistic. And so what I think is the biggest misconception is that you cannot "have it all," at least in the way we typically imagine. I absolutely believe you can have it all, but only if you define what "it all" actually means and stop changing the definition on yourself all the time. You can't do it all.. Especially not at the same time…I'm not one to typically quote Jim Carrey, he's not super on brand for me. But the conclusion of the book, I have a quote from him that goes something like: "I hope everyone becomes rich and famous and gets everything they ever wish they wanted so they know that's not the answer."
WM: What is your definition of a Super Woman in one sentence or two sentences?
NL: A Super Woman is a woman who puts herself first on that list of the top five things you value. 
Audience Member: If we see friends who have this sort of burnout, like they're working all the time--I really want to help. I'll ask something like: "Hey, let's go get our nails done!" They're like: "I don't have time." What would you recommend?
NL: I am so glad you're asking this question. This is already my favorite question. It's a great question. Self-care we often think of as pedicures and a deep tissue massage. I am all about a good pedicure and a massage, but sometimes self-care looks different. You know, sometimes self-care can be trauma therapy which is not super fun. Sometimes self-care could be baking for yourself. It looks different for everybody. That being said, in my 20s, I don't wish that I had the ideal version of balance because I wouldn't be able to be holding this mic right now. I wouldn't have the platform that I have today. And so if you look at a girl who's at her desk for 15 hours and you assume she's not balanced, maybe that's not correct. Maybe she's focusing on her career at that point and then fast forward, you know, five years later, it looks a little different. So just start and have that conversation. And you can hold your friends accountable in little ways.
Audience Member: You talked a lot about how in your 20s, every time you had a goal you would push it further. How do you balance appreciating where you're at now with pushing yourself and making sure that you're doing the best you can and striving for what you want?
NL: I think it's a great question. You know, I've gotten that question a lot. "What do you want to be in five years, or do you want to do in 10 years?" You probably hear this all the time. I would get so much anxiety. I would say "world domination," which is not an answer. Or not a practical answer. And the reason that that happened is because I didn't actually have an answer the question for myself. Studies have shown that if we create a cohesive narrative for ourselves in our lives, we're more likely to be successful. So, breaking those down into small increments made it feel more manageable. For example, if you want to start a business, maybe your 1st goal is not starting that business. Maybe it's just creating a business plan or whatever it is. But also being careful about your "to do" lists. It feels so cathartic to cross something out, but actually it's not always wise to do that because it's not moving you toward what you want. I like to rethink basically everything, and procrastination is one example. It's often used as a bad word. I think thoughtfully and strategically procrastinating can be one of the best things you do. I can procrastinate getting my dry cleaning to work on my business plan, or to go to therapy. I aim for progress and not perfection. And I don't do all of these things every single day. I would be totally disingenuous if I said that I did. I am for more good days and bad days. And I know that I'm winning. 
Audience Member: How do put guardrails on your life, so to speak, so that you don't wind up sliding back into an unsustainable lifestyle?
NL: Boundaries are so important. And in the book, I quote superwoman Shonda Rhimes by saying 'no' is a complete sentence. Oftentimes, as women we think that if we don't say yes to everything, we're not going to get another opportunity. We often come from a scarcity mentality that if we don't say yes to this panel or yes to this party or yes to this date, and we're never going to get another opportunity, ever, ever, ever. If we reframe that as thinking that saying no to other people is actually saying yes to yourself, it becomes easier. Remember, you can't do all the things.
WM: One last question. Towards the end of the book, you open up to your readers even further by sharing that as you were writing Becoming Super Woman you very nearly relapsed, and have realized that balance is not a steady state, but rather the skill of getting back on track when you falter. Can you share with us some of the techniques you use to make sure you don't become a "fall risk" (as your hospital bracelet labeled you) again?
NL: Thank you so much for mentioning this and synthesizing everything so well. As this book was going to print, I felt like I was on the verge of relapsing yet again. I felt that imposter syndrome that I had when I was at CNN and I thought my badge wasn't going to work. I thought to myself, 'How can I go on a press tour talking about balance when I feel like my life is hanging in it?' So I stopped. I pushed out the book pub date six months, I went off the grid. And I actually read my own book. This is not a spin. I am not only the writer of this book, but I am a lifelong reader, and I have to be, because I had lifetime of bad habits and only a lifetime of good habits is going to be enough to counteract that. We often use the word balance as a noun, especially as women, like "we found balance" as if it is some secret game of hide and seek, where it's like hiding under that chair and I just didn't know about it. I prefer to use it as a verb, and something that's constantly in motion, something that you constantly have to work on and be a fierce participant in. Remember, we're afforded the pursuit of happiness. Not happiness itself. I think the idea of remembering that it is something that you constantly have to work on is so important. I got really cocky. I was like, I wrote a book I sold a book on balance, and I am like the queen bee of this and I'm good. We're done. And I wasn't. I was thinking, 'well, I'll get back to that balance stuff after the book tour.' But then I had to remind myself that it's balance and chaos not balance or chaos. They have to coexist. In fact, they must exist to even exist themselves. That's the duality of it. Chaos is a game of whack-a-mole. It is always something, and so just being able to find those little things for yourself, whatever that looks like for you is critical.