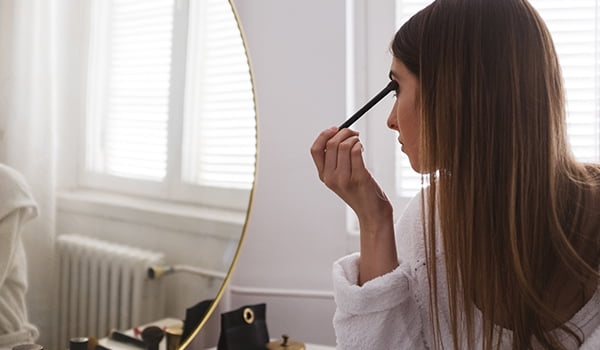 Whether you want to achieve a makeup look that's red carpet-ready or afternoon errands-effortless, using quality brushes to apply cosmetics will help ensure a flawless face every time. And remember: If you take care of your brushes, they'll take care of making you look good.
Our top five tips help you care for the brushes you have, while our quick shopping guide makes it easy to choose the right brushes for you—whether you're a beginner or an expert.
5 makeup brush care tips
1. Wash brushes regularly to keep breakout-causing bacteria at bay. If you use them daily, cleaning once a week is a good rule of thumb. Gently work lathered baby shampoo through wet bristles and rinse until the water runs clear. Keep water away from where the bristles and handle meet—it could weaken the glue that holds bristles in place. Likewise, never leave brushes soaking in water.
2. Air dry brushes at an angle with the bristles pointing down to drain water away from the handles and ensure dry, mildew-free bristles. Put a rolled face cloth under the far end of the handle to create an angled position.
3. Sanitize brushes after each use with a simple and inexpensive homemade solution. Clean a small spray bottle, and fill it with four parts rubbing alcohol and one part tea tree oil. After each use, spray a paper towel with the solution, and gently rub your brush across it. Avoid harsh scrubbing motions that can damage delicate bristles.
4. Don't blow on brushes to remove excess makeup—you'll just add bacteria from your mouth. If there's excess product, gently tap the handle on a hard surface, like the edge of our
vanity. Have a tissue handy under the brush head to catch any product that falls from the bristles. Or for even easier cleanup, tap your brush on the edge of your sink.
5. Replace brushes as needed. There's no formal rule—just keep an eye on them, and replace brushes that start to shed, fray or lose their shape. The better you care for them, the longer they'll last!
Beauty beginner kits
Goof-proof your brush selection with starter kits that provide all the essential tools for a flawless face. Look for a facial brush set that includes foundation, concealer, powder and blush brushes. If you're ready to experiment with eye shadow, choose an eye makeup brush kit with base, contour and accent brushes as well as an angled brush for liner and brows.
Eco-fab kits
Brushes made with eco-friendly materials are ideal when caring for our planet is as important to you as looking good. Choose makeup brush sets that use natural and recycled materials, like bamboo for brush handles as well as cotton or hemp for carrying cases.
Advanced application kits
Ready to graduate to a new level of artistry? Look for pro brush kits that include multiple eye and facial brushes as well as brow and lip brushes. The fan brushes that are often included look exotic but are actually very practical—use them for a light application of highlighter, blush or bronzer or to sweep away excess product.
Now that you've mastered makeup brush basics, start putting your tools to work! For goof-proof application, remember to build color slowly.