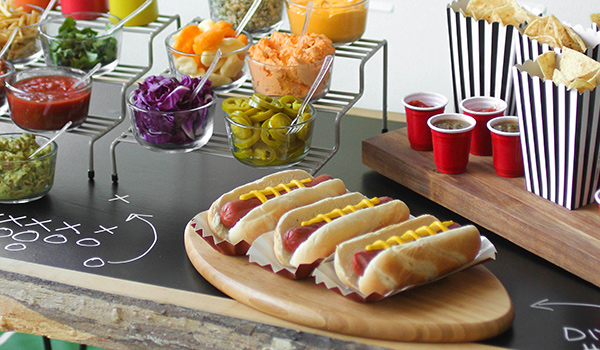 What began as a creative outlet in 2010 has grown into the wildly popular go-to guide, I Spy DIY, for girls wanting to "get the look" on a budget. After InStyle editors took notice of her crafty creations (she was working at the publication at the time), Jenni landed her first feature in the magazine. Since then, she has created a name for herself in the DIY world, which is why we couldn't think of a better tastemaker to turn to for help with how to create an epic Game Day party on a budget.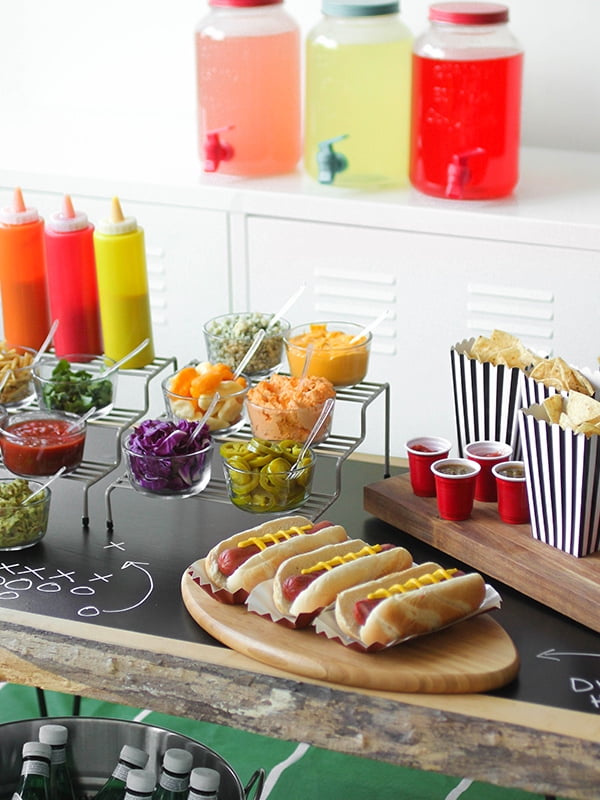 It's almost time for the Big Game, which means, it's almost time for the Big Game party!
Okay, I will admit I don't know a ton about football, but I love the commercials and any excuse to get a bunch of friends together. I know gourmet hot dogs are popular right now, so this year I thought it would be fun to do a DIY hot dog bar!
Here are a couple tips for creating your own:
Use a spice rack for stadium seating for your condiments.
Chalk out a few tasty combinations to give your guests a game plan for their hot dogs.
Individual salsa snacking Solo cups and chips are a winner.
Show your team spirit by personalizing a football-shaped cutting board (shop below) with your hometown team.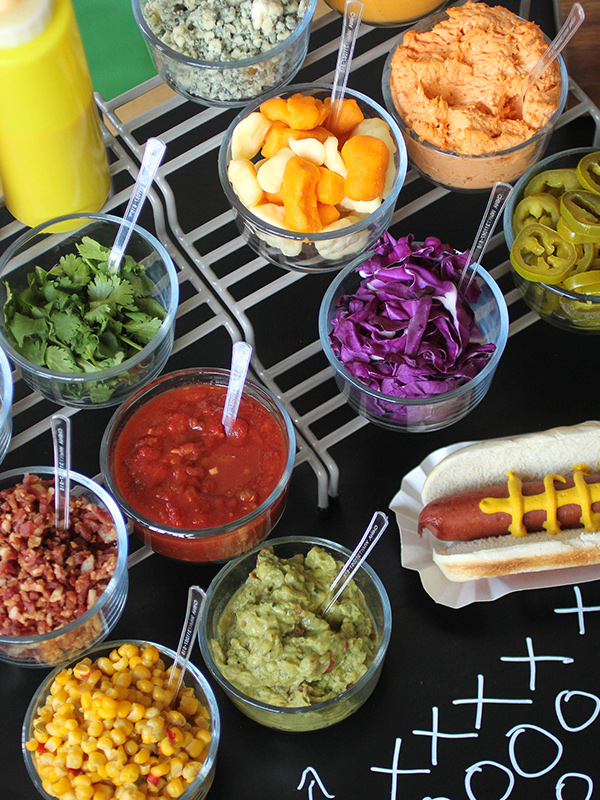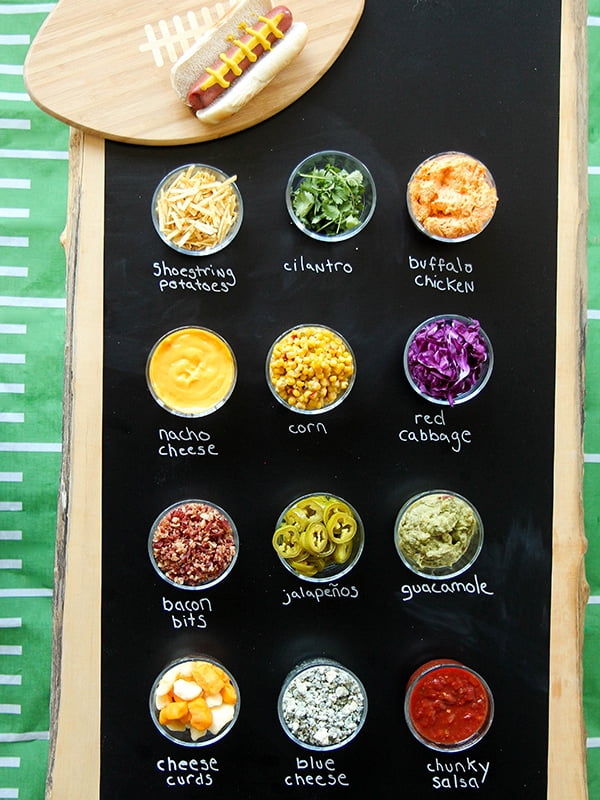 I wanted to taste test a couple combinations before game day, and had to share just a few of my favorites.
Classic dog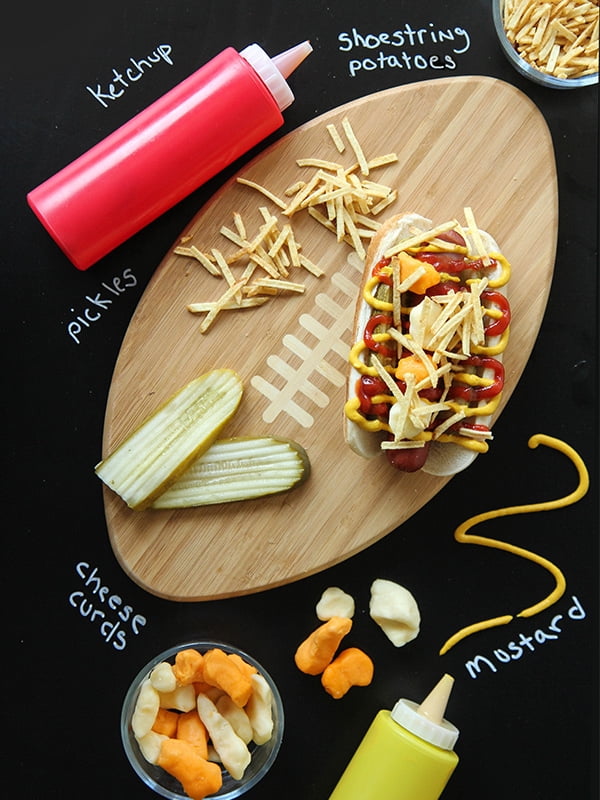 Toppings:
Make it!
Line your hot dog with pickles, then spread on ketchup and mustard. Pile on some cheese curds and sprinkle on shoestring potatoes. 
Buffalo dog
Toppings:
Make it!
Pile on buffalo dip, then spread on buffalo sauce. Top off with blue cheese crumbles.
Taco dog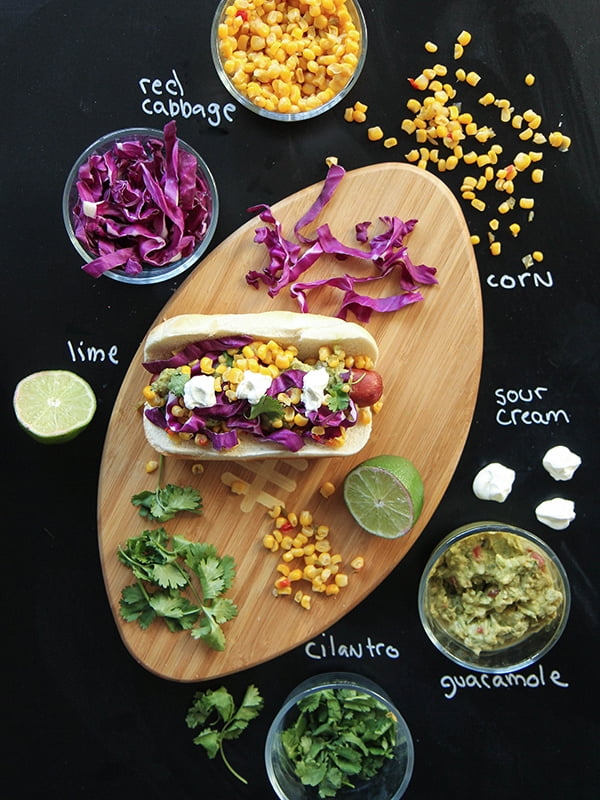 Toppings:
Make it!
Start with guacamole, sprinkle on corn and red cabbage. Add a few dollops of sour cream, and squeeze a lime on top. Garnish with cilantro.
Nacho dog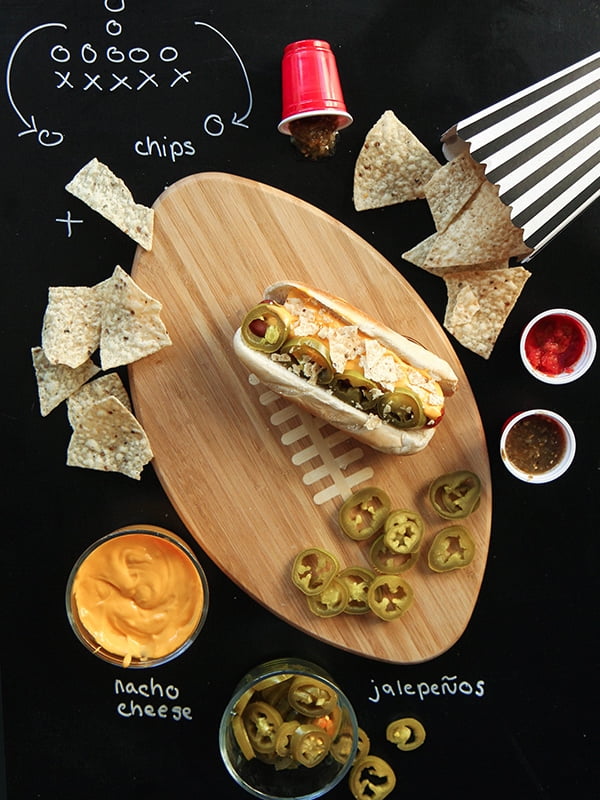 Toppings:
Make it!
Smother your hotdog with nacho cheese sauce, then line with jalapeños. Top with some crushed up nacho chips.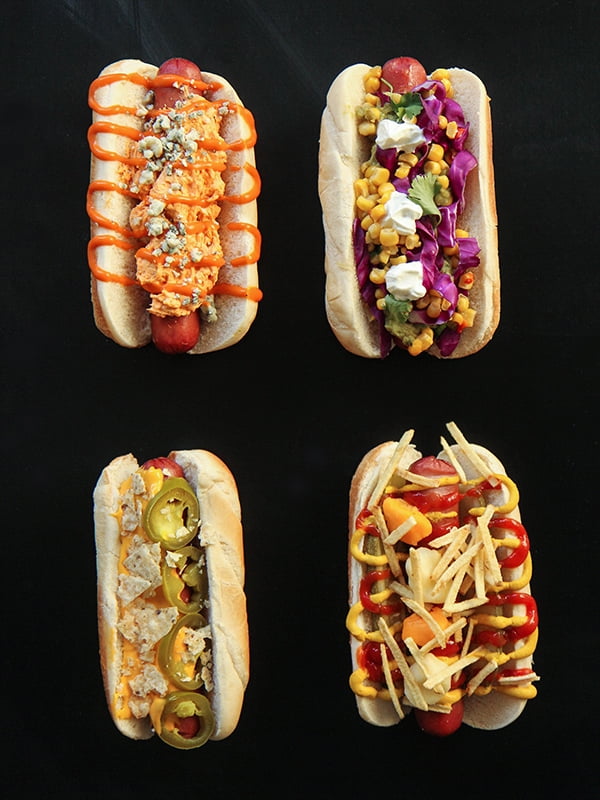 Get all the supplies:
Plastic Squeeze Bottle Condiment Dispenser
Duck Brand Adhesive Peel and Stick Laminate
Growing up in Wisconsin, Jenni Radosevich was always creating her own style. If she saw something in a magazine that she couldn't find in her local department store, she would make it herself. After moving to New York City, Jenni started a career at InStyle magazine, working as a graphic designer and DIY columnist, which evolved into a website: ISpyDIY.com and book, I Spy DIY Style, and now a product line, #ispydiysupplies.  Jenni has appeared on The Martha Stewart Show, Rachael Ray Show, Good Morning America The Today Show, and in the Wall Street Journal. I Spy DIY has moved into a warehouse studio space, where Jenni and her team teaches classes, hosts DIY events, and continues to create crafty content for the website!