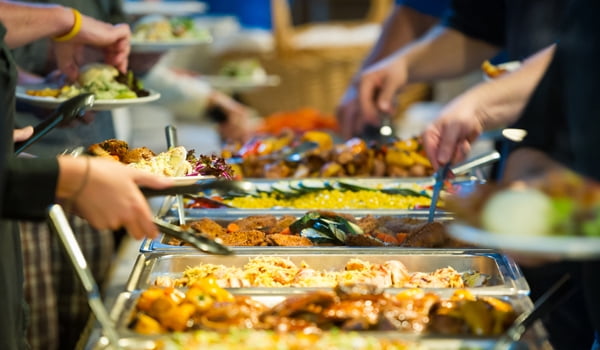 Preparing the perfect meal for a crowd demands more than just great cooking. Coordinating dishes so they come out hot and ready to serve is one of the biggest challenges when cooking for large groups, but it doesn't have to be. There is a wide variety of equipment designed to keep food hot so you can focus on the details.
Prep warm dishes with a slow cooker
Whether you've chosen to host dinner or bring a dish to go, a slow cooker is a great tool to cook food easily and keep it warm. Use a slow cooker to prepare a variety of dishes like chili, warm dips, soups, stews and more.
Serve it up in a roaster oven
Roaster ovens also are great for keeping food warm, and work just like any other oven except they can also be used as a slow cooker. Set the oven to 300 degrees to make a slow cooker recipe or for a low heat recipe, set it to 200 degrees.
Set up a buffet with chafing dishes
Purchase several different sizes of chafing dishes depending on your needs. Use a small, large, round, rectangular or even electric chafing dish to keep side dishes warm before they are ready to be served.
Insulate food for travel
If you've made a dish to bring to a party, picnic or potluck, try an insulated bag to keep your meal hot – no reheating necessary. Or if you're looking for something quick and easy for on-the-go, transport food in an insulated food bag to keep it at serving temperature.
Go flameless
Get a microwaveable hot plate to keep food warm for up to an hour. It's flameless and cordless. Give the hot plate a two-minute "zap" in the microwave and it will keep food at serving temperature for up to an hour. An electric hot plate, with either a single or double burner, is a helpful food warmer too.