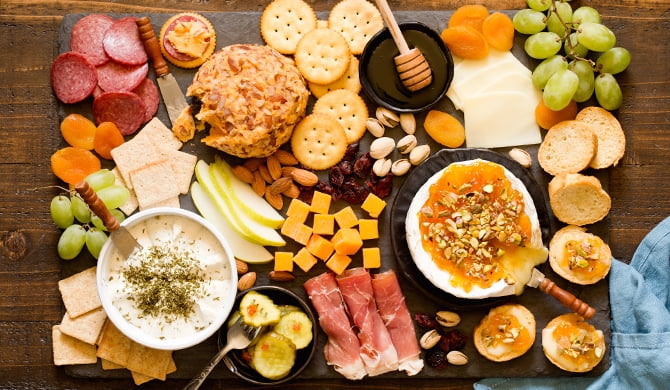 We were looking for a an easy and delicious way to make entertaining fun for not much money. So, we turned to Carla from ChocolateMoosey.com, who whipped up this gorgeous snacking solution. Enjoy!
Cheeseboards have become almost synonymous with entertaining because, well, who doesn't love snacking while catching up on conversation? They also appeal to crowds because there is something for everyone and they're easy to throw together for any last-minute guests.
Worried about your entertaining food budget? Thanks to Walmart's low prices, you can still make a pretty substantial cheeseboard without breaking the bank. You can also save time by buying some pre-made items such as a cheese ball and creamy cheese spreads.
Not sure where to begin? Check out these seven foolproof cheeseboard snacks, plus a how-to for easy baked brie with jam and nuts.
7 must-haves for your cheeseboard:
1. Something new
The best part about get-togethers is that you can experiment with new flavors and recipes. The baked brie recipe featured below is easy, versatile and ready in minutes. We used apricot preserves and pistachios, but really any flavor of jam and nuts will work.
2. Something familiar
Of course everyone's palate differs, so always have a fail-safe cheese for those who may not be as adventurous. Cheddar and mozzarella are popular crowd pleasers. You can save money by buying blocks of cheese and cutting your own cubes and slices.
3. Something meaty
No cheeseboard is complete without meat! Salami and prosciutto complement cheese very well.
4. Something pickled or marinated
Typically you see olives on a cheeseboard, but don't be afraid to change things up with zesty bread and butter pickles or sweet gherkins.
5. Something salty
Nuts add some much needed salt and crunchiness. Use crowd favorites such as pistachios, almonds and cashews.
6. Something sweet
Fruit is another must-have, not only for a healthier option but to help balance all the meats and cheeses. Walmart is committed to having a fresh and seasonal produce selection. The best way to plan is to browse the produce section and buy what's in season, such as grapes for fall and pears for winter. You can also add dried fruit, such as dried apricots and dried cranberries, to fill in the gaps.
7. Something crunchy
Texture is important when planning a cheeseboard, not to mention you need some kind of vessel for all of that cheese! Use a variety of shapes and flavors, such as round butter crackers, square wheat crackers and crostini made from a French baguette. (You can save even more money by purchasing a day-old baguette to make the crostini.)
How to make an easy baked brie with jam and nuts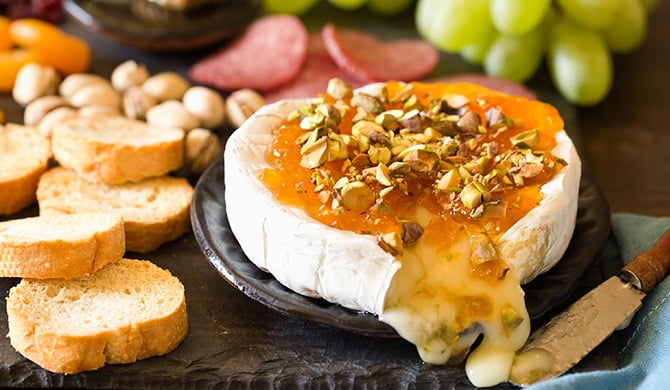 Get the complete printable recipe: Baked Brie with Apricot Jam and Pistachios
Ingredients
8 ounce round brie cheese wheel
1/4 cup jam or fruit preserves, any flavor (pictured: apricot preserves)
2 tablespoons chopped nuts, such as pistachios, almonds or cashews (pictured: pistachios)
Instructions
Step 1. Preheat oven to 350 F.
Step 2. Place the cheese on a baking sheet. Score the top with a knife.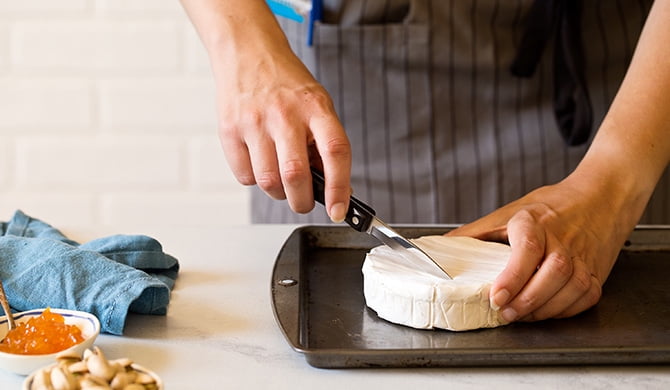 Step 3. Spread the jam or preserves on top.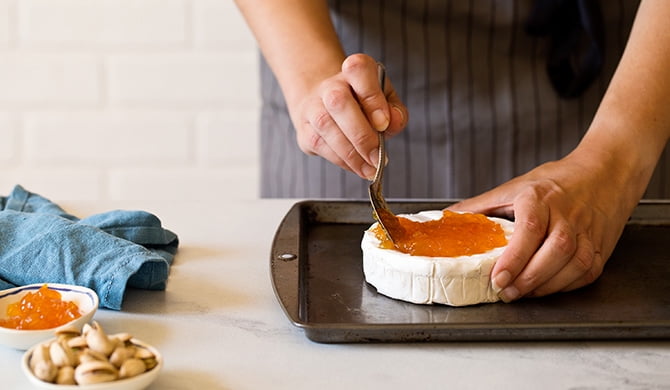 Step 4. Sprinkle with chopped nuts.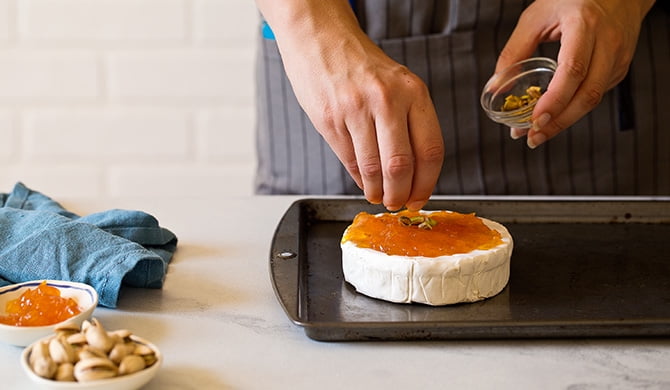 Step 5. Bake for 10 minutes or until the inside of the cheese is softened but the outside remains intact.
Step 6. Transfer to a serving dish and serve immediately.
Get the complete printable recipe: Baked Brie with Apricot Jam and Pistachios
About Chocolate Moosey
Article, recipes and images provided by Carla from ChocolateMoosey.com, a food blogger based in Pittsburgh, Pennsylvania. We tasked Chocolate Moosey with making a beautiful cheeseboard on a budget that would be great for entertaining during the holidays or any time of year.