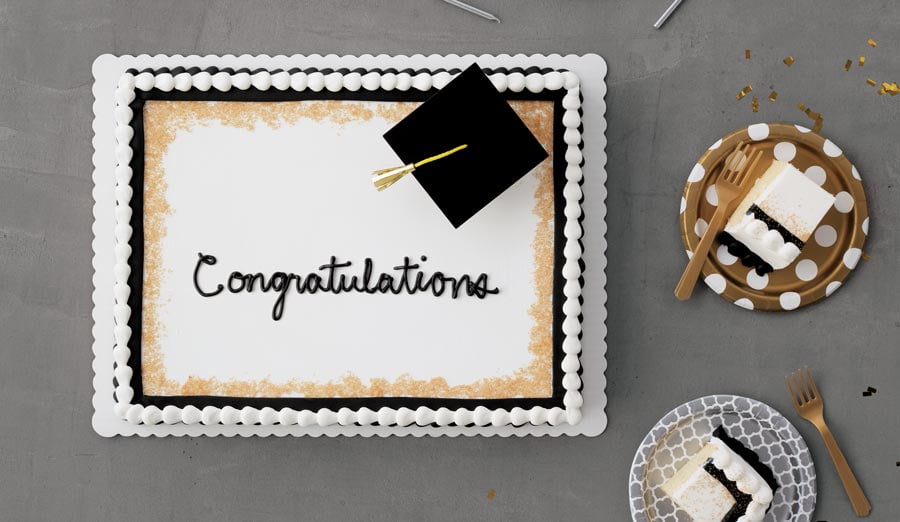 Mortarboard: check. Fancy paper tied with a bow: double check. Cheering section in the seats: all good. After party? Aw, yeah.
But has the graduation cake been ordered?
That special grad has bled buff and blue (or white and red, or crimson, or purple) for four years. Let's make sure that graduation cake does justice to all that hard work, so they've got an A+ celebration.
Step by step
Choosing graduation cakes isn't like acing finals — it doesn't have to be hard. Consider this a step-by-step guide to making the party centerpiece a show stopper.
1. Breathe.
The journey is almost done. When you walk out of the store with that cake in hand, that's your signal to let it all go. 
2. Cake or cupcakes: your call.
The eternal debate rages on cake versus cupcakes. 
Cake pros
Cupcake pros

Slice size can be adjusted (larger or smaller) for the crowd
Room for a personalized message
Room for a photo (or selfie) on a sheet cake
More space for decorating
Filling options
Four corner pieces for frosting lovers
A cake stays fresh a little longer than cupcakes

No need to cut the cake
Cake plates are optional
Forks are optional
Kid friendly
Mix and match flavors
Higher frosting to cake ratio
The mini factor; so cute!
If you can't decide, why not choose a party combo or a cupcake cake?
3. How much?
You may not have hosted this many relatives since the first birthday, and let's be real: can you really have too much cake? We suggest at least one piece or cupcake per person (plus four for the graduate.) A half sheet cake has 48 servings, a quarter sheet cake serves 24 and two tiers feeds 64 people (or 32 members of the football team).
4. Order up!
Figure out how to order a graduation cake at Walmart. That's where we come in! Most store bakeries can do all the fancy stuff, though we do recommend calling just to make sure that local bakery has all your choices. If you have any questions, just ask — we're here to help.
5. Pick your options.
First, flavors (there are four). Then, filling (if you want one). Choose from a rainbow of icings, including your school colors. Or go for a princess dinosaur superhero — four years of school work has earned a laugh or two. 
Photo cakes: We can do that too. Just make sure there's a photo ready.
6. Complete the Walmart cake order form.
Bring the cake order form to your local Walmart Bakery — you can download the cake order form here. The bakery needs at least 24 hours to do your creation justice, and an extra day or two for fancy toppers.
7. Pick it up.
That's it. Done and done. While you're at the store, grab plates, utensils, cups, sodas and snacks. One-stop party shopping doesn't get better than this. The hard work is over; let us make the celebration a breeze. 
Downloads: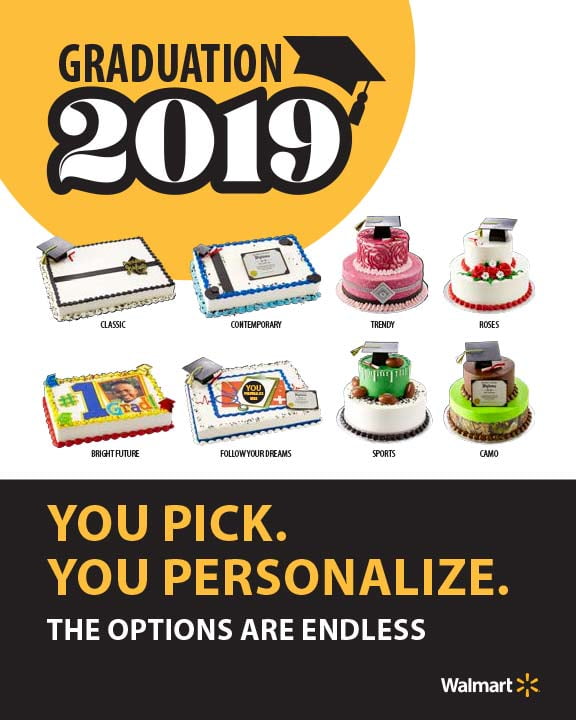 Graduation Cake Cake Catalog
Browse the 2019 Graduation Cake Catalog to find graduation cakes perfect for any grad party. You pick. You personalize. The options are endless.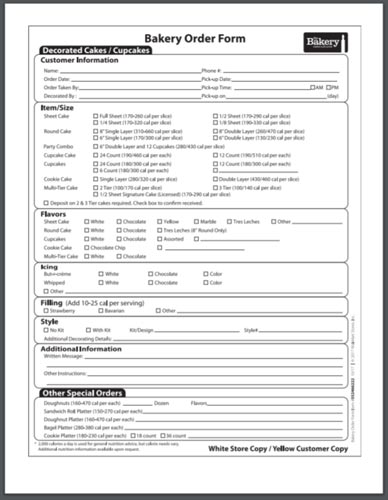 Order Form
Complete the Bakery Order Form form and present to your in-store Bakery team. Order form contains fields for customer information, item choice, size selection, cake flavor, icing flavor, filling and style.