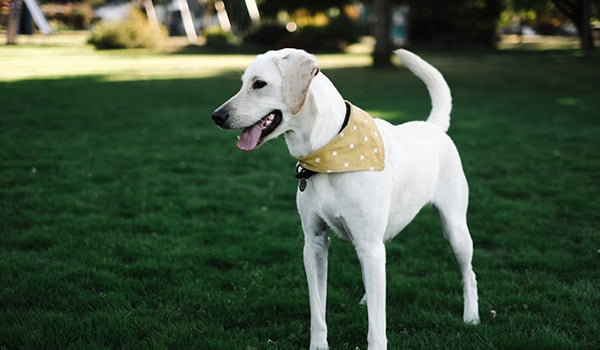 Your dog sure does love going outside, especially with you! To make it a positive experience for you, your dog and everyone else you encounter (whether two- or four-legged), follow these simple tips for getting your pooch out of the house, including dog park and dog walking etiquette.
Know the rules
Make sure you know the dog park rules before bringing your canine companion. Common guidelines include:
Dog requirements. Dog size and weight limits, leash laws and vaccination and tag requirements.
What isn't allowed at the park. Some parks don't allow children, pet toys or treats; these guidelines can help curb territorial or aggressive behavior.
Clean up messes
Keep the reputation of your pooch and yourself in good standing by always cleaning up after your dog relieves himself. And honor signs on yards asking that you not curb your dog there.
Enforce basic obedience
How your dog interacts with other dogs and with people matters a lot and can impact how welcome dogs are in your neighborhood. If your doggie misbehaves with a person or another dog, apologize and work on fixing the behavior. Seek advice from your veterinarian or help from professional dog trainers if you struggle with any of these basic dog owner practices:
Leashing. Always leash your dog, even if he's well-behaved; an exception would be parks that have signage about off-leash dogs being okay. Teach your dog to understand that when he's wearing a leash it's time to walk, not to play; don't allow your dog to play with other dogs while leashed.
Other dogs and people. Only let your dog approach people if a person asks; if you and your dog come upon another dog and owner, ask if it's okay for the dogs to interact and say hello with some basic sniffing. If your dog jumps on people or is aggressive toward them or other dogs, sign up for obedience classes.
Barking. Train your dog not to bark at other dogs and people.
Practice dog safety
Proper dog etiquette is a good habit but safety is an absolute must for responsible dog owners. Stick to these basic safety strategies every time you take your dog out:
When walking a new route. Walk the new route or neighborhood by yourself, around the same times you'd walk your dog. Check for unleashed dogs, heavy traffic or other potential dangers. Once you know the route is safe, you can bring your dog with you.
Dress for safety. Make yourself more visible by wearing brightly colored clothing or outerwear. Reflective leashes and collars can also help keep your dog visible at night.
Don't let your dog eat or drink anything unless it's from you. Food, liquids and trash left on the street and in parks might be contaminated and cause your dog to develop an upset stomach or food poisoning. Some foods (like chocolate) are dangerous for dogs and common chemicals (like antifreeze) can be tempting but toxic for pooches. Carry your own treats and teach your dog not to take treats from strangers.
Dog etiquette and safety gear
Make sure you have the right gear to keep you and your pet well-equipped for all your outdoor activities:
Disposable bags and clean wipes
Properly fitting collar with an identification tag and leash; for added safety, choose a reflective collar and leash
Collapsible water bowl and bottled water, which helps prevent upset stomach from your dog drinking germ-contaminated water
Remember, when a dog misbehaves, it's usually because his owner (yep, that's you) probably hasn't established expectations. That's okay because with time, patience, love and a willingness to work together, you can turn your dog into a model canine citizen. In fact, you can even have your pooch trained, tested and certified as a
Canine Good Citizen® through the American Kennel Association.