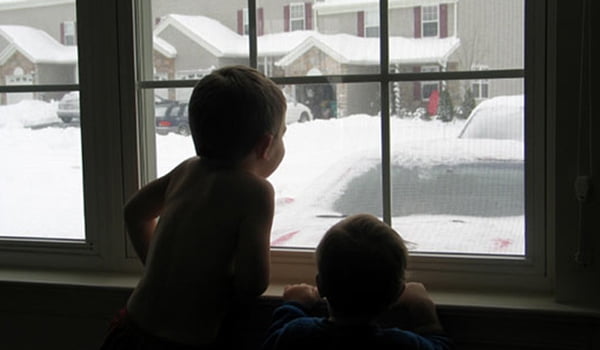 When there's three feet of snow in front of the garage, school is canceled and the kids are home, how are they going to stay entertained and busy without watching TV all day? Fortunately, a well-stocked craft closet can save the day. Having the supplies organized and easily available means you can spend your time hanging out with your kids while they create, not scouring the house for that pair of kid-sized scissors.
Keep your craft closet or playroom organized, labeled and stocked, like mom of four and professional crafter Polina Zismanova of Po-Zi Designs in Cranford, N.J. "Everything is in reach, and they can set up whatever they want," she says. Zismanova suggests you have these essentials on hand, so you and the kids have plenty of options when the blizzard hits.
Craft essentials
Crayons
Who doesn't love a new box of crayons? But when they're broken, they're even more fun. Try making rainbow crayons by melting them in muffin tins. Fill the tin with an inch of crayons, paper removed. Bake in the oven at 200-250 degrees for about 15 minutes, or until melted (keep an eye on them). Wait until they've cooled to remove from the tin. You can also use small cookie cutters to shape them.
Paper
You don't want the kids coloring on the walls or the table. Instead, make sure you have plenty of copy and construction paper! For winter, you can make different styles of paper snowflakes or chains of paper hearts or people.
Craft glue
Even without other crafting accoutrements, glue is fun in and of itself. Do you have memories of dragging toothpicks through a pool of glue, or adding food coloring to it and making designs? Help your kids make some of these memories of their own. White glue, like Elmer's, is also perfect for most craft projects. If kept closed when not in use, it stays fresh and ready for the next activity.
Markers/pens/pencils
Let's cheer for something less messy than paint! You can't have a craft closet without these staples, which are good for drawing on paper and even some fabrics. Keep the caps on markers when not in use, and test them occasionally to make sure they still work. Store them in a zip-top bag or container with a lid, so they stay together, and so strays don't clutter up the area. Also consider leaving a pencil sharpener with the pencils, so you won't have to search for one when the tip breaks.
Sharpies
"Permanent" and "marker" goes hand in hand with "pay attention" and "don't leave the room." While kids should always be supervised when using permanent markers like Sharpies, they are versatile. Zismanova recommends using Sharpies to create designs on ceramics, like plates and mugs. Draw the design and put the creation in the oven, turning it to 425 degrees. Heat it for 30 minutes, letting the oven cool down before removing the ceramics. The design should be permanent. You can also use Sharpie to create stained-glass-like creations. Using the Sharpie, draw a border on paper or canvas. Paint inside the lines with watercolor, and voila!
Unfinished wood products
Great for a day when you have nowhere to go and plenty of time to focus, inexpensive wood craft kits can eat up hours of time and result in finished projects worthy of display. Zismanova keeps these kits in the house, so the kids can sand and paint them whenever inspired.
Styrofoam
Packing peanuts are fun to play with, but Styrofoam balls are even better. They make a great base for ornaments or a mobile of solar system planets. You can also use leftover Styrofoam from shipping materials to create works of art.
Felt
Soft, colorful and versatile, felt is great for making small stuffed creatures. You can fill them with cotton balls and hand-stitch them closed. By sewing or gluing, add designs like buttons, cut felt pieces and string.
Trim/accessories
The best part of making craft art is the accessorizing. Adding googly eyes makes a creation come alive. Pom-poms give an instant fun factor. (Pom-poms + googly eyes = cute, fuzzy creatures!) Pipe cleaners create bendable people (especially with googly eyes), and glitter adds bling to any project. "Some people don't want glitter in the house," Zismanova said. "I welcome it."
Magnets
Your refrigerator door needs creative magnets, not just the ones that come from local vendors. Try making flat marble magnets: Glue a small picture or letter cut out from a magazine to the flat side (picture facing the marble). Then add the magnet on the other side of the picture. You can do something similar with bottle tops.
Beans
Beans, beans, they're good for your art. Different kinds and colors of dried beans are perfect for mosaics. Create your own designs on construction paper, wood or a glass jar. White glue works well as the adhesive. Just remember to let it dry thoroughly.
Toilet- and paper-towel tubes
Reuse, recycle, reclaim! Instead of throwing out your cardboard tubes, save them for crafting. Using your imagination and basic supplies, make tubular snowmen, people, robots, Santa Claus, finger puppets and castles. Zismanova sometimes glues decorative napkins to them, using homemade mod podge (white glue mixed with water) as a design base.
Clear Con-Tact paper
Con-Tact paper is not just for your shelves. Make easy bookmarks by cutting out a rectangle of this sticky plastic and putting glitter, stickers, drawings or pictures inside. Fold it over, punch a hole in the top and add a ribbon for an easy, homemade gift. You can also make flat ornaments this way.
Pasta
Preschool teachers love dried pasta for a reason. Whether you use it plain or dye it, you can make pasta necklaces, garlands or mosaics with different shapes. To dye it, put the pasta in a zip-top bag, and add enough vinegar to cover it, along with food dye. Let it sit for an hour, then dry the pasta on wax paper for four hours. Make it ahead of time, and it will be ready for any snow day.