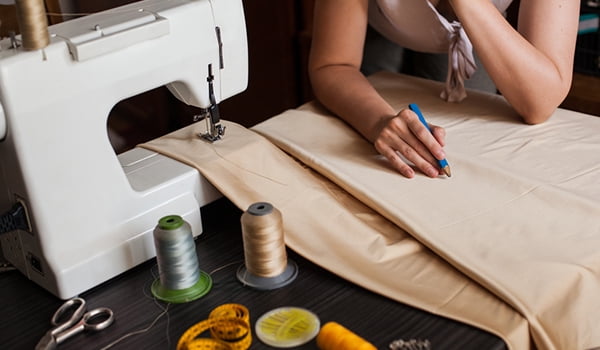 Whether you're just starting with sewing machines or can stitch in your sleep, there are basic accessories and tools you'll reach for regularly. Use this list as a primer for your own kit or as a guide when giving gifts to the sewing enthusiast in your life. Combine elements from this list to create a customized gift basket, or tuck individual pieces into stockings as stuffers during the holidays.
Starter kit must-haves
Fabric
You're going to want to take your new (or new to you) sewing machine for a spin right away. And for that you'll need some fabric. Decide what type of sewing—fashion, quilting—you think interests you most, and buy the appropriate fabric. Start with a couple yards of fashion fabric or a stack of fat quarters. (A fat quarter is a one-fourth yard cut of fabric that usually measures 18″ x 22″).
Pin cushion
Keep needles and pins from running away by giving them the perfect home. These cute little cushions often come with a dangling attachment that sharpens and removes rust from pins and needles. Some clip on to your wrist for handy access.
Scissors made for fabric
Fabric scissors, also known as fabric shears, are equipped with very sharp edges and specially designed to cleanly slice through fabric fibers. Large shears are great for cutting lengths of fabric, while small fabric scissors (sometimes called snips) are used for smaller detailed work and cutting. You'll want to reserve these tools for fabric only, since using them on paper will dull the blade. And a dull blade will lead to uneven edges, create unwanted thread pulls, and cause tired hands and overall frustration. When scissors start to dull, simply sharpen the blades. Some sewing shops offer this service. You can also sharpen your own to ensure you never have a dull moment!
Seam ripper
Even experts stumble on a seam now and again. And beginners know the experience quite well. In a pinch, a pair of small scissors/snips might work for unraveling an unruly seam, but you could end up jabbing holes through the fabric. Luckily, a seam ripper will give your seams a do-over—as many times as you need it. (We won't tell.)
Soft tape measure/ruler
From checking a hem to checking your waistline, a measuring tool is a must-have. For fashion sewing, choose a soft tape measure that will wrap around curves and fall to the floor with ease. For quilting, you can use either a ruler or soft tape measure—but guess which one we have a soft spot for?
Everyday essentials for beginners and pros
Ball head pins
Keep it together before the sewing starts with these versatile, must-have pins. They're perfect for securing fabric to fabric, so there's no slippage when you run it all through the machine. For fashion, use them to pin a pattern to fabric before cutting.
Bobbins
Most new sewing machines come with a handy starter set of bobbins. But as projects add up, you'll appreciate the time-saving trick of stocking spool/bobbin pairs for your go-to colors. If compatible with your machine, consider upgrading from standard plastic to more durable metal bobbins. Either way, check the specifications for your machine before buying additional bobbins.
Thread
Don't be seduced by the vast selection of thread colors. Start with neutrals like white, black and cream. You'll use these colors frequently, so buy larger spools if your machine can fit them. Then add colors like blue, red, green, yellow and even some of the quirkier (but fun) colors like orange and turquoise. Keep your colorful collection organized with a thread holder.
Universal needles
No matter which thread or stitch you choose, universal needles will be your go-to for everyday projects. With use, needles will eventually dull (or break), so always keep a stash of these hard-working essentials on-hand.
Welcome additions
Specialty needles
Projects that involve denim, jersey and other special fabrics go more smoothly when you use a needle designed for the job. You'll avoid broken needles, snags and unnecessary frustration.
Iron
Give even the simplest project a polished, professional look by using an iron to smooth out all fold lines and wrinkles before you sew and press seams and after stitching. If you're shopping for a new iron, choose a model with multiple fabric settings (cotton, wool, polyester). Auto shut-off and steam features are also handy. Whether your iron is new or old, keep it clean so that your projects stay that way too.