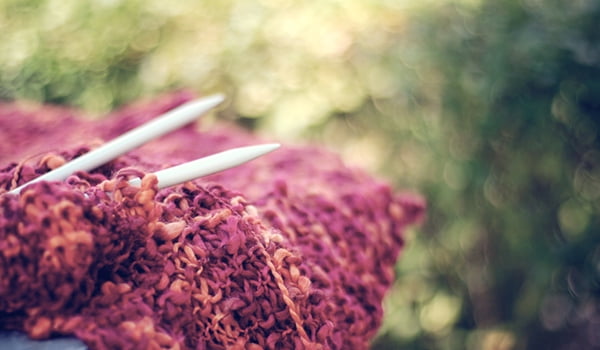 Looking for the perfect one-of-a-kind gift? Make your own! It's easier than you might think. "Everybody loves handmade things," said Kelly Howard, owner of By Hook Crocheting in Westfield, N.J. "It's personal. I like giving something from me, not something that was bought."
Not sure if there's room for handmade gifts in your already busy life? There sure is! Here are yarn projects for both beginning and advanced crafters that require only one skein of yarn and a few hours—or less!—of your time.
Five projects for the novice yarn crafter
1. All wrapped up
Yarn wrapping can turn an everyday object into something decorative. Choose your recipient's favorite colors, and cover an object like a wine bottle, wreath, plastic pumpkin, bangle bracelet, picture frame or large letter. You can even gather some thin branches, wrap them in pretty yarn and put them in a decorative vase. To make them, apply double-sided tape around the objects so the yarn stays positioned, and make sure the yarn rows are tight. Use a solid hue or a skein with multiple colors.
2. Cuddly octopus
This kids' animal project is quick and fun. Cut most of the yarn into 24-inch long strings. Gather and tie one end, leaving a fringe. Place a small Styrofoam ball just under the tie, cover it with the yarn and cinch it below with another strand. Divide the string into eight legs, which you'll braid and tie at the bottom. Glue on some eyes.
3. Heart and art
Wrapping yarn in random patterns makes for a fun, decorative gift. Bend floral wire into a heart shape, and wind string across it, leaving gaps and crisscrossing the string. Add a ribbon for hanging. Or take a piece of wood and position nails or push pins in your own arrangement. Creatively thread the yarn from pin to pin.
4. Fuzzy coasters
A set of coasters is a useful gift that can be used all year long. For each coaster, tie floral wire into a circle, then wrap yarn across each. You'll turn the coaster slightly with each wrap to cover it entirely.
5. Funny faces
Kids will love making these decorative faces, which can be hung, grouped together as a display or used as an addition to a wrapped gift. Cut a circle (any size) out of stiff paper, and color it like an animal face, sun or snowman. Punch holes around the perimeter, and tie yarn tassels for the mane, sunrays or snow.
Five yarn projects for savvy yarn crafters
For crafters who can knit or crochet, gift options are endless. Howard recommends using colors and patterns your gift recipient likes. "That makes it even more personalized," she said.
1. Add your own finishing stitch
Take a premade item, and jazz it up with decorative yarn stitching. Try edging a plain scarf with a running border. Trim a simple jacket at the wrists, lapel and pocket with a pretty yarn, giving it a funky or folk look. Decorate a fleece hat with bright colors or a monogram.
2. Cozy kitchen
As the most popular room in the house, the kitchen is an easy target for gifts both personal and functional. Think: yarn-based potholders or coffee cozies. Dress up any table in a flash, and crochet or knit table runners or placemats.
3. Amigurumi
This is the Japanese term for crocheting or knitting small stuffed animals and toys. These are so cute you'll start getting requests for more. Look for books with patterns to get you started. Some are simple, while some can be quite detailed. This is a gift easily personalized by making your recipient's favorite characters or animals.
4. Wacky hacky
Small hacky-sack balls are fun for both kids and adults. You can find patterns online. Wrap the knitted part around foam, almost finish it, then fill it with batting, beans, rice or poly pellets before stitching it up. Make a set of three for the jugglers on your list.
5. Warm them up
Howard crochets accessories for babies and their parents. For showers and infant gifts, her baby booties, bibs and beanies are a hit. "My best reaction was at a baby shower," she said. "Everybody oohed and aahed." Hand-crocheted winter accessories are great gifts for adults, too. Hats, scarves or socks don't take long if you're experienced.
No matter your skill level, a little time goes a long way towards showing your loved ones that you care. Give a few friends and family something you made, and watch their faces light up with gratitude.