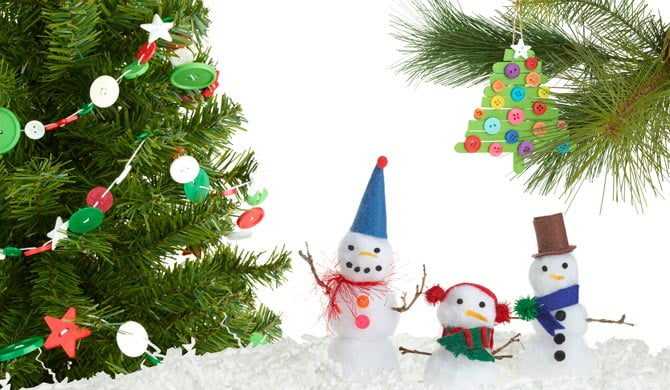 Step away from the screens and get crafty this holiday season with these fun and kid-friendly holiday decor ideas. Keep for your home or give as a gift.
Pom-pom snowmen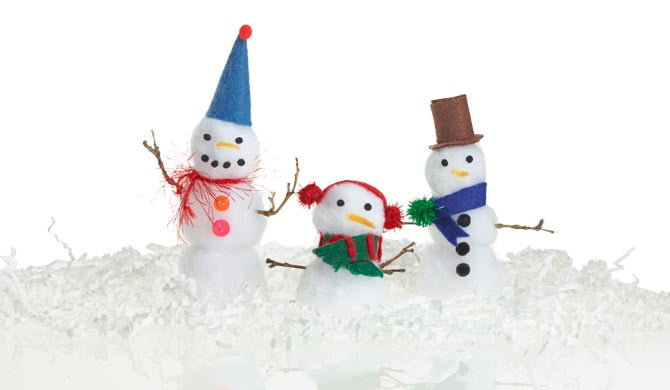 These adorable snowmen are an easy way to make good old Frosty part of your holiday celebration-whether or not you have snow this Christmas.
Supplies
Various sizes of large white pom-poms
Tiny pom-poms
Needle and thread
Assorted colored felt
Thin twigs
Craft glue
Beads, yarn and other decorations for snowman accessories
Instructions
To make each snowman body, arrange the pom-poms with the largest on the bottom and the smallest on top. Sew up through the pom-poms to secure to each other.
Using felt and tiny pom-poms, create hats, noses and mouths for the snowmen.
Create "buttons" for the body using tiny pom-poms. Secure them to the snowmen using a small amount of glue.
Add glue to the ends of the twigs, and gently insert them into the pom-poms to make arms.
Use yarn or felt to add scarves and other accessories.
Popsicle-stick Christmas trees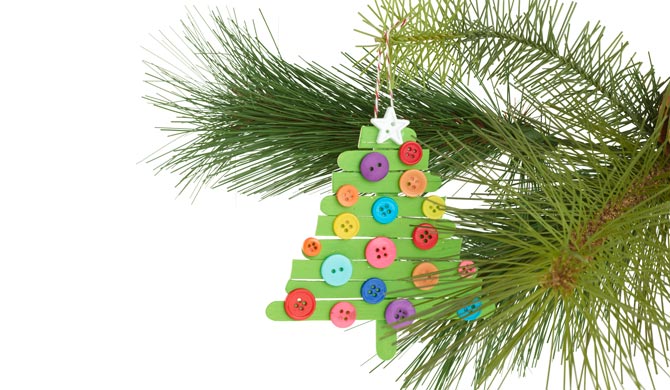 These cute ornaments are easy to make and durable enough to enjoy for many Christmases. They also make perfect additions to any gift wrapping.
Supplies
Popsicle sticks
Buttons
Craft rhinestones
Glitter
Paint
Glue
String
Instructions
When making this craft with little kids, adults should create the Christmas tree template, let it dry, then have the kids decorate the ornament.
Select a large Popsicle stick, and lay it vertically—this will be the trunk of the tree and hold the other sticks.
Create the bottom branch of the tree. Glue another large Popsicle stick perpendicularly to the trunk. Leave room at the bottom so the trunk still shows.
To add more branches, glue three medium-sized sticks above the large bottom stick. Then glue small Popsicle sticks above the medium sticks, leaving a gap between the top branch and the one below it (for string, which is attached in step 7). If you want to add a star on top, leave room for that too.
Paint the tree green or other fun holiday colors, then set it aside to dry.
Decorate the tree with craft rhinestones or buttons. Let dry.
Make it into an ornament by tying string around the top of the trunk between the top branch and the one below it.
Button garland

Make easy Christmas-tree trim that can be displayed year after year. There is no wrong way to string these festive garlands, and you can never have too many. They also make a colorful accent on the mantle.
Supplies
Embroidery floss or yarn
Buttons
Embroidery or other large needle
Scissors
Instructions
Cut embroidery floss to your desired garland length. If you want a long garland, make it by connecting several shorter garlands to each other—to avoid tangling.
Knot the embroidery floss or yarn on one end.
Thread the needle, and use it to string the buttons. Simply weave thread up and down through the buttonholes to create a strand. To create a strand where the buttons don't shift, either use a thicker yarn or make a full loop through the buttonholes. To make a full loop, you'll need to go up, down and then back up and down—making a circle-through the buttonholes.
When you near the end of the floss, tie a knot.
Start a new garland, or tie multiple ones together to form a longer piece.
Homemade play-dough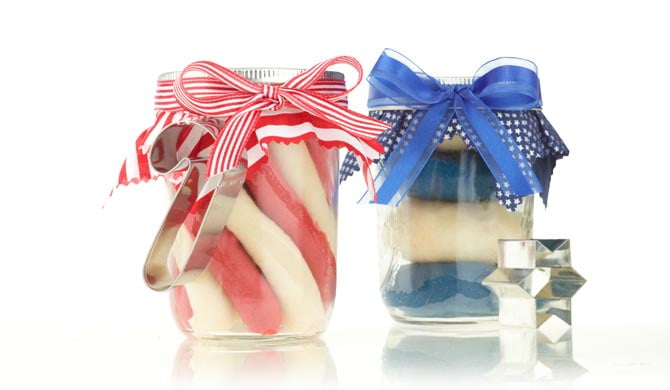 Kids will love digging into this classic craft. Give as gifts by rolling the dough into balls or thick twists and placing them in lidded jars tied with ribbon.
Supplies
5 1/2 cups flour
4 cups water
2 cups salt
8 tablespoons cream of tartar
10 tablespoons vegetable oil
Food coloring
Optional: glitter and peppermint essential oil
Instructions
Combine the water, salt, cream of tartar and food coloring in a saucepan.
Cook on medium-low heat, stirring continuously until the mixture is hot. Add the oil, and stir until thoroughly combined. One cup at time, stir in the flour, making sure to smooth out clumps.
Mix until the dough pulls away from the sides of the pan and isn't sticky. Take a pinch of dough, and test with your fingers for the correct consistency. You might need slightly more or less than 5 cups of flour depending on the brand you use.
Empty the dough onto a cutting board or counter, and let cool before adding additions such as glitter or essential oil. Add 8 drops of peppermint oil per batch.
Store the dough in an airtight container—mason jars are attractive and functional.
To make a twist: Roll out two different colors of dough, about the same size. Place them next to one another, and twist them together.
Mini cookie box notepads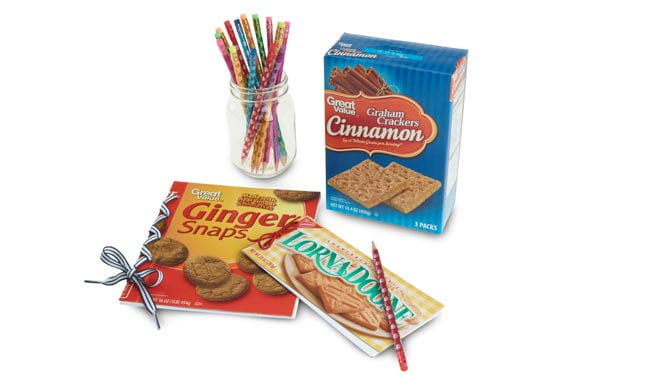 Let kids turn their favorite treats into handy notepads while teaching them about creative ways to reuse everyday items.
Supplies
Cookie boxes
Notepads or paper
String or shoelaces
Hole punch
Scissors or craft knife
Instructions
Decide what size your notepad will be based on the box you have. For the pages inside, use notecards, a notepad, binder paper or cut up some paper from an old composition book.
Remove the box spine that's to the right of the design you want to use as the notepad cover. Also remove the top and bottom flaps. You should now have a rectangular piece of cardboard.
Fold the rectangle in half, and make a tight crease. You should now have a "book" shape with a folded spine and a cover that easily opens.
Using scissors or a craft knife with a straight edge, carefully cut the paper to the size of the book cover.
Punch holes in the spine of the cover.
Punch matching holes into the paper.
Bind the notebook together with string or fun colored shoelaces.