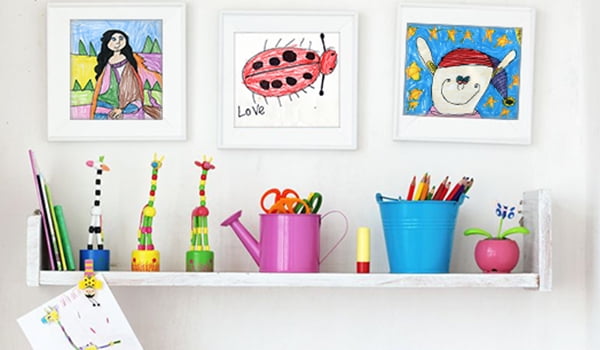 How to digitize and display your children's artwork and crafts.
There's an up-and-coming artist on the scene whose work is appearing everywhere: It's your kid. And "everywhere" is your refrigerator, which means there's a limit to how much artwork you can display—unless you get creative.
How to digitize the artwork
Digital technology offers many easy ways to creatively display and preserve your child's artwork. To make any of the custom projects below, start by digitizing flat artwork either at home using a scanner or by taking it to a Walmart photo department. If the art is three-dimensional, photograph it with a digital camera. (Or if you've already snapped and printed a few shots of the art, scan in those photos.) Shoot photos in a well-lit area and against a plain background for best results.
What products to create
The cutest coffee table book ever
Consider yourself the publisher of your child's very first book. Start a tradition by creating custom photo books (or custom calendars) each year—and enjoy seeing how your little artist develops her skills over time. For added fun, have your child autograph gift books. (An inked handprint works well for young ones who can't write yet.)
Cozy up to photo blankets
Give a proud grandparent this keepsake that's also functional. Or make a photo blanket for your child's bed, letting your child pick his or her favorite piece of artwork.
Embrace change with digital frames
Struggling to choose just one piece of artwork from your child's growing collection? Digital frames let you upload a collection of photos that are continuously cycled through a loop.
Precious keepsakes
Photo magnets and photo ornaments are proof that big memories sometimes come in the tiniest packages. Attach an ornament as a fun gift-wrap detail on a larger present, or drop a magnet and card in the mail as a sweet little anytime memento.
Gallery of ideas
Have some fun with traditional framing by experimenting with different formats. Collage frames offer an easy way to group multiple photos in one frame. Try selecting photos that are related by subject matter (flowers, animals, colors) to create an overall theme. Or set up a small gallery of your child's artwork by incorporating a collage into a larger grouping of individual frames.
Aspiring artists and pint-sized painters alike will get a kick out of seeing their work blown up large, just like grown-up art. Print artwork extra-large on custom photo canvas, or as full poster and slip it into an oversized frame. Line up a series of canvases or frames in a row for a dramatic gallery effect that works especially well in hallways.