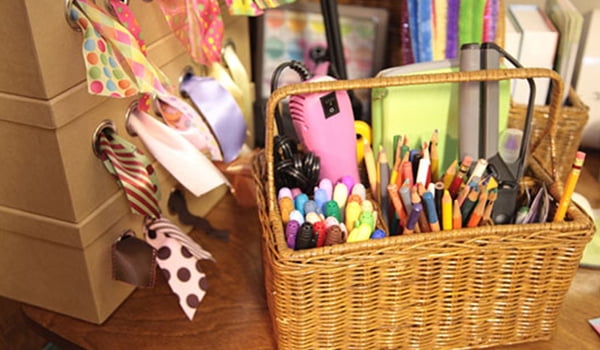 Spending an hour or two, or even a whole day, engrossed in handicrafts is a delightful way to relax while showing off your creativity. Whether you're learning a new craft or working on an old favorite, there's a special joy in creating something with your own hands. When you can't find what you need, however, the fun can end abruptly. Why not make your crafting time more enjoyable with a designated area in your home? Good organization and storage make it easy to see what you have, find what you want and clean up easily.
Location, location
It's best to have one location in your home for crafting. Whether you're lucky enough to have an entire room to devote to craft time, or you simply pull up a chair to the kitchen table, you need a large workspace with an easily cleaned surface, good lighting and a nearby closet, shelving unit or cabinet for holding supplies.
Roll it
If space is at a premium, consider a rolling storage cart with multiple drawers for organizing paint, paper, yarn and other small supplies. Having your supplies on wheels makes it easy to move them right where you want them. When not in use, you can wheel your cart into a closet. Another option is a kitchen island on wheels. These are attractive enough to leave out in the open, provide a small work surface and have drawers and cabinets for holding supplies. If you use many large supplies, an open shelving unit on wheels can accommodate oversized or oddly shaped items, or hold an array of baskets for smaller crafts.
Baskets and boxes
Plastic storage boxes are an inexpensive way to keep your craft supplies under control. Use under-bed storage boxes to hold large pads of paper, fabric, looms or kits. Cloth storage bins, pretty baskets or a matched set of plastic storage boxes with lids all work well for most supplies, including paint, brushes, kits, clay, needlework and paper crafts.
Small supplies
If you enjoy beading or other crafts with many tiny supplies, use multi-compartment boxes or drawers to corral beads, pom-poms, googly eyes and other necessities. Another option especially handy for oddly shaped small items is plastic snack bags. Separate your supplies into plastic bags by type, then store all the bags in a basket or box.
Crafting with kids
Kids plus crafts usually equals mess. Avoid disaster by working in an area with hard, easily cleaned flooring, and protect your work surface with a plastic tablecloth, drop cloth or layer of newspaper. When it comes to storing supplies, stick with clear, plastic boxes. These reveal their contents, are sturdy and inexpensive and are easy for little hands to manage.
Repurpose what you already have
You probably have numerous items around your home that will work beautifully for holding supplies. A few ideas include:
Use mugs to hold paintbrushes, marking pens or chenille stems.
Silverware organizers are perfect for separating glue sticks, crayons, brushes and ribbon.
Store beads in small mason jars or baby-food containers.
Turn a fishing tackle box or cosmetics organizer box into an on-the-go kid's crafting kit. Fill the box with small pads of paper, markers or crayons, small beadwork or needlework kits, and bring it along on trips to Grandma's, on long car drives or while waiting at appointments.
A wall-mounted plate rack is just right for holding scrapbook paper, drawing pads, looms and needlework frames.
Hang an over-door multi-pocketed shoe holder near your crafting table, and organize your supplies in the various pockets.
By taking the time to organize your supplies, you'll ensure that, whenever you feel the urge to get crafty, you can start right away. No more losing valuable time trying to find everything you need. A little preparation goes a long way!