Tips & Ideas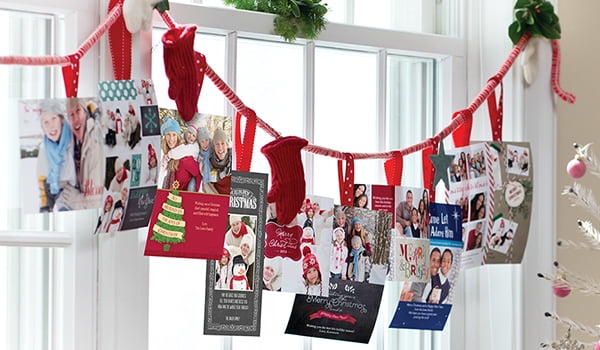 Supplies
Thick cording
Faux or real greenery
Mini knitted gloves (or other holiday decorations)
Grosgrain ribbon in festive colors/patterns
Christmas cards
Instructions
Apply temporary hooks to your window frame at the desired height for your garland. (We suggest a little above adult eye level.)
Every window is different, so measure out cording to the length needed to drape across your window (or windows), accounting for the droop. Leave about 12″ of room at each end to tie off the cord.
Decorate the hooks with greenery and holiday accessories such as mini knitted gloves (shown).
As cards arrive in the mail, use grosgrain ribbon to attach the cards to the cord. First cut a length of ribbon about 10″ long. Attach one end of the ribbon to the top of the back of the card using double-sided tape. Then put another piece of double-sided tape on the other side of the ribbon attached to the card.
Wrap the ribbon over the cord, front to back, and attach the loose end to the exposed piece of tape. Ta-dah!
Repeat with different colors and patterns of ribbon as you receive cards in the mail.
Note: If your cording is slippery, simply stick a little bit of double-sided tape underneath the ribbon loop (where it touches the cord). Then gently press to secure in place.
Similar Posts