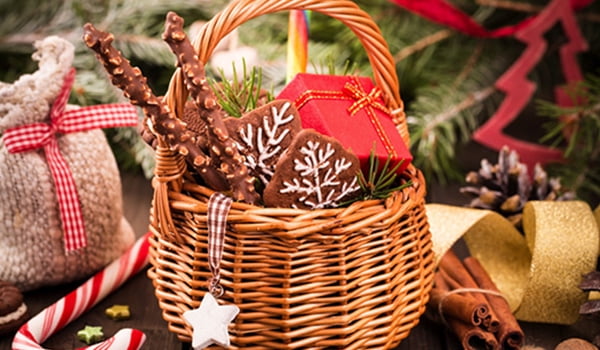 Brimming with goodies just waiting to be discovered, gift baskets have a way of thrilling adults and kids alike. Plus, these festive presents are easy (and fun!) to assemble.
Pick a theme that fits your recipient—or come up with your own. Then build your gift basket with these four basic components:
A container
A liner
A selection of goodies
Ribbon
The Foodie
Everyone loves to eat, which is why this is a can't-fail gift. Start with a fun mixing bowl, then line it with a colorful dish towel, apron or cloth napkins (include an even number of napkins). Fill the bowl with a collection of sweet and savory treats, such as gourmet popcorn, biscotti cookies, jam, honey, chocolate, coffee, tea, salami, Dijon mustard and artisanal crackers. Include small kitchen utensils as the finishing touch (tea strainer, mug, small spoon, butter knife).
The Chocoholic
Everyone's favorite childhood treat grows up with this decadent gift. Line a basket with colorful tissue paper, then fill it with assorted chocolate flavors and forms. Choose high-quality chocolate, and be sure to include the classics — milk chocolate, white chocolate and dark chocolate. (Dark comes in a range of cocoa percentages, with higher percentages tasting less sweet and more intense.) Add depth by including chocolate that's flavored or filled with mint, orange, raspberry or caramel. And don't limit yourself to bars: Dark chocolate syrup, hot cocoa and small chocolate candies and sprinkles round out the selection perfectly.
The Gearhead
For some people, holiday sparkle means a gleamingly clean and shiny car. Help your favorite car enthusiast wax, buff and shine his way to happiness with this custom gift. Start with a rugged wash bucket, and line it with polishing cloths. (Microfiber cloths are great choice.) Then load it up with all the essentials for car care, inside and out: leather conditioner, interior detailing wipes, car wash shampoo, a large sponge, car wax and tire shine. Go all out by adding a handheld vacuum and pre-paid gas card. Attach a hanging air freshener as the final touch.
The Spa Seeker
Given the hectic pace of most people's lives, a sense of peace and calm might just be the ultimate gift. Give that special someone a little slice of serenity with this ease-inducing present. Select a basket or other attractive container that could be displayed in the bathroom or on a vanity. Line it with a luxurious bath towel. Then fill it with a collection of relaxing bath and body-care products: rich bath soap (bar or liquid), bubble bath, salts, body lotion, a facial scrub and mask, loofah sponge and candle. Unless you know the recipient has a favorite scent, choose lighter fragrances like lavender and citrus. Or to be extra safe, select scent-free products.
The Young Artist
This kit is sure to bring the aspiring artist out of any child and provide hours of battery-not-required entertainment. Pick a sturdy, colorful storage box with a lid, and fill it with art supplies that are age-appropriate for the recipient. For younger kids, include paper (white and colored), coloring books, stickers, glitter glue, crayons, markers, colored pencils and a sharpener. Older kids would enjoy more advanced craft supplies, like clay, paint and origami. (For the latter, don't forget a how-to book as well as paper.)
The Movie Buff
With this entertainment-oriented basket, give the gift of a happily-ever-after your film fanatic can enjoy again and again. Choose a good-looking basket with handles that can be repurposed later to hold remotes and game controllers. Pack it full of timeless movie treats, such as two-liter bottles of soda, boxed candy, microwave popcorn, popcorn seasoning and DVDs of classic and new movies. Or tuck in a gift card for downloadable movies, and let the recipient pick the flicks.