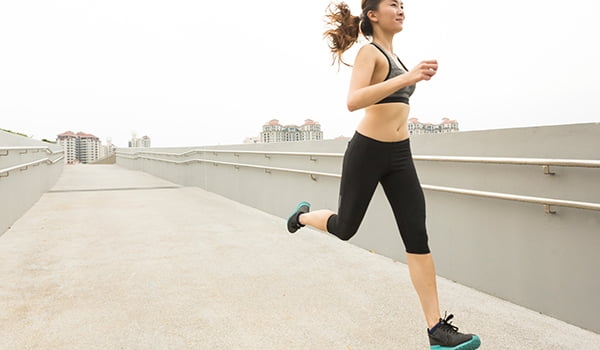 If getting back in shape and working out is one of your biggest goals, you're not alone. It's never too late to get back on track and get active. But before you hit the gym, go for a run or try that Zumba class, you need the right sports bra.
The right sports bra makes it easier to lead an active lifestyle with comfort and confidence. But finding the right fit, for the right activities can be a challenge. Here are some tips that that will help you find the sports bra that's best for you.
The bounce factor
The impact level—the amount of bounce and movement associated with your fitness activity—determines the type of sports bra you need. Give it the bounce test by doing jumping jacks or jogging in place.
| Low impact | Medium impact | High impact |
| --- | --- | --- |
| Walking | Power walking | Running |
| Pilates/Yoga | Elliptical machine | Zumba |
| Weight training | Skiing | Horseback riding |
Compression and encapsulation
When it comes to supporting your breasts and minimizing their movement, most sports bras work in one of two ways: compression or encapsulation.
Compression sports bras don't have cups or hardware. They work by compressing the breasts against the chest to restrict bounce. Compression bras are typically scoop back or racerback pullovers. Best for: A to B cups and low-to-medium impact levels.
Encapsulation sports bras resemble everyday bras. They feature separate molded cups for support from all sides and may feature an underwire. This style flatters curves and fuller figures while offering additional support and protection. Best for: C and D and medium-to-high impact levels.
Compression/encapsulation combination bras offer more support than compression alone. These bras offer more support than compression alone. Best for: C-DD+ cups and high impact levels.
Find the right fit
Since your sports bra size may not always be the same as your regular bra size, you'll want to try on multiple sizes. Even if you order online, order several options and return the ones that don't fit. A good fit is snug (no bunching) and allows you to put two fingers between the band and your body. If you're full-busted opt for wide, adjustable straps for a more customized fit and more comfort. The right undergarments can do wonders for your outer appearance.
Stay cool and dry
Look for bras in moisture-wicking fabrics like Dri-FIT or CoolMax and avoid cotton. If you're prone to chafing or irritation, opt for seamless styles.
Care for your bra
Wash your sports bra in mild detergent or baby shampoo after every wear and never machine dry it. Sports bras have a shelf life of about 6-12 months and should be replaced if the elastic is stretched out or you've gained/lost weight. The better you care for your bra, the longer it will last.