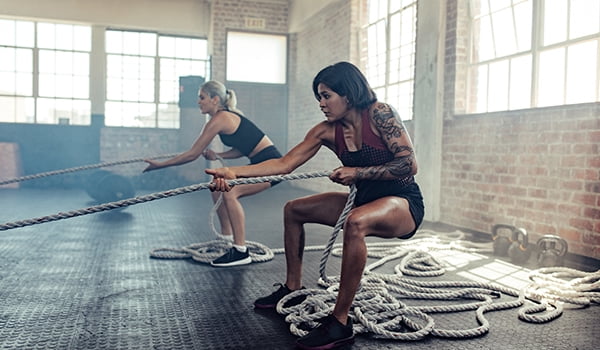 Congratulations, you've done it! You've started a fitness routine and, for the most part, you're staying on the right track. So now what? Could you be getting more out of your fitness efforts? Here are some tricks to help amp up the benefits of your healthy habits.
Count your Zs
When it comes to fitness, getting enough quality sleep is more important than you might think. People who are sleep deprived tend to become exhausted more quickly during exercise. So getting plenty of sleep not only feels good, it can also be essential to your exercise performance.
Build more muscle
If you aim to lose fat, your fitness goals might include building more lean muscle mass, which, according to the Centers for Disease Control and Prevention, can also increase your metabolic rate. To help build that mass, consider increasing your protein intake. EAS100% Whey Protein Powder can add extra protein to your diet, with 150 calories in each serving. When you give your muscles what they need to get stronger, you can get more out of your workout routine.
Try interval training
To burn more calories, you've got to spend more time in the gym…right? Well, that's not necessarily true. With high intensity interval training, you switch between intense bursts of activity and periods of less intense activity. Your workout can actually be shorter but more effective. The benefits are big: you can increase your metabolism to burn more calories during workout and rest, which actually saves time!
Level off your stress
When you experience stress, your body responds by releasing hormones that increase blood pressure, heart rate and blood sugar levels, according to the Office on Women's Health. Eventually, stress can contribute to health problems such as depression, heart disease and obesity. So, in any fitness program, reducing your stress is key. From getting enough rest and leisure activity to making time for meditation and physical exercise, there are many ways to curb your stress and keep your workouts working for you.
We hope you find these tips helpful in making your fitness routine more effective. With a few small changes, you might find you're getting big results. But, as always, talk to your doctor before changing your fitness routine.