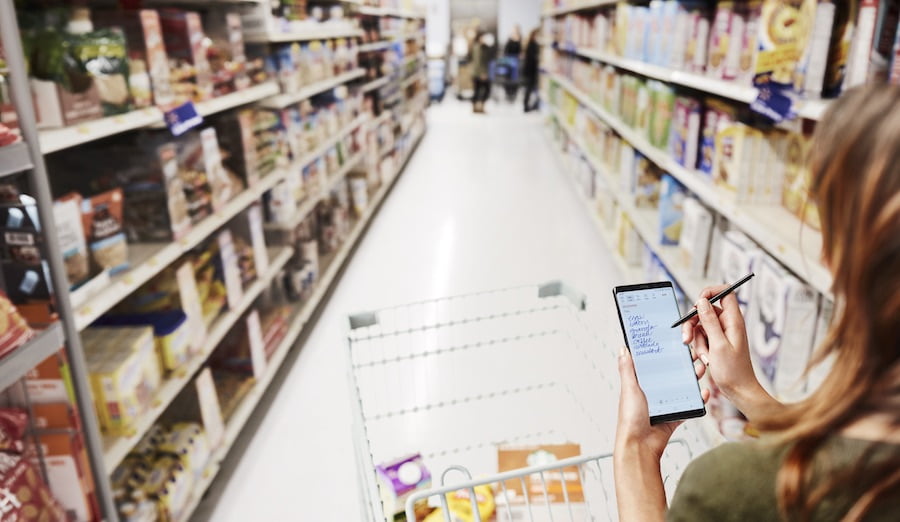 Once you've decided that you're going to give the high-fat, low-carb ketogenic diet a try, you'll need to get clear on what types of foods to put on your shopping list. Given that the keto diet excludes almost all carbs and sugar, there are many items that you'll have to leave behind at the grocery store. This article will explain the best keto-friendly foods to focus on, as well as those you should skip.
What should you put on your keto diet grocery shopping list?
When you're following the keto diet, you can expect that your meals and snacks are likely going to look very different than they used to. You'll now be getting a whopping 75 percent or more of your daily calories from fat, such as from foods like coconut oil, olive oil, butter, ghee and quality cheeses. About 15 to 20 percent of your total daily calories should come from protein, and just around 5 percent from carbohydrates.
Gone are the days when you'll be having cereal for breakfast, fruit and granola bars for snacks, sandwiches and bowls of pasta. In order to get enough fat to stay energized, your meals should now include a combination of fats/oils, non-starchy vegetables and a moderate (but not big) serving of protein.
It can seem overwhelming at first to make such drastic changes when starting a new diet, but rest assured that with some practice you'll be able to get the hang of high-fat, low-carb cooking and meal planning. The first step to take when starting any new diet plan is stocking your kitchen with lots of  options, so you always have something that fits your diet on hand. 
Keto-friendly foods that you'll want to fill your cart with when grocery shopping include:
Healthy fats & oils: Examples include real olive oil, coconut oil, grass-fed butter, ghee, palm oil, avocado oil, MCT oil, lard, chicken fat or duck fat (can be bought at a butcher) and all types of nuts and seeds. 
Produce, particularly non-starchy vegetables: Some of the best options include broccoli, cauliflower, brussels sprouts and other cruciferous veggies, all types of leafy greens (like spinach, dandelion or beet greens, collards, mustard, turnip, arugula, chicory, endive, escarole, fennel, radicchio and kale), asparagus, cucumber, celery, mushrooms, bell peppers, zucchini, tomatoes and carrots (just don't go overboard on veggies that tend to be sweet).
"Clean" proteins: This includes grass-fed meat, pasture-raised poultry, cage-free eggs, all types of wild-caught fish and seafood (such as tuna, trout, anchovies, bass, flounder, mackerel, salmon, sardines), organ meats like liver and turkey or beef jerky.
Dairy products (always full-fat, unsweetened and ideally organic): Butter, heavy cream, sour cream, organic cheeses and—in small amounts—full-fat yogurt, kefir or milk.
Nuts and seeds: Almonds, walnuts, cashews, sunflower seeds, pistachios, chestnuts, pumpkin seeds, nut butters and seed butters, chia seeds and flaxseeds (stick to having about 1/4 cup per day, or 2 tablespoons of nut/seed butter).
Condiments, herbs & spices: All types of fresh or dried herbs/spices like cinnamon, basil, rosemary, thyme, turmeric, ginger, cilantro, red pepper, etc., hot sauce, apple cider vinegar and other vinegars, unsweetened mustard, soy sauce, lemon/lime juice, cocoa powder, stevia extract, vanilla extract and sour cream.
Beverages: Water, water with a slice of lemon or lime, seltzer, herbal tea, black/green tea, coffee, bone broth, unsweetened almond or coconut milk or freshly made vegetable juice (no fruit juice or added sugar). It's important to drink lots of water because this helps keep you from feeling fatigued, is important for digestion and aids in hunger suppression.
Foods to eat in very limited quantities:  Up to 1/2 cup of berries, including blueberries, strawberries, blackberries and raspberries can be eaten daily. You can have a 1/2-cup serving daily of cooked legumes or beans like chickpeas, kidney or lima beans, black beans, brown beans, lentils, hummus, etc. Stick to having about 1/2 cup of yogurt daily or 1/4 cup of cheese. If you're eating very little carbs otherwise, you can incorporate up to 1/2 cup of cooked sweet peas, artichokes, okra, carrots, beets or parsnips. If you include these foods in your diet, consider tracking your macronutrients with a food journal to make sure you don't go over the allotted 25–30 grams of carbs per day.
Eating enough fat and avoiding too many carbs is key for getting you into the metabolic state of ketosis, where you burn fat for energy and start seeing results. But eating the correct ratio of macronutrients is not the only thing you should focus on when it comes to improving your overall health on the keto diet. 
The quality of the foods you eat is just as important as the quantity of macronutrients. For the most anti-inflammatory effects, try to purchase animal products that are grass-fed, pasture-raised and wild-caught.
If you're willing to spend a bit more money, opt for organic meats, cheeses, eggs and other items like veggies. When it comes to making the best choice for both your wallet and your health, it's most important to buy organic/high-quality animal products and organic produce that is on the "dirty dozen" list (you can refer to this list from the Environmental Working Group for more info).
Which foods should you avoid buying & remove from your kitchen?
Traditional ketogenic diets have consisted of limiting carbohydrate intake to just 20–30 net grams per day. "Net carbs" is the amount of carbs remaining once dietary fiber is subtracted, since fiber is indigestible once eaten (in other words, net carbs = total carbs – grams of fiber).
When grocery shopping, you'll want to avoid buying the following items which are high in carbs and/or sugar:
Any type of sugar, including white, brown, cane, raw and confectioner's sugar, syrups like maple, carob, corn, caramel and fruit, honey and 

agave

. Also skip any food made with ingredients such as fructose, glucose, maltose, dextrose and lactose.

All drinks high in sugar, like soda, juices, flavored teas, coffee drinks, etc.

All foods made with any grains or grain flour (this includes all white/wheat flour). Examples include cereal, bread, pasta, wraps, granola bars, cookies, cakes, etc. Also avoid all whole grains like wheat, oats, all rice (white, brown, jasmine), quinoa, couscous, pilaf, etc.

Corn and all products containing corn, including popcorn, tortillas, grits, polenta and corn meal

.

Conventional dairy products, such as most yogurts, which tend to be made with sugar.

All types of candy.

Snack carbs, granola bars, most protein bars or meal replacements, etc.

Canned soups, boxed foods, any prepackaged meal

Foods containing artificial ingredients like artificial sweeteners (sucralose, aspartame, etc.), dyes and flavors
To get your kitchen ready for beginning the keto diet plan, take a look through your cabinets and refrigerator so you can get rid of anything that might tempt you. This includes all sources of sugar/sweeteners, desserts, baked goods, frozen meals that are high in carbs and sugary drinks. 
How else can you meal plan & prepare for the keto diet?
To help you get started and give you an idea of what to expect, here are other helpful tips and swaps that should make planning keto-friendly meals easier:
Find substitutes for your favorite grains and starchy foods. For example, using cauliflower to make "rice" or "mashed potatoes," or spiraling zucchini or carrots to use in place of noodles.
If you have a craving for sweets, try making a smoothie or "energy balls" with ingredients like coconut milk/flakes, cocoa powder, stevia, vanilla extract and nuts.
Unlike most other diets, you want to choose fattier cuts of meat rather than leaner ones. For example, chicken thighs and legs are preferable to chicken breasts because they contain much more fat, helping you to reach your macronutrient needs.
You don't need to count calories on the keto diet, but in addition to selecting a healthy variety of foods, look at the size of the portions you eat. T

o keep your portion sizes in check, if you're still hungry take seconds of vegetables and salads instead of meats and more calorie-dense foods.
You may find that the keto diet does a great job of controlling your appetite and killing cravings, making snacks unnecessary. But if you do feel hungry for a snack between meals, skip snacks such as low-fat or fat-free yogurt, smoothies, fruit or whole-grain crackers and instead have something like a homemade keto smoothie, a hard boiled egg, half an avocado or nuts. Because it can be hard to find keto-approved snacks while out and about, consider packing a small cooler or snack bar before leaving home.
When cooking, make extra and freeze food that you will not serve right away for another day.
You should now be ready to make your first keto-approved trip to the grocery store or shop online with Walmart Grocery. But first, remember that before starting any new nutritional program or exercise routine, it is always important to discuss it with your doctor. Be especially careful to talk about the keto diet with your doctor if you have a history of high cholesterol, diabetes, liver or kidney disease or inflammatory bowel disorder, since these conditions can sometimes make the keto diet risky or dangerous.
 —
Dr. Josh Axe, DNM, DC, CNS, is a doctor of natural medicine, clinical nutritionist and author with a passion to help people get well using food as medicine. Author of the books "Eat Dirt," "Essential Oils: Ancient Medicine" and the upcoming "Keto Diet: Your 30-Day Plan to Lose Weight, Balance Hormones and Reverse Disease" (February 2019), he also operates the No. 1 natural health website in the world at DrAxe.com, with over 15 million unique visitors every month. He's a co-founder of Ancient Nutrition, a health company where the mission is to restore health, strength and vitality by providing history's healthiest whole food nutrients to the modern world.
Important Walmart Disclaimer:
All content, including but not limited to, recipe, health, wellness and/or medical information provided herein, is for educational purposes only. It is provided "as is" and as such, the accuracy of same is not warranted in any way. Such content is intended to supplement, not substitute for, the diagnosis, treatment and advice of a medical professional. Such content does not cover all possible side effects of any new or different health or exercise program. You should always consult a medical professional for guidance before changing or undertaking a new health/exercise program. Advance consultation with a medical professional is particularly important if you are under eighteen (18) years old, pregnant, nursing or have health problems. Never disregard professional medical advice or delay in seeking it because of something you have read on this website!