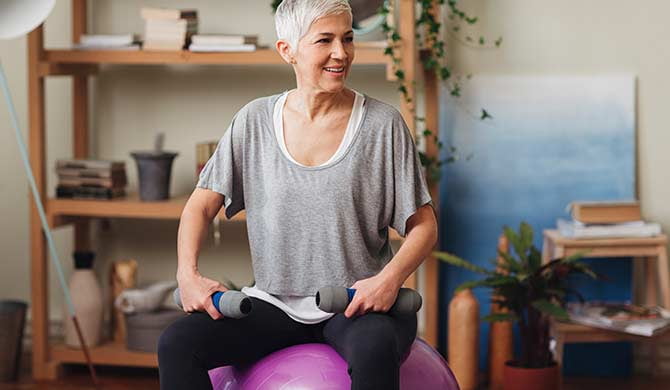 When it comes to getting more active, just about any time is the right time to start. What matters more than the "when" of exercise is the "how." That's especially true when you're exercising regularly for the first time or returning to a routine after a prolonged period of inactivity. No matter the type of activity, though, it's important to ease into it rather than pushing too much or too soon. A gradual approach helps prevent injuries and increases the chances of sticking with exercise over time.
Ready to get going? Before you jump into your new routine, check out these eight tips for starting it off right.
1. Check in with your doctor
If you have any existing health issues or concerns about starting a new fitness routine, speak with your doctor first. While it's safe for most people to ease into a light exercise program, people with preexisting heart conditions need to be more careful. In such cases, overexertion can sometimes cause short- or long-term damage to the heart.
2. Start small and make it manageable
Issued by the U.S. Department of Health and Human Services, the Physical Activity Guidelines for Americans advises that adults 18-64 years old do 150 minutes a week of moderate-to-intense aerobic activity. As a gauge: if you can talk, it's moderate activity; if you can only say a word or two before having to catch your breath, it's intense activity.
The good news for those of us relatively new to exercising? Academic research studies show that running even five to ten minutes per day at a rate of six miles/hour is associated with reduced risks of death from all causes, including cardiovascular disease. But you don't even have to start with running. If you're just getting back into regular physical activity, try taking a 10-minute walk three times a day, after each meal. From there you can build up to longer walks or short run-walks. And remember: it's never too late to improve your physical fitness.
Shop All Exercise & Fitness Products
3. Warm up and cool down
To help prevent injury, get into the good habit of easing your body into physical activity every time you exercise. Even if you're planning on an easy-breezy 30 minutes of exercise, warm up for five to ten minutes with light aerobic activity like a brisk walk, running in place or doing a slow and easy version of your main activity. After your workout, do a cool-down that's about twice as long as your warm-up. You'll know you're done when you're not sweating anymore. Cool-down activities can be very similar to your warm-up but should include gentle stretching. Bonus: scientific research has shown that stretching has been shown to improve strength.
4. Focus on form
Once you get into your main activity, make good form a priority. Whether you're jogging, biking, lifting weights or doing some other form of exercise, correct execution and posture can help prevent injury in the short- and long-term. If you're not sure what correct form looks like, work with a trainer to perfect your technique or watch a video that breaks down the moves.
5. Vary types of exercise
Ward off exercise boredom and burnout by engaging in a mixture of physical activity. Weight-bearing exercises like lifting weights help strengthen bones as well as muscles, while aerobic activities like dancing support cardiovascular health. Yoga combines building strength with improving flexibility and stress reduction. You can also create variety by exercising solo as well as attending group classes and alternating between indoor and outdoor activities.
6. Gear up properly
Whatever activity you choose, make sure you have the right gear and that you keep it in top condition, whether it's your shoes, bike or other fitness equipment. Choose activewear made from breathable fabrics and layer up in cold conditions. If you run, your shoes will last anywhere from 300 to 500 miles, depending on how hard your heel strike is and the surface you run on (trails are softer than asphalt or concrete).
7. Plan your post-workout
You may be tempted to reach for sugary snacks if you don't already have a healthy post-workout snack planned. Look for foods that have a relatively low glycemic index, that aren't super high-calorie and that won't sit too heavily in your stomach. Great post-workout snacks include a small handful of nuts, Greek yogurt, fruit or a ready-made drink or snack that provides you the protein you need to help you recover from your workout.
8. Take it easy, sometimes
Giving your body a break between workouts is common sense wisdom. But research also shows that alternating between short, relatively intense and easy workout sessions can yield better results than workouts consistently done at a moderate level.
Remember, when it comes to improving physical fitness, the only person you're competing against is yourself. Start slow, commit to a consistent routine and set and measure your goals to track progress and encourage yourself along the way.