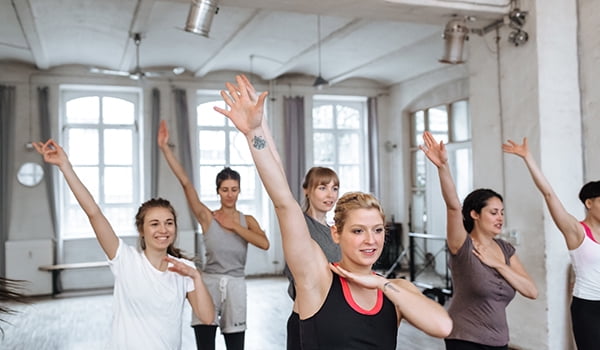 Now's the time to make a commitment to yourself. Check out these ideas for how to stick to your new year's resolutions.
For a lot of us, the new year is a great time to make a fresh start. Once holiday planning, travel and overindulging are a thing of the past, there's finally time to focus on making healthier decisions. But even the best of intentions often melt away well before spring rolls around. Whether you want to eat better, quit smoking or workout more, here are a few key tips for keeping your resolutions.
1. Set goals you can reach.
Are you looking to reinvent yourself? Ambitious goals can be a great thing, but they can also become discouraging when the fantasy of a new you gets replaced by the day-to-day burden of a diet or fitness regimen. To give yourself a better chance of success, set manageable goals, then work your way up to tougher ones. And be sure to talk to your doctor about potential health risks before making big changes to your eating or exercise habits.
2. Make a formal commitment.
Whether you're trying to lose 10 pounds or stop smoking, do something that will make your resolution feel more real. One way is to tell friends, family or coworkers about it. They'll probably help you along by encouraging you and watching your progress. Another way to commit is by making an investment in your resolution. A wearable pedometer or activity tracker can serve as a gentle but constant reminder to get up and move more. Plus, many models come with social sharing features that make it easy to share your progress with family and friends—or maybe even spark a little friendly competition.
3. Track your progress.
Paying attention to how you're doing can help you stay motivated by keeping your goals in sight. Keeping a simple diary or crossing off days on a calendar can be great ways to stay focused. You might even consider adding a new smart scale to your bathroom. More than just measuring your weight, these advanced scales link to desktop or mobile app interfaces that let you track progress over time.
4. Get help if you need it.
Feel like you can't lose the weight or stop smoking on your own? There are products that might help. You should consult your doctor about the best and safest options, but smokers can improve their chances of quitting with the help of nicotine gum, patches and lozenges.
If getting in shape is your goal, you can also make sure you have the right tools for the job. From having good shoes to an exercise mat or fitness ball, the right exercise equipment and fitness accessories can help you get going. And if you know you're going to keep your resolution, home exercise equipment can cost a lot less than a gym membership over time. Love gaming? Turn one your favorite ways to relax into an exercise program that works for you. Start by checking out the wide range of motion games for video-game consoles.
5. Remember: You don't need a new year for a resolution.
If you fall short of your goals, or if February sneaks around before you're ready to get serious, don't use it as an excuse to wait until next year. You can resolve to make a healthy change any time. Start today. Start tomorrow. Your resolution will be waiting for you whenever you're ready.
6. Find a reason for resolving.
When the going gets tough, make a list of all the reasons to keep your resolution. Do it for yourself, for your family, for your pets or for a long, happy life. As you start thinking about it, you'll find there are tons of reasons to make a change for the better.
So, what are you waiting for?