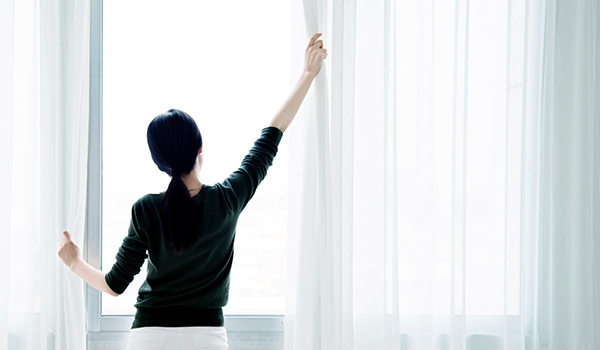 Refreshing your walls and window treatments for the season doesn't have to require a great deal of time or money. Sometimes it's the smallest changes that make the biggest visual impact. Try updating your wall decor or dressing up your windows. You'll achieve dramatic results any time of year.
A room with a view
Different amounts of natural light stream through the windows as seasons change.
Add or change window shades. It'll soften the sun's intensity and create a warm, soothing ambience.
Consider color and texture when choosing seasonal shades. Natural fibers such as bamboo or rattan offer rich textures ideal for fall, while lighter-toned shades enhance the warmer months' breezy feel.
Give draperies or panels an instant update — add fabric in a seasonal solid, patterned print or floral design. If you already have additional fabric added to your panels, try swapping the color or print.
Hardware made easy
Change your window hardware to welcome the incoming season.
Switch from a wooden rod to a sleek tension rod — it'll add a whole new feel to your window display.
A bowed curtain rod makes a dramatic statement. Use it to add volume and give the illusion of magnified outdoor scenery.
Update tiebacks, decorative drapery rings and curtain clips to coordinate with the seasons.
Artistic updates
Try your hand at painting seasonal motifs on window panes using stained-glass paints.
Draw inspiration from the outdoors, or mimic a pattern from a seasonal throw or area rug.
Looking for a less permanent solution? Paint a seasonal scene on a precut piece of Plexiglas and suspend it with a hook, or affix window decals to the panes of glass.
Get the kids involved. Give them child-friendly craft materials such as construction paper, paste and string. Then, encourage them to make colorful birds. Hang the birds from window frames.
Wall makeovers
One of the easiest ways to revitalize your home is to update your wall decor. Start by freshening up what you already have or sprinkling in new additions. Try these seasonal tips for dressing up your walls:
Double-mat existing artwork. Position an accent color under a lighter-colored mat. Although only 1/4-inch of the accent color will be visible, it will add a splash of seasonal color and will enhance the space's theme. Purchase several accent mats and change them out according to season.
Maximize sunlight's effect. Place mirrors on opposite walls to reflect the rays.
Change family photos to reflect the current season. While a family vacation beach scene looks great in the summer, photos from the pumpkin patch are better suited for fall.
Add candle sconces to walls. Vary scents and colors to blend with the season.