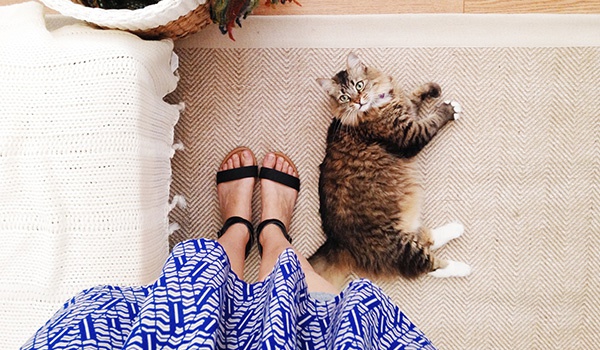 Getting ready to choose a new area rug? Meet our rug buying guide.
If you think about it in terms of balancing function and style you'll be more likely to select a rug that will work well for you in both the short and long term. Not sure where to start? Try these six foolproof style and care tips for area rugs.
Decide where you'll put the rug. Rugs are a lot like real estate. Think: location, location, location. The room you put the rug in will help determine its placement within the room itself, which then affects the look, feel and functionality of the room.
Living Rooms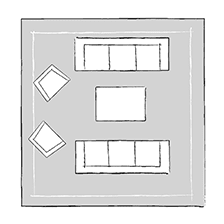 Go big (enough). Make sure the rug is large enough to fit under the front legs of all furniture situated around it.
Group up. Use an area rug to define furniture groupings. This works especially well in open spaces, like studio apartments or combined kitchen and living rooms.
Space out. Balance the room and frame the rug by leaving 12 to 18 inches of exposed flooring around the edges.
Do a balancing act. When using a smaller area rug, place the front legs of the furniture on the rug and use furniture coasters under the back furniture legs to achieve level height.
Dining Rooms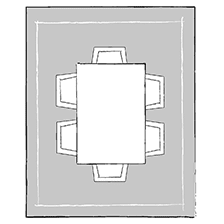 Have an expansion plan. The rug under your dining room table should extend beyond the chairs when they're in the pulled-out position. To find out what size rug you need, pull out the chairs as you normally would to sit down and measure from the rear chair legs in length and width. Add 8 inches to this measurement to determine the minimum size rug you need.
Remember, if you place a rug near a door that will pass over it, check the door height to make sure it's tall enough to accommodate the rug.
Bedrooms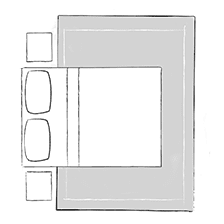 Get cozy. Put a large, plush rug under your bed to create a warm, luxurious greeting for bare feet. Since your bed will cover most of the rug, choose a rug with a border pattern.
Space case. If you plan to use one large rug, measure your bed and allow for an additional three feet on each exposed side of the bed. The rug has to fit under only the bottom 2/3 of the bed.
Strategically small.
Save money and expand your options by using several smaller area rugs instead of one large rug. Maintain balance in the room by placing one rug at the foot and one or two coordinating rugs on each side of the bed.
Hallways, entryways and other narrow places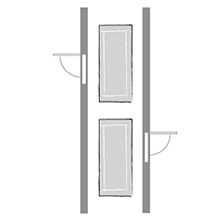 Make a run for it. Long, narrow runner rugs work well in places where area and accent rugs don't. In hallways, remember to leave several inches of exposed floor on each side of the runner. In long, narrow rooms, aim to leave 18 to 36 inches on each side.
Construction
Choose a rug that fits your lifestyle. How a rug is made, and what it's made from, will affect its appearance, durability and price. When you're choosing a rug, keep its construction, weave and fiber type in mind.
Machine made rugs are available in a standard set of sizes and are typically more affordable since they don't require the additional labor of hand-crafted rugs.
Hand-crafted rugs possess a charmingly irregular style and vary more in sizing but are less durable than machine-made rugs.
Weaves
Tufted rugs are known for their soft feel and plush exterior. They're machine-washable and often backed with skid-resistant material.
Woven rugs tend to be more expensive than tufted rugs but also more durable. Some woven rugs can be washed at home, while others will need professional cleaning; always check the label.
Flat weave rugs are created on a loom and are usually made of wool or cotton. The looped construction results in a rug with a relatively flat, thin pile that doesn't provide as much cushion as other weaves. But these rugs are reversible and usually come in beautiful colors and patterns that can be layered for extra padding.
Synthetic fibers
Olefin fibers, also known as polypropylene, are used when resistance to fading, staining and moisture are especially important. As the lowest density manufactured fiber, olefin gives rugs a lightweight quality.
Nylon fiber takes dye well and washes well, making it the must-have fiber for printed rugs. Known for their general durability, stain and crush-resistance and resilience, nylon rugs are generally good for all traffic areas.
Natural fibers
Wool is a natural staple fiber produced from the fleece of sheep. It's durable, resilient and self-extinguishing when burned. Rugs made from wool are prone to shedding, but that will lessen over the lifespan of the rug.
Cotton is a natural fiber manufactured from the seeds of the cotton plant. Soft and absorbent, cotton is also strong and can be easily cleaned.
Jute is a sustainable, eco-friendly fiber derived from plant matter. It can lend a natural feel to a room. Jute can have a rough or scratchy feel, is relatively hard to clean and is not stain-resistant.
Sisal is a natural plant fiber that is both stronger and more durable than any other natural rug fiber. Static-free and colorfast, sisal also is softer to the touch than jute, but may be more expensive.
Rug styles, explained
Traditional rugs encompass a wide range of styles: classic and ornate European patterns; rugs featuring an Oriental or Persian influence; and classic Southwestern designs. Traditional rugs typically feature borders with intricate designs and oftentimes a fringed edge.
Contemporary rugs often feature modern medallion patterns, geometric shapes, bold monochromatic looks or trendy designs such as chevrons or animal prints. They also often incorporate bright, popular colors into their design.
Transitional rugs combine traditional and contemporary style. Stripes, floral patterns, paisley and ikat are common design features in transitional rugs. If you're not sure whether your space's style works with one of the less flexible styles, such as traditional or contemporary, go for a transitional rug.
Shag rugs were once a relic of the 1970s but are now enjoying a comeback.  These thick, plush rugs provide excellent insulation. This style is typically made in solid hues but, thanks to its texture, is often used to add depth and visual interest to a room. Since they often come in solid colors, shag rugs are also highly versatile.
Solid rugs in bright, monochromatic colors are considered contemporary. More subdued solid shades are considered to be casual styles. Solid rugs in muted hues nicely complement rooms that already feature a lot of bold color or patterns. While solid rugs will tend to show more wear than patterned rugs, they are extremely versatile.