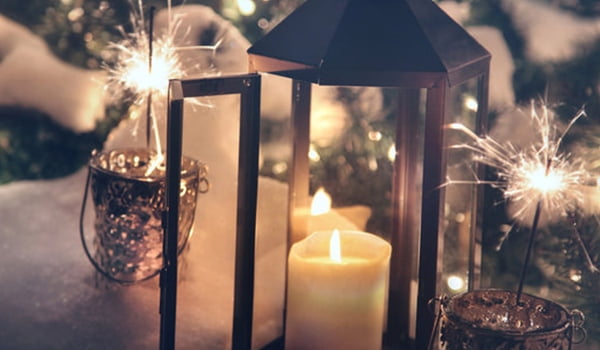 Nothing expresses the holiday spirit like the shimmer and glow of holiday lights. Unfortunately, the time, trouble and potential safety risk involved with outdoor decorations puts a damper on what should be a fun project. This year, learn how to stay safe and in a festive holiday mood with these updated versions of favorite outdoor decorations.
Forever banish holiday light fire hazards
From caroling to setting up walkway luminaries, candles are beautiful but dangerous fire hazards. Replace traditional petroleum-based candles with new easy-to-use alternatives like battery-operated candles (perfect for caroling) or light sticks.
An added benefit of using battery-operated candles or light sticks is the ability to create unique decorations like ice lanterns. Ice lanterns are simple, stunning and sustainable. Simply fill a balloon with water and freeze. Remove the plastic balloon and drill a hole in the top of the ice. Place a light stick inside for an inexpensive and unique decoration that is sure to captivate. Add glitter to the water before freezing for an extra bit of sparkle, or holly berries and evergreen sprigs for an environmentally friendly version.
Light up your life
Untangling holiday lights and testing each itsy-bitsy bulb is enough to try the patience of even the most warmhearted individual. In addition, the resulting electric bill can turn even the most generous soul into Scrooge. Fortunately, there are more choices than ever when it comes to outdoor holiday lights, including: